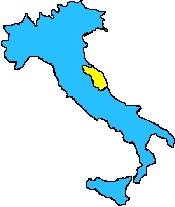 An account of a bicycle tour of the Marche region of Italy in May 2000.
The Marche region lies to the east of the Apennine mountains and has every kind of terrain you could wish for. From long sandy beaches on the Adriatic coast to rolling hills and valleys leading to the high mountains of the Sibillini in the south of the region, the highest of them all being Monte Vettore at 2,476m.
According to one book I read, the Marche is 69% hills, and 31% mountains. Certainly, if you're not going up, you seem to be going down, and only on the extreme coastal strip is there flat riding to be had. On top of that, it has more castles and hill-top towns than you can shake a stick at. Like Umbria a few years ago, Marche (apart from the coastal area) seems to be one of Italy's best kept secrets, and that's fine by me!
This one was probably a little tougher than our previous cycle tours of Tuscany and Umbria even though the mileage was lower, but it was well worth every extra bead of sweat, just as enjoyable, and I'd go back tomorrow.
If you have any comments on these pages, would like to ask us a question or simply share your own experiences, then we'd love to hear from you. Just use the Contact Us link above.
© All photo's on these pages are the property of Allan Nelson and Konrad Orlowski
---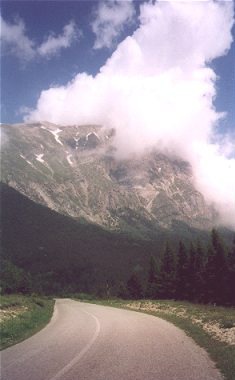 Monte Vettore (2,476m)
Descending from the Piano Grande