Rimini to Urbino
Rimini - Riccione - Cattolica - Gabicce Mare - Gradara - Montecchio - Colbordolo - Urbino
Kilometres: 64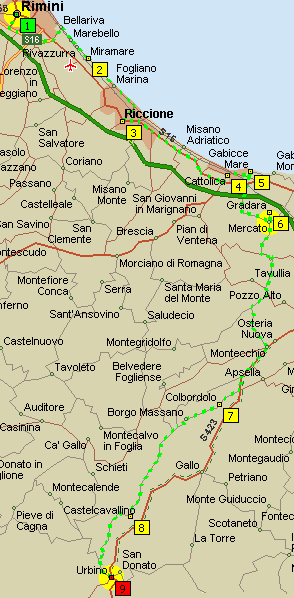 Good nights sleep in the Hotel Due Torri. Konrad only got up once! Incidentally, unknown to me, Konrad was trying an experiment this year. He hadn't bothered bringing any shower gel or soap as he planned on using whatever was provided by the hotels. Personally, I think he forgot to pack it, but I didn't let on. Nobody can be that tight - surely!
We were up at 7:30am eager to start, had a quick breakfast in the hotel, and then unpacked the bikes on the pavement in front of the hotel. We'd decided that we'd simply ditch the pipe lagging rather than try to hide it somewhere and find it on the way back, so that just went into a local dustbin.
So, by 9:30am we were off. Off on the 'wrong side of the road' again for what we hoped would be another enjoyable trip, and bound for Urbino. We'd only gone about 300 yards when Konrad punctured! We were a bit disappointed. This was our first puncture in two tours, and we hadn't started yet. It was obviously a pinch flat, Konrad had changed his tyres/tubes before coming out, and I guess the extra weight on the bike had caused it. Anyhow, it was a front wheel puncture so easy to change and in no time at all we were back on our way heading along the coastal strip towards Cattollica.
This road was quite busy in parts, so we kept taking little detours that got us on a cycle/pedestrian way which ran along the beach. Fortunately, I saw the ramp that led down onto this path, Konrad didn't and clattered down the steps! It was a strange cycle path. Who would make a cycle path with the lampposts right in the centre? Whatever, it was a very pleasant few kilometres as we cruised past the endless 'spaggia', the numbered 'private' strips of beach, a thing almost curiously unique to Italy. The beaches needless to say were totally deserted, but the fine sand and blue water looked very inviting. When the path finished, it was back onto the road, which alternated between being OK and busy.
After Cattollica, we headed for Gabicce Mare where, right at the end of the town we found a road down to a small strip of public beach. We decided we'd start the holiday with a swim in the Adriatic. The beach was almost totally deserted, and that was probably a good thing as neither of us had a towel (though we did have swimming trunks - small oversight there!). Getting changed was a quick 'drop the bib shorts (into the sand!), and spend what seemed like an eternity hopping around trying to get the swimming trunks on. Well nobody screamed, and we weren't arrested, so I guess we got away with it. There was no-one in the water, but it was really quite warm - a lot warmer than I was expecting. Having said that, if you've ever swum in Coniston Water in the Lake District, anything seems warm after that.
It was now around 11am and getting very hot. After a swim around, we sat on a wall to dry off, then it was back on with the cycling gear (sand everywhere!) and off up the road headed for Gradara. This road wasn't as hilly as I'd imagined it would be which was nice, as it really was getting hot now.
Gradara is a lovely place with some great views. We had our first Piadina's and then, with the bikes locked up, went off to look around. We went into the castle, where a very nice chap showed us around, and explained all the artefacts in the various rooms, and the history of the place. We didn't see another soul in there, and it was nice to be in the shade for a short time.
We left Gradara and headed for Tavullia, a hilly road. At a cross roads we headed for Monteccio (hillier!), and then took a right to get off the busy Urbino road, signposted Monte Colbordolo. This was a serious climb, and the sun was baking us nicely now, with a temperature of 32c. After Colbordolo, we carried on through Montefabbri and on to Urbino. This involved a fair bit of climbing again, and we were glad to reach Urbino. The first day of the tour always takes some getting used to I feel, what with the heat and the heavy panniers. This was a curious route into Urbino. It seemed as though you were coming in through the back door so to speak, but the roads had been lovely and quiet. I suppose the down side was that we had missed the views of Urbino we would have had, had we taken the main approach.
Our hotel, the Panoramic, was on the main road out of town and took a bit of finding. The rooms were very nice, and after a shower and change, we walked back into Urbino to meet Francesco and his wife Patricia who we had been in contact with via e-mail for the last few weeks. We'd arranged to meet Francesco at the front of the Palace Ducale - Urbino's main building. We couldn't go wrong - surely?
Well, Konrad and I sat at the front of the Palace for over an hour. We did see a chap who looked as though he was looking for someone, but by the time we'd decided it could be him, he'd disappeared again into a crowd of people in the main square. After another half an hour or so, we decided to go for a meal in the Trattoria Leo (excellent and very reasonable), and then walked back to the hotel. When we arrived, the owner said that someone had called us. It was Francesco - we had missed him. After talking to him later it would appear that we differed in what we think is the front of the building. He was waiting, with his wife Patricia, at the back (or front depending on which way you look at it!).
So, after apologising profusely, we promised to ring him later in the holiday and try and arrange another meeting.
Hotel details...