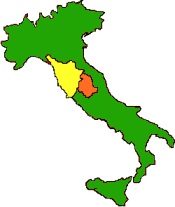 An account of a bicycle tour of Tuscany and Umbria in May 1999.
Use the links at the top of the page to navigate the main categories.
In here you'll find information on how we planned our route, what we took with us, how we packed the bikes, how we slept, how we ate, how we drank, how we were ill! Read all about the girls in the lay-by (under 18's are quite safe:)
If you have any comments on these pages, ideas for improvements, or would just simply like to ask us a question or share your own experiences cycle touring in this wonderful part of the world, then we'd love to hear from you. Just click away on the Contact Us button above.
© All photo's on these pages are the property of Allan Nelson and Konrad Orlowski
---