Bealach-na-Ba Challenge - 2007
Length: 90 miles
Ascent: 2,950m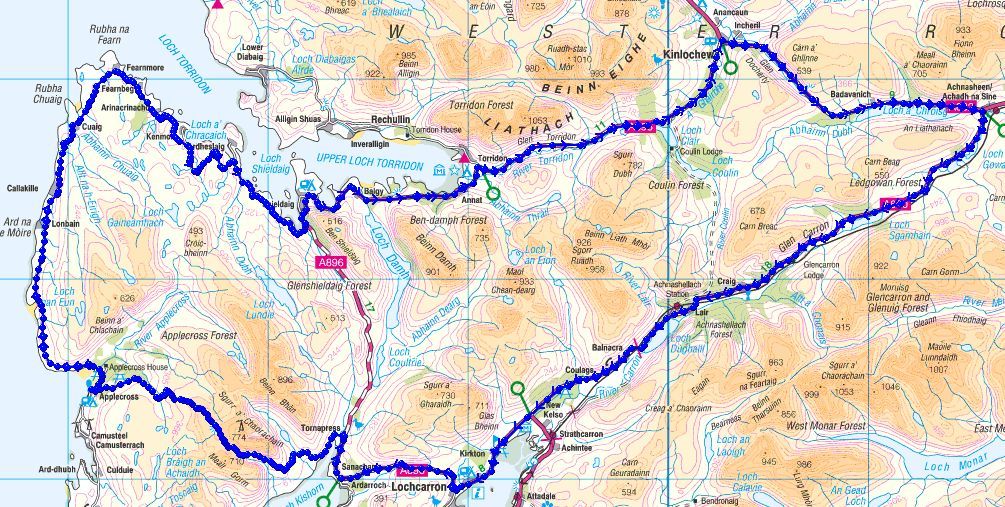 I have to admit that this was the ride I'd been looking forward to all year. I can't describe how much I enjoyed it last year and was relieved when my entry was successful. I knew it was going to be a whole lot more popular after last years good press about it.
I said after last year that I'd love to do this on the tandem with my mate Konrad, and that was the plan, but owing to ill health, Konrad wasn't able to make it. I'm still determined to get him on this ride though - fingers crossed for next year!
This year there were three of us meeting up and doing the ride. My friends Ralph Cooper from Kirkby in Furness and Brian Tomlin from Val d'Aosta in Italy (lucky b****r!).
We'd been watching the weather forecast for a week before, and basically, it wasn't looking good - rain and strong winds. Well they got that right then!
Preparation for this year had been a winter of lots of long rides in the Lake District, followed by the Fred Whitton (twice - once in April as a practice and once for the actual event in May). Then it was more of the same in the Lakes, followed by the PolkaDot Challenge in July. Ralph's preparation had been thrown completely when he got knocked off his bike by a 40 ton truck in Ambleside in April and broke his collar bone. He ended up having to have a plate fitted (titanium of course ;-) Anyhow, luckily the outcome wasn't as bad as it could have been but it took longer to heal than expected. His planned rides of the Fred Whitton and PolkaDot went out of the window and he'd basically just started easing himself back into things when the Bealach appeared over the horizon. Still, he was willing to give it a go.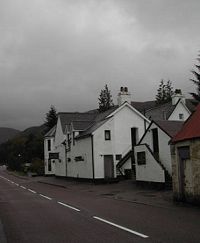 Ralph and I set off on the 8 hour drive from Ulverston to Kinlochewe on the Friday morning. Brian was flying with RyanAir from Milan to Newcastle on the Thursday and then borrowing his fathers car for the drive up.
The drive up was long but uneventful. The weather wasn't too bad and we even saw some blobs of blue from time to time, up among the fast moving clouds. Again, once past Inverness, the further north we went the quieter the roads became. The scenery up here is just magnificent. The new road they were finishing off last year from Achnasheen down to Kinlochewe was now complete and the surface was like a billiard ball. Makes you look forward to the climb out! We arrived in Kinlochewe just after 4pm, first to arrive at the Kinlochewe Bunk House - our home for the next 2 nights.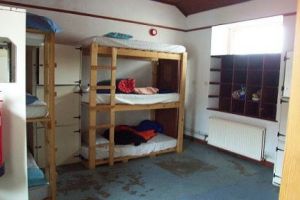 I started unpacking my stuff on to the bunk, while I noticed Ralph putting small packets of something on all the bunks. Why do we need condoms I thought! But no, they were ear plugs. Strange (I thought to myself), but there again, I'd never slept in the same room as Ralph before! Brian arrived around 6:30pm and had called in at the start to register, so Ralph and I went off to do the same, collect our numbers, free drinks bottle and inner-tube (but we wouldn't need that would we ;-) and have the timing dibber attached to our wrists. I was glad to see that the numbers were MUCH smaller this year. Somebody arty had obviously been involved in their production too as the numbers were in a very funky font. The organisers obviously have a sense of humour, with the route card which showed the feed stops etc also containing a list of 'Useful Gaelic Terms' ranging from "I have a puncture" to "She looks nice in Lycra". Nice to see they don't take it all too seriously. One that I wished I'd learned off by heart was "Why is there always a headwind?"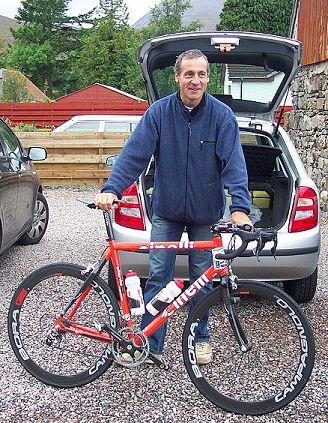 Back at the bunk house, we unpacked the bikes and attached the numbers. Brian unveiled his secret weapon, his lovely Cinelli bike and 'those wheels'. Campagnolo Bora carbon wheels shod with lightweight tubular tyres. Once assembled it was a quick spin up and down the 'main'(only?) street of Kinlochewe just to check all was in order. Others were now arriving and the bunk house slowly began to fill up.
Brian had kindly offered to cook the evening meal (spaghetti aglio olio e peperoncino). The kitchen in the bunk house was well equipped, plenty of pots, pans, plates, cutlery etc, microwave, toaster, kettles oh and a huge cooker. I felt rather guilty sitting chatting and drinking tea while Brian slaved over the hot stove. I have to say the spaghetti was superb, and as Brian had made enough for four, one lucky punter (who's name I forget sorry!) got a free meal. He kindly bought us a bottle of wine on the Saturday night which was a very nice gesture.
It was while we were sitting around chatting after the meal that disaster struck for one of the guys up from Glasgow. Every cyclists nightmare - he suddenly realised he'd left his cycling shoes at home. In fact, left on the door step. As he was leaving home, the cat wanted letting in or out and he put the shoes down, saw to the cat, then walked off leaving his shoes behind. He phoned his wife who confirmed the shoes were still there! We all felt absolutely gutted for him. Of the bits of kit you definitely don't want to leave behind, shoes has to be up there along with shorts. It was too late (and too far!) to drive back and pick them up, and bike shops are a bit thin on the ground in Kinlochewe ;-) About the only thing we could suggest was to see if he could get some flat pedals off a bike in the village and ride in trainers. To his credit, he contacted the organisers and offered his services as a marshal which they gratefully accepted.
Well I didn't get much sleep that night. Ralph had mentioned his 'snoring', but everyone says that don't they. I tried the ear-plugs and while they helped a bit, they didn't help enough! But let's not dwell on that. Morning eventually arrived and I think everyone thought the same thing - what's the weather like? It was grey and drizzly but didn't look too windy (in the shelter of Kinlochewe). A leisurely breakfast of porridge, banana and tea and then the question of what to wear! Which jacket seemed to be a recurring theme. Windproof or full waterproof. In the end, I decided I'd just go for the windproof. Skin's waterproof and as long as I don't get cold I'm OK. Ralph left for the start (about 100 yards away) just after 9am and I followed around 9:20am. The road over the Bealach was being closed to traffic between 10:30 and 13:30 and the route card said we should arrive at Tornapress between 11:00 and 12:00. No one would be allowed on the pass until 11am to make sure it was clear of cars.
It was nice to see the young piper at the start again. This year there were no 'block' starts. You simply dibbed in and were on your way. Some groups were forming at the start, so I just tagged on to the back of one of those, and off we went. We'd only gone about 300 metres when up ahead we saw flashing ambulance lights. As we approached I could see a rider on the ground, and he didn't look good. Lots of blood. He'd come off on the wet cattle grid. A marshal was telling everyone to take it easy. I got over safely and then heard a crash behind me, looked back and someone else had come off. So, that got the heart pounding a bit! The climb up from Kinlochewe to Achnasheen is around 4 miles. It's a steady climb and best of all, the road surface is fantastic. I just rode at my own pace, getting passed and sometimes passing others (though not often). There was a long way to go yet. At the top I hooked up with 3 others who seemed to be going at a pace that was comfortable for me, and we zoomed off past Loch a Chroisg, around the roundabout at Achnasheen. After some more steady climbing, just as we were reaching the top we passed a bunch headed by Ralph. It was fairly hard going into what was getting to be quite a strong headwind.
From what I remembered last year, we now had a nice long descent through Glen Carron down to Loch Carron, but it was certainly a lot harder this year. It was a fairly steady headwind all the way, and I was glad to be in a small bunch of riders taking turns to get some respite from the wind and rain. Just before the level crossing, a large group came past containing Brian. He seemed to be enjoying himself. I tagged on for a mile or so, but knew it couldn't last ;-) At least I had more luck than Ralph whose bad year continued when he came off on the wet railway lines on the level crossing. He was lucky to escape with a lump on the side of his face, a bit of road rash and a split helmet. The bike was fine ;-) Luckily the titanium plate in his collar bone held out! He limped on to Lochcarron where he got a lift back to Kinlochewe. I didn't bother with the feed in Lochcarron, but stopped a little further on to take my windproof off. It had stopped raining! Even in this bad weather, folk were cheering and clapping as the riders went past. It must be one of the friendliest events in the country. Off again, and immediately started the sharp little climb out of Lochcarron, but at least I was expecting it this year. It came as a bit of a shock last year.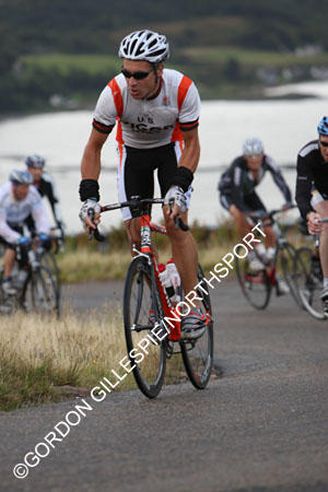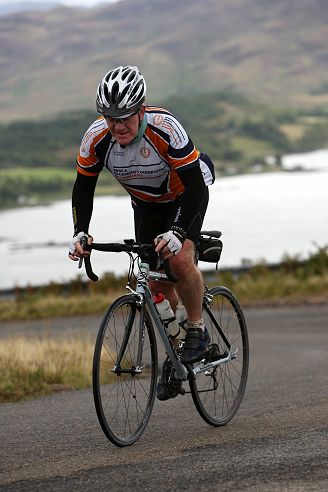 Soon I was riding along the side of Loch Kishorn and could see the Bealach climb on the far side of the Loch, the top third shrouded in mist. A sharp left at Tornapress marks the start of the 6 mile climb of the Bealach-na-Ba (Pass of the Cattle). I dibbed in here for the timed climb (wish I hadn't bothered - it depressed me) and began the gentle climb across the face of the mountain. It really is a magnificent climb, the narrow road rising slowly from the shores of the Loch and the anticipation of knowing what's 'just around that corner ahead' and the view that awaits you just makes it bloody magic. On these lower slopes I was totally sheltered from the wind and it made for a very pleasant couple of miles. The road then starts to veer round to the right and the wind picked up a bit, but nothing too drastic. The gradient starts to bite and a then a final right before the long ramps up to the hairpins. Going up around this right turn was like hitting a wall. The wind was whistling down the valley and of course it was raining again. I immediately went into my lowest gear and grovelled. I wasn't in any danger of having to get off ('cos I had a triple), but I seemed to be going exceedingly slowly. I decided to stick with it and save myself for later. This ramp up to the hairpins is relentless. It was a lot harder this year than last, when if anything we had a slight tailwind. It was very misty and murky at the top and I was beginning to think I'd missed the marshals who were dibbing us in at the summit. Then they appeared out of the gloom. I wish I hadn't bothered stopping now (apart from I needed my windproof on). I was absolutely disgusted with my time of 1:1:29 for the climb, a good 6 minutes slower than last year. Brian on the other hand, shot up the climb on his 39x23 for a time of 40:07 (second fastest in his age group), though even he said it was harder than he'd expected.
It was a misty descent at first down to Applecross, definitely not as fast here as last year, and the wind on the first part of the descent made it a bit hairy. I topped my bottles up at Applecross and then off on the coast road. A side wind off the sea at first, but anything other than head-on was blessed relief by now, and it was definitely an easier run here than last year. I started feeling much better on this part of the route and by the time I reached the top of the peninsula I was feeling great. (I don't get that feeling much these days and it was nice to feel like that on a ride like this). It's a relentless roller coaster of a ride up here - if you're not going down, you're going up. Not much flat stuff at all. It was 'somewhere up here' that I took the windproof off and decided it was now staying off whatever. I reached Shieldaig still feeling good. Topped the bottles up for the last time, a quick natter with one of the helpers who thankfully pointed out that I'd put the bottle back in the cage without the top on! And, with a chunk of flapjack in my mouth and the rest in my back pocket I started out of Shieldaig for the last leg. The guy at Shieldaig had told me that it was a stonking tailwind up Glen Torridon which lifted my spirits as I suffered on the last 10 miles last year. I'd remembered the climb up and over to Torridon, but already the wind was helping and I didn't really notice the climb over top Torridon. Down to Torridon and I felt like I was flying. Turned on to the Glen Torridon road and had a wry smile to myself. He was right. This was magic. Last year I grovelled up here and remember doing about 13mph at one point. This year was totally different. 23mph didn't seem fast enough. I was just feeling better and better as the run up here continued and I can't have been going badly as I didn't get passed by anyone on this stretch. All too soon, the valley road topped out and I started the last couple of miles down to Kinlochewe and the finish.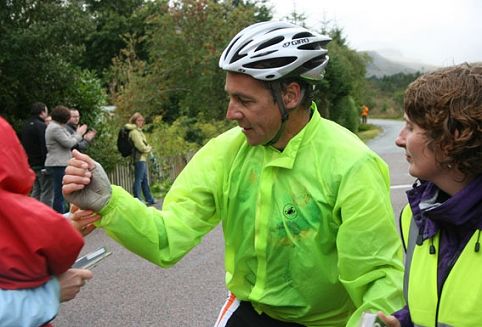 I can honestly say I was sorry to see the finish line. I was really enjoying this now. The guy from the bunkhouse who had volunteered to marshal was stood near the finish clapping everyone through, and that's when I saw Ralph standing at the finish, camera in hand. I realised then something had gone wrong for him. I dibbed in and went to get my time. I obviously hadn't gone hard enough, no cramps, no soreness or stiffness, I felt fresh as a daisy. I finished with a time of 6:02:41. I had hoped I might have got under 6 hours, but hey, that was 20 minutes off last years time. Brian finished in 5:25:53 and said he'd really enjoyed the event. I'm sure he'll be back. I most definitely will be. Lets hope we can take the tandem for a spin on it next time. As for Ralph, well barring any more bad luck, I'm sure he'll be back too.
I didn't hear Ralph snoring on Saturday night. He may have, but I was dead to the world. Slept like a baby. I've just got to add that we took the scenic route back home on the Sunday, through Glen Shiel, Fort William and Glen Coe. Must bring the touring bike up here. Of course the weather had improved. A big, big thank you to Ralph for both the driving and his encyclopaedic knowledge of this part of Scotland from his climbing days when he was younger. As I said to him - he should be a tour guide!
The next day, Brian had driven on to Skye and was doing a 90km warm down. Blue sky and sunshine of course. Ah well, maybe next year.
Thoughts on the day...
Another great day. OK the weather could have been better, but if anything, it makes the scenery look even more dramatic and menacing, oh and the added bonus is that it keeps the midges away. Didn't get bitten once this year.
Organisation was faultless again. A big thank you to all the organisers, marshalls, helpers etc who make this event so special.
Once again, despite the poor weather, the locals were out in force encouraging everybody. Thanks to all of them, they keep you going.