An account of a two week bicycle tour in May 2002 from Treviso (Italy) to Salzburg (Austria), via the Dolomites and the Austrian Alps.

This has to go down as one of those 'truly memorable' cycle tours. The scenery was awesome, the company - perfect, the roads - quiet (very quiet), the saunas - hot, the weather (yes, some of that was memorable!). It must have been good, I took over 250 photo's!

We were looking for a catchy name for the site, and 'Through Mel to Hell' was suggested, but that implies it was awful. It wasn't in any way (though the wet slog up the Fedaia Pass was, how can we put this, character forming). If anything, some of the weather, especially on the Großglockner, made the trip even more memorable. I think 'Da Treviso al Paradiso' sums it up quite nicely, even if we did go through a little 'hell' to get there. At times, I think we really did feel like 'I Tre Moschettieri!'. All for one and one for all.

Use the links at the top of the page to navigate to the main sections which, very briefly, contain the following...
Mechanics - planning info, airport traumas, packing list etc.
Tour - daily tour reports and route maps.
Gallery - pictures (which you can also get to from the highlighted places in the Tour reports).
If have any comments, questions, or would like to share your experiences then we'd love to hear from you. Feel free to contact us.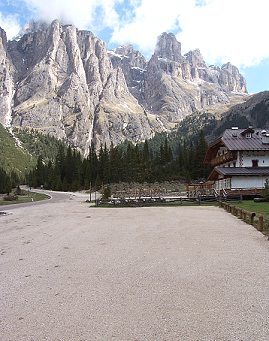 Looking towards the Passo di Sella