Treviso to Follina (77 kms)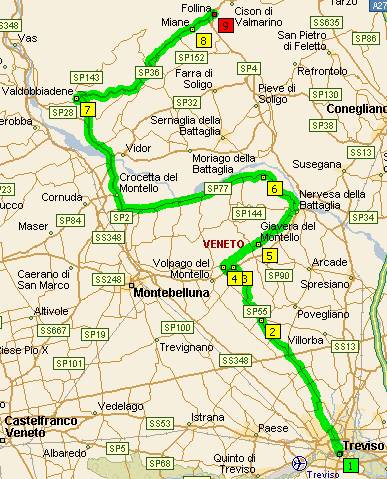 Well that seemed a short nights sleep! After a good breakfast of croissants and coffee, we assembled the bikes in the mid-morning sunshine. We decided to keep the pipe lagging for the return journey, and after wrestling it into a plastic bag and taping it up securely, it looked mighty impressive piled on the rear rack. Perhaps someone who didn't know us better would mistake it for a tent! ;-)
We finally left the hotel at 11am and headed into Treviso. Treviso is a nice looking town, with the River Sile running through the centre. After a few pictures, we left the town headed for Volpago del Montello, via Camalo. At Volpago, we crossed the busy 248 road onto an idyllic road that runs alongside the Canale Bretirella. This is a very quiet road, with no traffic to speak of. We soon reached Nervesa della Battaglia, where we stopped for lunch in a roadside cafe. Excellent panninis, very friendly service.
It was really quite warm now (28oC) as we headed off for Santa Croce using another quiet picturesque road running alongside the Fiume Piave. After passing through Crocetta, we crossed the river just before Vidor and headed for Valdobbiadene. This is where we hit the only climb of any significance of the day, and what with the temperature being what it was, we were soon pretty hot! Luckily?? Francesco took pity on me and broke a spoke in his rear wheel (yes, of course it was on the block side). So, we found a shady spot, off with the block, out with the old spoke, in with a new one and in no time at all had the wheel trued as well as we could (the spoke nipple was worn - we could change that later). We took the opportunity to fill our water bottles in a local cafe run by a friendly French woman. After telling her where we were headed (Salzburg), she didn't believe us so we offered to send her a postcard when we got there. This was rewarded with a complimentary glass of sparkling wine each :-) Finally, we tore ourselves away and carried on up the climb for a short distance before a great descent all the way down to Follina.
After circling the town a few times looking for a hotel, we settled on the first one we saw, the Albergo Ristorante Al Cavallino. The owners were very friendly, in fact Francesco said he was pleasantly surprised how friendly everyone was. Perhaps it's because we were cycling? Anyhow, we got a nice large room (with stream running outside the window) and had an excellent meal, 'Tris', (three types of 1st course - Gnocchi, Tagliatelli and Ravioli), a litre of red wine and coffee. Konrad and I had never heard the term 'Tris' before. So, that's another Italian word learnt bringing the total to, oh, it must be about 12 now!
For info, Francesco found a bike shop just down the street from the hotel (Cicli Masotto) where a very helpful chap put a new nipple on the spoke (very skillfully, without taking the tyre and tube out). So, if you're in the area and need a repair, he's your man.
Hotel details...