Scanno to Isernia (96 kms)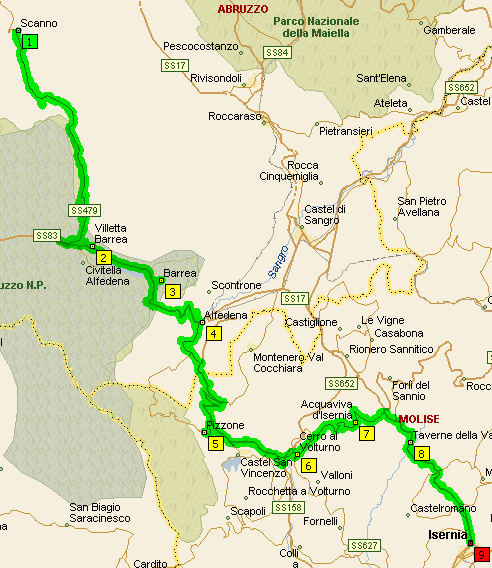 We left Scanno at 9:30am in wall to wall blue sky and sunshine. We could tell it was Sunday as we saw several people (mainly passing us) out on their bikes. The climbing started immediately and it was a relentless climb to the top of the Passo Godi (1,630m). At the top, it opened out into a huge valley which was very pretty and looked very alpine. We stopped at a cafe up there for a drink and to pick up some panninis for lunch.
We headed along the valley and started a huge descent which took us down to Villetta Barrea, then along the side of the lake to Barrea where we stopped for our lunch. Barrea is a very pretty place and has an enviable position. Fantastic views down the turquoise lake with the mountains as a backdrop.
After lunch, we climbed out of Barrea then a descent to Alfredena, another climb out of Alfredena and a descent to Cerro. At Cerro we took a wrong turn and did a huge climb along a very quiet road to Aquaviva d'Isernia. To match it's name (I guess) there was a great fountain of ice cold water in the village and as it was now very warm (and we were very warm) it was much appreciated. We carried on climbing past Aquaviva to join the main road No.17. This was a very quiet road too, but the descent was absolutely vicious. The disc brake faded on the descent, but luckily the rear V-brake was more than up to the job of stopping us. After this very steep descent, there was an equally vicious climb out of the valley (small ring!) to Macerone. Finally, we had a very fast descent down to Isernia, where we found the only hotel (Hotel Sayonara) where we booked a double room with breakfast for 70 euros.
The hotel was very good, and we had a nice meal in the old town that evening in a pizzeria. The staff were once again very friendly, and the chef even decorated our dessert plate with chocolate bicycles!