Lucera to Rodi (93 kms)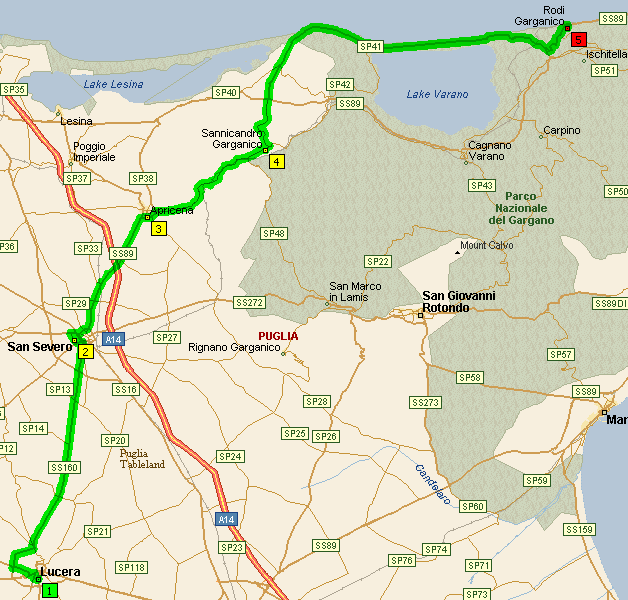 We left Lucera at around 10am headed for Rodi Garganico and the Gargano peninsula. After dropping down to the very straight No.160 for a phenomenal wind assisted ride to San Severo (around 25km's in 35 minutes - not bad considering we'd just got up! ;-)
San Severo was a busy bustling town, market stalls on the street, and what seemed like hundreds of greengrocers. We stopped and bought some oranges in one shop and the locals were very curious about us, the tandem, where we going etc etc. Lovely friendly people.
We left San Severo and headed for Apricena (another fast wind-assisted ride, where we surprised the driver of one of those 3 wheeler all purpose vehicles that abound in Italy when we overtook him). We stopped at Apricena for a coffee and again, the locals were very interested in where we were going etc. Apricena is a nice looking town. The owner advised us to to take the coastal (flatter) route, but we declined and carried on to San Nicandro. It was an easy climb, but seemed strange that when we reached the very top, we crossed a railway line.
We bought panninis at San Nicandro and ate them there before setting off on a long wind assisted descent to the coast at Torre Milleto. From here, we followed the coast road to Rodi. A long, flat, straight road, again wind-assisted which meant that our speed didn't drop below 25mph and was frequently above. A very easy ride, and although the road was very quiet, it wasn't as picturesque as we hoped it would be . We'd hoped to have good sea views, but there's a strip of not very interesting woodland which runs along between the sea and the road.
We arrived at Rodi at around 4pm and booked in to the Hotel Americana (50 euros).
This had been a nice easy day after yesterday but would have been a very different ride with a headwind (long straight roads and no cover). It had also been very hot today - the hottest yet.
We ate in the hotel and had an interesting chat with a travelling salesman from Milan who sold dishwashers!