Bowland Forest Populaire Audax - June 2008
Distance: 67 miles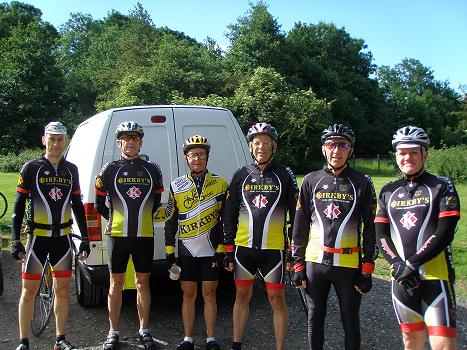 Six of us, all members of Barrow Central Wheelers Cycling club, rode this Bowland Forest Populaire event: Glenn Rhodes, Ian Saunders, Allan Nelson, Barry Fittes, Mike Speight and John Craig.
It's a 67 mile loop starting in Caton near Lancaster, and taking in quiet country lanes out through Nether Kellet, Over Kellet, Arkholme, Gressingham, Hornby, Wray, Slaidburn, Dunsop Bridge, Chipping, Harrisend Fell, through Quernmore and back to Caton.
The weather was bright and sunny, with a cool breeze, and we all met up for the civilised 9am start at a car park in Caton, complete with cafe.
Audax virgins Allan & Glenn were relying on the others (veterans of this event who had ridden it a few times before) to know the way - big mistake ;-) As Glenn said, it must be great when you get to that age - every rides a new one ;-)
As I say, this was my first 'Audax' event, and at the bottom of the scale in terms of Audax distances at 100km. Whether I'll ever move on to 200, 300, 400 and 600km events I doubt, and as you can't enter Paris-Brest-Paris without qualifying rides in these distances then that gets me out of that one nicely too. Sort of 'I would ride PBP but....' ;-)
Being Audax virgins, Glenn and I had simply 'turned up'. Luckily for us, the organisers were happy to accept our 'entry on the line' so to speak and after a bit of form filling, we were handed our route cards. Now, this would be interesting! In the sportives I've ridden, they're well sign posted with the odd friendly marshal at tricky junctions. My sense of direction is shall we say limited, but I wasn't too bothered, four of the guys had ridden this event at least once before so we couldn't take any wrong turns - surely?
So, it's like a sportive ride without any signs, but taken at a nice relaxed pace (except for Glenn who would be expected to sprint to the top of the hills to get photos which is why he only appears on the one in the car park ;-)
We all hung around waiting for 9am to tick round, and I'm not sure if there was any signal given or not to start, or maybe I just wasn't paying attention, but people seemed to be heading off down the road in ones and twos, and we set off to follow them. We set off on a cycle track heading in the direction of Nether Kellet. A dog walker had obviously taken a dislike to the number of cyclists 'on his cycle track' that morning and as his dog ran playfully between the weaving bikes, he ranted and raved. I tell you, I was glad to get to the safety of the road!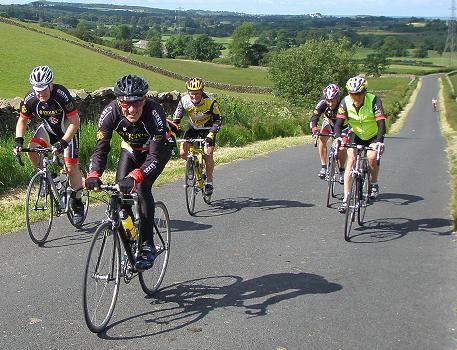 On our way up to Over Kellet, we stopped to let a Ladies Road Race go by in the opposite direction. We were to see them again later. It was around here that doubts about some of the guys memories started to worry me. We came to a fork in the road. Two went left and the rest went right. I was with the ones who went right (correct as it happens but I wasn't to know) so we stopped and waited for the other two to realise their mistake and come back. After a bit of a wait, Glenn volunteered to tear off down the road after them. They re-appeared, went to the back of the group and nobody paid any attention to their route suggestions for the rest of the day ;-)
It really is a lovely ride. It meanders about through some very quiet lanes, the only thing I didn't like was having to follow this route card thing with it's weird language of 'L at T sp Hornby'. I'd probably ridden 20 miles trying to work out what sp was - then realised it was signposted and kept my mouth shut. It was around Hornby where my next question was answered. How do they know you've actually been through these places? It's not like a sportive ride where there's a fairly constant stream of riders and you'd soon get picked up for taking a short cut! Well, there's a sort of quiz. There'll be a question like 'Which brewery provides the beer to The Dog & Duck'?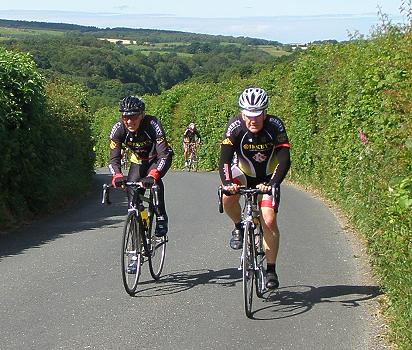 There was a stiff short climb out of Hornby and then it was on to Wray and eventually the climb up Lythe Fell (Cross O'Greet) and Lamb Fell before the fantastic descent to Slaidburn. The cafe at Slaidburn doubled as the control point, so after bacon buns, we got our cards stamped and headed off in the direction of Dunsop Bridge. On past Dunsop Bridge and south to Burholme Bridge where we took a small road to the right which climbed up past the Wild Boar Park and then on to Chipping. From Chipping we headed on to Oakenclough and up Harrisend Fell where there were great views over Morecambe Bay. From there, we picked the speed up for the final leg to Quernmore and the run in back to Caton.l
A thoroughly enjoyable day out, and although there were a few beards and saddle bags about, they're not compulsory - honest, and we were made most welcome. I'll definitely try to be back next year to ride this and will be keeping an eye out for other Audax rides in the area. Having ridden this one though, I honestly couldn't be sure of the route, so by the end of the ride I was thinking - could I do that route again without the route card? No. I'm not sure I like all the stopping and studying of route cards. Next time, I'll go with someone who's ridden it before - oh but hang on... I did!
---