Day 3(a) - Arabba-Caprile-Alleghe-Selva di Cadore-Colle Santa Lucia-Andraz-Arabba (34 miles)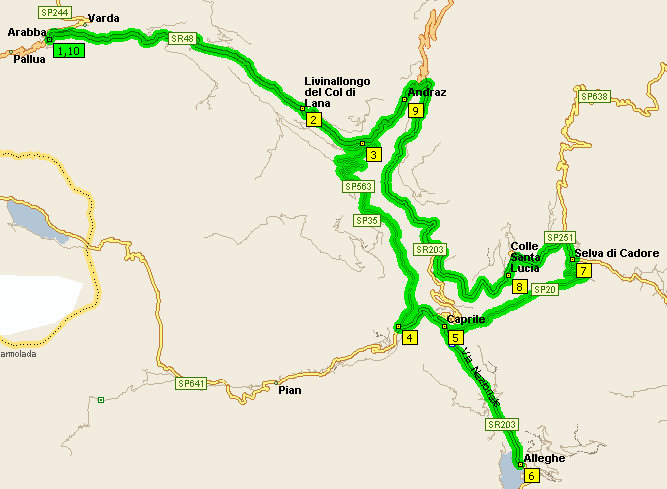 Well, the weather forecast was right! We awoke to rain. But this is a biking holiday right? and it's not as if we don't get rain in England. The slightly worrying thing was that snow was predicted at higher levels, but not that much higher. Freezing at 2,000m. We were at 1,600m in Arabba, so not too far away. There was certainly a 'chill' in the air.
After much discussion at breakfast, me, Konrad (well he has to go where I go ;-) Glenn and Jon decided we'd head 'down' and would treat this as our sort of rest day, nothing too long. So, it was decided we'd head for Alleghe and see how it went from there. Alleghe sits at around 950m, so it'd be a fair slog back in this weather. Stu and Richard decided they'd sit it out and wait to see if the weather improved (I have to laugh as I type that - read on).
We met a much startled Mauro at the front door of the hotel - not in his cycling gear, who basically wondered what the hell we were doing. He couldn't believe we were going out in this, but kindly said he would be 'backup car' for us and follow us around.
It certainly was a grim day as we pushed off downhill in the rain headed first for Caprile. We took a different route down this time, and just before Andraz turned off onto a lovely quiet road (quite steep) which headed for Caprile. This really was a nice change from our normal route down and once off the main descent, its a very fast ride down to Caprile. We carried on through Caprile and headed for Alleghe, again, a very fast bit of road, gradually going downhill all the way. At Alleghe, Mauro was waiting and we found a cafe. Now Alleghe does seem to be quite a well-heeled town and Mauro said the owner was not very happy that 4 very wet cyclists had come to drip all over his floor. Being thick-skinned, we rode it out and Mauro ordered the coffees. He also bought a 'delicacy of the region' which he wanted us to try. I wasn't sure what it was (perhaps raw fish on toast?) and took a bite. It was disgusting. Basically it was thinly sliced LARD! Now anyone who knows me knows that lard is not something I need in my diet - I have plenty of my own, so I declined another bite and Mauro finished it off. Leaving the cafe I did have some sympathy with the owner - there were large pools of water on the floor and the seats were soaked!
So, we beat a hasty retreat from Alleghe and headed back to Caprile. From there we followed a new (to us) road signed Selva di Cadore. Glenn and Jon had pushed on ahead and we followed at our own pace, though we were both feeling good today - probably this weather suits us ;-) It was a steady climb and when we came to a tunnel, Mauro kindly waited for us and drove behind lighting our way. The rain was now torrential. At the top of the climb, we headed down through Selva di Cadore and in no time we recognised the 'Passo Giau straight-on' road. Luckily we dinked left and headed for Colle Santa Lucia. We got a nice friendly toot and flash of lights from an oncoming car laden with race bikes. (They probably thought we were mad too).
We were going really well now and flew (for us) up to the top of the Colle and on up to Andraz. Just before Andraz, we saw Stu and Richard heading towards us. They said Glenn and Jon weren't far ahead of us on their way back to Arabba and that they were going to do the Passo Falzarego and back. They'd been up in the van and it was OK, so they'd parked the van at the foot of the pass. We wished them well and pushed on. It just seemed to be getting easier and easier and we didn't seem to notice the long drag up to Arabba. What we did notice was that it was getting decidedly colder (about 2˚c) and about 3kms from Arabba we spotted the first snow flake. By the time we reached the hotel it was definitely 'snowing'! Glenn and Jon hadn't been back long. We showered, put the clothes in the drying cabinet and went down to the bar to have a beer and a pizza and wait for Richard and Stu to return. After a while we started to get a tad concerned. The snow was now quite heavy and settling fast - and this was at 1,600m - what would it be like at 2105m? They eventually burst through the door, looking dreadful. Glenn lent Stu his room key so they could both get showered asap. They looked on the verge of hypothermic! Read on for their 'adventure'.
---
Day 3(b) - Passo Falzarego (up and down) (13 miles)
Richards take on the events of his and Stu's day. (No laughing!)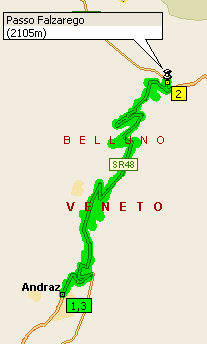 Again awoke with the tolling bells of the nearby church…I didn't even have to look out the window…I could hear the rain bouncing off the ground…It had been thumping down the entire night and by the look of the Sky and the Forecast it looked as if it still had a long way to go?...a Grey blanket of misery had engulfed the entire Dolomite region…the forecast predicted a very unusual weather system for September…it showed that the 'freezing level' would be as low at 2000 Meters on the Monday?...and at this time of year it ought to have been around 3000 Meters!...this 'unusually cold weather' would only last one day then the temperatures would rapidly return to normal in the following days?...and looking at the Time/Temp signpost in the Hotel Courtyard it looked a fairly accurate forecast as it was only reading 5oC…(yesterday it was reading 10oC at the same time of day)
So down for Breakfast and a talk with the lads…the poor weather had certainly put a dampener on things with guys having all sorts of different ideas of what to make with the day…but to cut a story we had all decided that it would be best if we all sought lower ground…as Arabba sits at 1612 meters and the freezing level being as low as 2000 meters the majority had decided that a trundle down to Caprile/Alleghe then a stop for lunch before doing a U-turn and heading back to Arabba…this was a fairly wise move as Caprile sits around the 1000 meter mark which makes it a long descent all the way down and a 600 meter humongous drag back up…with little chance of any 'freezing' conditions…so we all finished Breakfast and headed back to our rooms…this is when Mauro appeared in casual dress…he asked what we were doing and when Allan explained his whole body juddered!...he immediately said "Are you mad?"…I was thinking "Of course we are!"…with that Mauro offered to follow in his car and offer support…very nice man!
So, In my room I started smothering my shorts chamois with cream and as I looked out our window my heart sank…it was absolutely lashing down…and as Stu entered the room he realised that all motivation had dwindled…Stu then looked out the window and his mood took a dive as well…we both said at the same time " I don't fancy that! "…the thought of making my way all the way down to Alleghe only to turn the bike round and head all the way back up never appealed in the least…so I spoke with Stu and we both agreed that we would wait until later on (when the temperature would lift) then maybe go for a single ascent of a Pass…this was an attractive idea…we wouldn't be out too long…we would keep ourselves warm due to an intense climbing exercise…and we would 'bag' another famous pass…nice one!...yes, sounds ok don't it?...read on…
We went and told the other 4 lads our intentions and we got the expected 'couple of poofs' accusations :-) We were concerned that the lads would get very cold on such a long descent in the rain so we offered to take them down to Alleghe in the bus but they were having none of it…so off they went with little Mauro acting as Car support.
Me and Stu returned to our room…very glad that we hadn't ridden off with them in that abismal cold rain…I then started looking at the map…and only one 'pass' struck out as a potential for today's plan…the Passo Falzarego from Andraz…all the other passes were either too far away or not worth the bother…only one problem…the Passo Falzarego sit's just over 2100 meters?...would it be snowed under?...only one way to find out!
We hopped in the Bus and drove up the Pass…we had noted that the rain had started to turn to snow around the 1950 meter mark…and at the top at 2100 meters it was reading 1oC on the car temp display with no serious snow coverage…yes, it could be done!.
We immediately got back to the hotel and got our kit on…we had decided that we would drive the bus down to Andraz where we would directly tackle the climb from there (this was going to prove an extremely wise move)
As we left Arabba we observed that the Temp Display on the Courtyard read 4oC…that was 2oC less than when we went to reccy the climb only 40 mins ago?...it was getting colder!...however, dumb as we are we soldiered on and parked the car up at Andraz…
It was still lashing down and as we headed uphill to commence the climb we met Glenn and Jon heading the other way…they were absolutely drenched and very cold…Stu explained we were going for a 'Short,sharp effort'…the lads wished us well and hastily got back on there bikes…poor buggers were freezing!...a few min's further up the hill we bumped into Allan and Kon…we explained what we were doing and Allan said "Are you nuts?"…however we had been fairly cautious and had did a full reccy in the bus only a hour ago…but on hindsight…Yes, we were nuts!...Allan and Kon were in very high spirits…they were talking so excitedly about how much they had enjoyed the day…even in the cold lashing rain!…and they were asking if we were nuts?...tough as ole boots the pair of them!
Anyhow, we bid them farewell and got on with the Job in hand...the start of the climb is signalled at the Junction with the R203 (road to Caprile)… around the 1500 meter mark?…and almost immediately a few long sweeping bends are experienced...we were both blasting up there in the 39 x 27…the gradient offered very little resistance…it looked as if finally, I was getting some kind of form?...it was a dead nice climb with very interesting twists and turns…and we were speaking of the weather on the way up…but as we reached the 1750 meter mark the rain was turning to snow?...now this was indeed strange as only 1 hour ago there was no sign of snow until the 1950 meter mark?....now it was a full 200 meters lower…surely not!...anyhow we continued the march upwards…we were absolutely flying up and the snow was now forming sculptures on our bodies and helmets etc…I had to continually wipe the snow off my legs and shoes and as I did so I could feel the freeze in my hands…Stu was around 20 meters upfront and I started to become slightly anxious at the weather…we were now relying on cars to come passed so we could follow up on the tyre tracks…up ahead were the Galleria (open sided tunnels) where a big lorry had broke down…we were now at the 2000 meter mark and only had 100 odd to go…and as we emerged from the Galleria we really should have turned back!...the snow was very thick and belting down…there was around two inch of snow lying on the road…it was a complete transformation from only 1 hour ago?...but insane as we were we hammered on up…I reckon it was the fact that we were only 100 meters off the top that brought out that stupid blinkered part in our brain where 'getting to the top is all that matters'…the last stretches to the top were crazy…I was basically pedalling through thick snow…after reaching the top we hurriedly got our photo's taken by the summit sign and got ready for the descent…
And this descent was going to be an education…very few times in my life have I actually feared for my mortality…but believe me, this was going to be an extreme experience in cold, terror and emotion…please use our experience as a learning lesson.
There was no way we could cycle down the mountain… Stuboy adopted a strange technique…he perched himself on the top tube of the bike and splayed his legs and used them as balancers/stabilisers…I sat on my seat but had my right foot unclipped and was using that leg as a stabiliser…the bikes were all over the place and even so early on Stu signalled to a big Bus thing that was going down the pass…his idea was we could get a lift to the bottom?...but the bus was sliding all over the place and looked well dangerous so we agreed that our method was safer….so downhill we carefully trudged…it was horrendously slow and my hands and body were already freezing…we stopped in a small rock tunnel and clapped our hands to regain warmth but I was already in very serious trouble…my hands were almost completely numb!...I said to Stu "If we get back to the Galleria where the broken Lorry is we are sorted mate…there's far less snow after that and we can get down quicker"…so we both nervously made our way to the Galleria…by the time we got there we were both in sheer agony…my hands and body were gone…Stu stopped to put on surgical rubber gloves…anything to get any warmth!…and I was in such pain that I almost left Stu there…it was hurting so much that I just wanted to go and it seemed an eternity for Stu to get them gloves on…but I couldn't go…I would be on my own and so would he…and that would be extremely dangerous.
So after a few cruel minutes Stu managed to get the gloves on and we resumed our hellish descent…but another twist of fate had came our way…the snow was at least 2 inch's thick even after the Galleria!!....the last 30 min's had seen the temperature drop so fast that a thick coverage of snow had been deposited on the road at much lower altitudes…but how far down would it go?...this is when the 'danger' alarm bells started to ring!…as we slowly made our way down I started to lose all feeling in my hands…I'm sure I was pulling the brake levers as hard as I could but it took so long for the bike to stop…I was either losing strength or I had no control?…Stu was just in front when he started shouting out "STUPID BASTARD!"…"WHAT A STUPID BASTARD!"…that conveyed my thinking as well…it had been fool hardy and stubborn to continue on to the top…and now we were going to pay a price.
The road continued on like that for ages and now I heard Stu making a humming sound…on every exhale he was making a 'shivering pleading sound'…it was horrible to hear as I knew he was in a serious state and we had only just passed the 1930 meter sign…all that time and pain and we had only descended a poxy 200 meters!!!... we were close on hypothermia!…I cannot convey in words the suffering we both endured over the next 30 mins…I've never experienced anything like that in my entire life…'unthinkably cold'.
I did actually foresee Stu falling sideways off his bike…Other horrid thoughts rattling through me head were "If you get a flat tyre here bigman you'll die"…at one point we stopped on one of the longer straighter ramps where we started clapping our hands heavily in a vain attempt to regain feeling…but by this time it felt like I had nothing in my gloves – my hands weren't there?...and it was here I saw Stu looking at the trees at the side of the road…I was wondering what was going through his head and I was fairly convinced that he was going to offer some preposterous suggestion…so I quickly said "C'mon mate let's continue down"…you may think this is an extreme account but this event and experience had certainly reached near survival mindsets…believe me!
As we reached the 1650 meter mark the road was just good enough to freewheel slowly down…and this is where confidence returned…we made good time down there and it wasn't long before we could really let the brakes go…we zoomed down to the Junction and continued downhill to where our bus was parked at Andraz…I tried to get my cleat in the pedal but my foot was numb and I couldn't get clipped in…I tried to pedal but my legs were having none of it…it was as if rigormortis had set in…but thankfully I didn't have to pedal as it was all downhill.
As we reached the Bus I saw Stu was in an awful way…he couldn't get the key out his back pocket and I had to do the honours…between us we managed the terribly hard job of opening the bus with frozen digits…Stu immediately got the engine running…he then got his beloved Cervelo and literally threw it in the back seat…Now!, if you know how much he loves his Cervelo you would understand his mindset at this point…this was survival and the Cervelo was way down the priority list!
I was managing better than Stu here and got my bike all rigged up in the back...I got in the bus myself and looked at Stu…Oh f*ck!...he was in a dreadful state…"he's hypothermic and a hospital case" was my thinking…he was physically shaking from top to bottom and was weaving his upper body back and forward as if in a rocking chair…making whimpering noises as he did so…I said to him "It's alright mate…we've made it…we'll be ok".
I took the snow covered helmet off him and we waited as the heater in the bus sprung into life…after around 5 minutes Stu slowly started to recover…the shivering ceased and his breathing resumed normality…I offered to drive but somehow that sprung Stu into action…He got the bus in gear and said "C'mon bigman, let's get back to the hotel"…on the drive back we both started to recover well…and we blessed our lucky stars that we had parked the bus so near the foot of the climb…no way could we have pedalled back to the Hotel!…we could also offer slight humour at our own stupidity…but as the bus really heated up I started to shiver from top to bottom…it was uncontrollable…I would be ok then all of a sudden I would just go into a seizure of full body shaking…Christ!.
As we reached the Hotel we saw the Temp Sign again…it was now reading 0oC!!!..we both marched straight in…and found the lads having a Pizza in the bar…they took one look at us and knew all was not well…Stu got Glenn's key and we both made our way for the showers…I hit the shower and my whole body was frozen…as the hot water bounced off me I felt sharp shooting pains drive through my legs from my heals?…it must have taken around 20 min's solid hot water flow before my body felt warmer…afterwards Allan kindly gave me a heavy duty thermal sweater…this was the business. I really felt my body warming up.
In the past I've always regarded a terrible climb as being my worst ever experience on the bike…major suffering like I had endured on Hardknott Pass in the boiling hot 2008 Fred Whitton Challenge…or the time I had an off-day whilst riding up the Col Tourmalet…yip, these were terribly difficult experiences to be sure…but after experiencing this freeze-fall off the Falzarego Glacier those kind of sufferfest's fall into sheer insignificance.
I've never felt so cold in all my life and I actually did reckon my life was in danger…now that's one emotion you never want to have when on the bike!
Day 3 Conclusion
A severe lesson in Mountain range weather systems…you always hear that the weather can turn in an instant but actually experiencing it is something else…learn from our lesson…never, ever underestimate, never assume, always hedge your bets and stay bloody safe!
Me and Stu spoke afterwards…it had been a very unfortunate turn of events…we had did all the wise stuff like 'reccying' it…we had waited to later on in the day for a better chance of milder temperatures?...we had parked the bus at the bottom…it was simply bad luck that our timing had been terrible…as we were climbing the Falzarego the temperature decided to drop like a stone and over the course of 40 minutes it plummeted 4 or 5 degrees…and as a result it made for very dangerous times…I can tell you all that we were very lucky to get out of that situation with little more then numb finger ends…it could have been so much worse!...so again, use this tale to your own advantage, and never forget how hostile an environment the Mountain ranges can quickly become!.
---