The Fred Whitton Challenge - 2006
112 miles - 3,800m ascent (approx)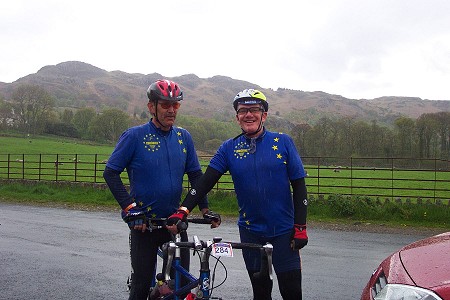 There are a fair few write-ups of Fred Whitton Challenge rides on the internet, and very good they are too. They're what got us interested in it in the first place.
This one's written from the perspective of a couple of "over-50's" who potter about the Lakes on a tandem most weekends and fancied having a go at something a bit challenging. So, last winter, we decided to start 'getting the miles in' for the event. Luckily we had a couple of friends, one of whom was also going to ride, and they're a tad faster than us - and much better on hills, so that gave us a bit of an incentive and kept us pushed most of the time. Of course not everything went to plan and I well remember one Sunday training ride in February which had to be cut short due to snow (a few pictures here). Still a very enjoyable ride though and one we won't forget.
A couple of weeks before the event, we'd ridden the whole course over 2 days as a reccy and also to check that the tandem gearing / brakes etc were up to it. They were. I wasn't sure this 'reccy' ride was a good idea at first. What if we found it really excruciatingly tough? What if we ended up walking up Hardknott? What a downer that would be when we came to do it on the day with more miles in our legs than splitting it in 2 like this. Anyhow, we went ahead with the reccy and it couldn't have gone better. We rode from Ulverston to Coniston and picked up the route there, stopping at the Swinside Inn (at Stair - the foot of Newlands Pass) overnight. The weather was brilliant, and Stu (who only started riding in January) impressed us all by getting all the way up Hardknott. We were pretty pleased that we made it up on the tandem too, even with a couple of hefty panniers (the price you pay for riding with 2 'roadies' with nowhere to stow their stuff!) So, things were looking OK, we hadn't had to walk on any of the climbs, and far from making us more apprehensive, it boosted our confidence - we wouldn't have panniers on the day.
More info on the route (profile, climb profiles, pictures of what it looks like in good weather etc) can be found here.
So, back to the event...
After the success of that test ride, we decided that we'd set ourselves a goal of 'under 10 hours' on the tandem.
Konrad and his wife had taken the tandem up to Coniston in their camper van on the Saturday night and stayed in that. I was picked up by Glenn and his friend John who had driven up from Devon to ride the event. It was damp and murky at Coniston, and the mood in the camper van on arrival was equally murky. Apparently they hadn't got much sleep. Although parked on a quiet road, they were woken up several times with smart-arses banging on the van asking for burgers etc up to about 3am.
Suitably filled up with porridge, we collected our timer things, did a last quick check of the tandem, and off we set (at about 7:10am). It was fantastic to be out on the road with so many other cyclists around. We passed a few people on our way out to the first climb of the day, Hawkshead Hill, and, as was to become a pattern that repeated itself over and over again, they passed us when the road went up. We're not quick on hills. The tandem is heavy, and we're not exactly light! but there's nothing, so far, that we've not been able to get up (though some might say it would be quicker to walk ;-) Hawkshead Hill held no fears, we've ridden that many times before and we were soon turning left at the top for the fast run down past the Drunken Duck and on to Ambleside. Now tandems are fast downhill and on the flat. This ones also extremely stable at speed, so descending on it is an absolute joy. It has V-brakes front and back and a huge disc brake. I thought to myself 'I bet one or two others would like that disc brake today too'.
As we rode along Windermere, Glenn and his friend John (who aren't competetive in the slightest ;-)caught us up. We stayed with them until the left turn up Holbeck Lane and, as expected, they disappeared off into the distance. Soon we were passing the Mortal Man Inn and then zooming down on to the Kirkstone road. Needless to say, we didn't pass anyone going up to Kirkstone summit, but plenty passed us.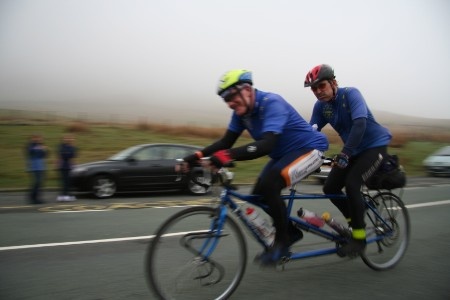 We reached the summit feeling good (well we'd be in serious trouble if we felt bad at this stage) took some very polite applause from a few brave souls on the top outside the Kirkstone Pass Inn, and then it was off down on the fast descent to Patterdale. It was here that we we were passed by a couple of fast riders (one in a BikeTreks jersey and the other in Fasso Bortolo kit) and we latched on to the back of them for a while, doing a steady 23-24mph along the side of Ullswater. They picked up a few more riders who latched on, then the speed went up even higher and we dropped off the back (I know my place) and they rode steadily away from us. Not long after this, we took the left turn for Dockray and Matterdale End. We'd obviously made good time from Patterdale, and it was longer than I expected before people started passing us again on the climb. Not far up the climb, we came across 2 of the hand-cyclists. We had a brief chat as we went past and they seemed very chipper. Hats off to those guys. I just cannot imagine how hard that must be. They're the true heroes of this event in my view.
As we reached the top of the climb at Matterdale End the drizzle that had started along Ullswater turned a bit heavier and we stopped at the top to put on rain jackets. There were quite a few people at the top here, waiting for their riders to come through. They were all full of encouragement, and after a couple of minutes we were on our way again and soon hit the A66 junction where we turned left and positively flew down to Keswick. I remember looking down and seeing speeds regularly of 34mph and we passed a lot of people on that run down to Keswick.
We latched on to a group of riders through Keswick and out onto the road alongside Derwent Water. The surface of this road is pretty poor, but the tandem handles poor surfaces well and is certainly a lot more comfortable on poor roads than my road bike. Just before Seatoller, the rain stopped and we took off the jackets. We were going to take them off anyway as there was no way I was climbing Honister in one of those.
Through the cottages at Seatoller, we saw a chap standing with his bike looking up the hill. We jokingly said "It's no good looking at it", but I don't think he appreciated the sentiment. Anyhow, we made the left turn, dropped down the gears 3 left, 2 left, 1 left, that's it, and started the slog up Honister. I hate that bloody hill. I don't know what it is about it. I find Honister really tough. Lots of cyclists up ahead zig-zagging across the road, and a surprising number walking. I hadn't really expected that at this stage, but I guess these compact chainsets, though popular, are maybe not such a wise choice if you've got legs like me. I need all the help I can get and use a triple ;-) Some poor soul had punctured on this first section and was dropping tyre levers all over the road as we passed. What an awful place to puncture. Up around the first bend, and we heard shouting behind us. A good Cumbrian (Workington?) accent. I thought at first it was just a bit of joking between mates, but then a car passed us, quickly followed by someone obviously riding on pure adrenalin, and suggesting that the passenger might like to step out of the car and discuss something with him (though it was more 'Workington' than that!). Luckily the passenger declined the offer. We soon reached the middle flattish section which gives a little respite until the final push for the summit. It was a great site up ahead seeing a steady stream of cyclists going over the top. Up and over the top, ride marshals were urging caution on the descent as it was 'slippery'. On a good day, I always feel that going over Honister is like dropping off the edge of the world. Today it looked like dropping off into Hell. There were at least 2 people lying at the side of the road getting attention, and a car stopped on the descent giving more assistance. We took it very gingerly for this first steep section, relying on the disc brake only. We picked up speed, so Konrad added the V-brake, but that just locked the back wheel up. I added the front brake and that got us under control. After the bridge the road was clear again, and relatively straight, so we could let it go a bit. I noticed that there were several oily/diesely patches on the road. Perhaps this had caused the crashes.
It was a fast ride on to Buttermere and the first feed stop at Buttermere YHA. As we pulled in, I don't know who was more surprised. Glenn to see us or us to see Glenn. He and John were just leaving. I must admit I'd not expected to see them again today, and Glenn encouraged us saying we should easily beat 10 hours at this rate. We dibbed in and made our way to the food. Fruit cake, banana, malt loaf, chocolate brownies, it was all there. Konrad had already eaten all his sandwiches by Matterdale (never seen anyone eat so much on a bike!). Where I have to literally force food down, he craves it from the moment he gets on the saddle. We probably spent a little over 10 minutes here and we were off again, soon turning right for the climb up Newlands Pass.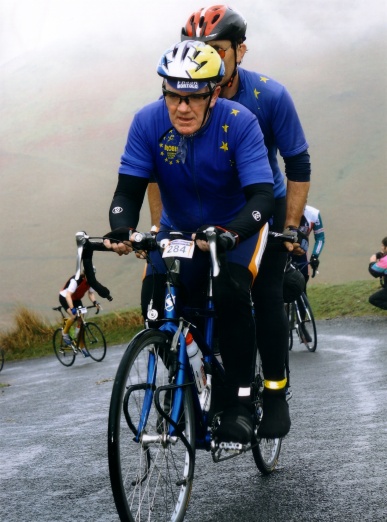 Newlands Pass was full of cyclists and apart from Honister was probably the busiest stretch we saw. Once again, I don't recall passing anyone going up (other than the odd person walking), but plenty passed us! This climb seemed longer than I remembered it and I was glad to reach the summit (where someone professional looking seemed to be taking photo's). I knew it was a nice long descent toward Braithwaite now before the climb up Whinlatter.
As the descent petered out I looked across the valley at the Swinside Inn where we'd stayed a couple of weeks before. So, we were into new territory now. Taking a left through the village, we started the climb of Whinlatter. Whinlatter isn't a difficult climb. It goes on a bit, but (for me at least) doesn't compare with the two that come before it. It was here that we passed our first cyclist on a climb! He didn't seem very happy and muttered something along the lines of 'fancy being overtaken by a tandem'. I wasn't sure whether to take that as a compliment or not ;-) Finally reaching the top, we could see quite a large crowd on the final bend who gave us a great cheer as we passed. Even better, on the flat at the top there was an equally large crowd and someone ringing a cowbell - 'very continental' I thought and tried to recall some Italian but all I could come up with was 'Ciao'. Whinlatter is a great descent. Not too technical, and we flew down to Lorton.
At Lorton, we turned left for Loweswater (beautiful setting). From here there's the unmentioned climb of Fangs. The number of other riders we were seeing now thinned out quite dramatically as the road twisted and turned. I guess that by now all the fast riders were long gone. I found Fangs a bit draining, and again, it seemed longer than I remembered it (is there a pattern developing here? I thought), but, my legs still felt in good shape, and luckily Konrad kept reminding me to eat. We saw a few cyclists heading in the opposite direction on this stretch and judging by the panniers were probably on the C2C route. On to Croasdale where we turned right for Ennerdale Bridge. Once there it was a left and we started the climb up Cold Fell.
I found the climb of Cold Fell OK, it's not too steep and luckily, there was no headwind today! It would be a great view from up there if it wasn't for the Sellafield Nuclear re-processing plant. Passed a bloke on a recumbent on the climb - the only one I saw. Stopped for a pee on the top of Cold Fell (mainly 'cos we'd unshipped the chain changing on to the 52 for the descent). Once at the summit it's a fantastic long fast descent down to the main road where we turned left and headed the last few miles into Gosforth and the second feed stop. I think at this stage we were both starting to feel it a bit, so we hung around for about 15 minutes, ate all we could, refilled the bottles, and in what seemed like no time at all we were off again. Once again, we latched on to a group of riders for a while, but they seemed to be going about half a mile an hour faster than we were finding comfortable. Slowly the elastic broke and we were riding on our own again. Down to Santon Bridge and the the climb up to Irton Pike summit (taken very steadily i.e. slowly).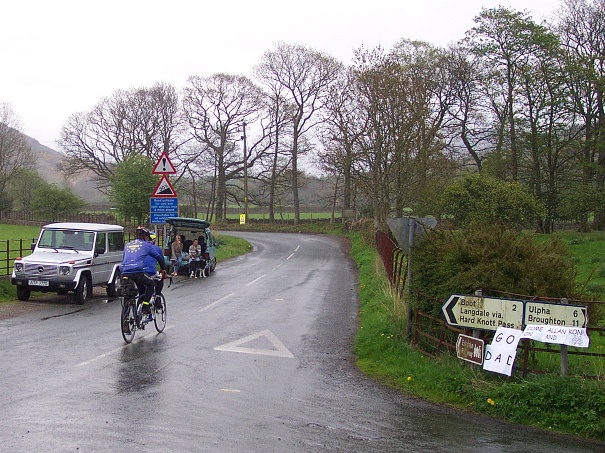 There was not a lot of talking going on now as we both started thinking about what was ahead. We did have a nice couple of minutes break though at the King George IV pub where our wives and my daughter and her boyfriend (he had a pint of lager in his hand!) were waiting to cheer us through. A nice touch was a banner on the fence 'Go Dad!' It brought a lump to my throat ;-) It was raining quite heavily now, but we reckoned we were on the home stretch (and would be warming up soon!) so left the rain gear off.
Ambling along to the foot of Hardknott, we wondered if we were still on for a sub 10 hour ride. We both worked it out and reckoned it would be touch and go. Interesting that there was no mention of maybe pushing a bit harder to see if we could do it. I've done Hardknott a few times, but this was the first time I've done it in the rain, and if anything it looks even worse. With the road being wet, it stuck out as you looked up the hill, and bits that would normally thankfully blend in with the grass and bracken could be seen in all their glory. It was a pretty daunting sight, and I did wonder if it was going to beat us this time. So, it was with this thought in our heads that we passed the red telephone box, skidded over the wet cattle grid and started the long slow plod to the summit of Hardknott. More to ease my backside than anything, I lifted myself out of the saddle, but soon sat down again when my thigh muscles complained loudly and I thought I was going to cramp up. At the bottom a woman passed us and she shot off up the climb - very impressive whoever you were. Up ahead toward the first hairpin, a car had stalled. They had a few attempts at going on, and then the doors opened and 4 rather large people got out. The driver had another go, but it was no good. The passengers were stood at the side of the road in the rain - arms folded - looking none too happy as we went by. The car never passed us so I presume they reversed down and went somewhere else. Although there were no cars ahead of us now, the smell of burning clutches hung in the air. A couple of hairpins up, there was a lady standing with a very large umbrella. I'm sure it was Yvonne McGregor (of GB track fame). Anyone else notice her?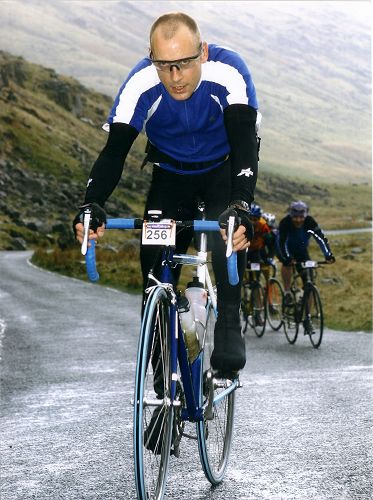 There were riders scattered all over the climb now. Some walking, some, like us, going at walking pace. I noticed a guy up ahead of us walking and was amazed how long it took us to reach him! Finally, the flat bit in the middle arrived (do you know, there's even a 5 yard stretch of downhill in amongst it where you can actually free-wheel). We re-grouped ready for the next onslaught. I'm never sure which bits worst, the first or second sections. Probably the second as you're pretty cooked by then anyway. We hit the hairpin where the road goes up to 30% and took it wide - a tad too wide - and almost lost it, but with a lot of grunting and groaning, we made it to the next hairpin - again taking it wide to take advantage of any slight drop in the gradient we could find. The next bit I find a killer. I reckon the next 200 metres are probably the hardest of all. I was making some strange noises by this time - probably reminiscent of the sounds you hear on porn videos, but trust me, I wasn't enjoying this. Finally, the worst was over and we crawled to the top, past the Mountain Rescue land rover, over the cattle grid and we'd done it. That is without doubt the most difficult climb of Hardknott I've done, but then I've never reached the bottom of it with 100 miles in my legs before. We began the descent, very slowly. Knowing the road helped a lot. There was a rather large pot-hole on one of the hairpins, but some kind soul was stood on the corner pointing it out to everyone as they passed. Thanks for that.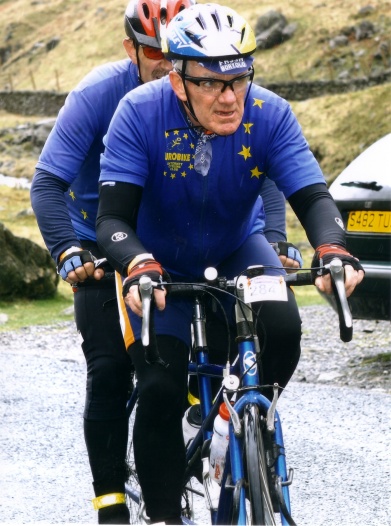 We soon reached the bottom of Hardknott, over the bridge at Cockley Beck, turned left and began the slog up the valley to the foot of Wrynose Pass. We seemed to be (were) going extremely slowly now, but thankfully so were most other people so we didn't feel too inept. Once Wrynose kicked in, we were back on the small ring, no thought of 'saving a gear' and we began the final big climb of the day. I must say I don't remember too much about Wrynose. It didn't seem particularly hard, but then after Hardknott what would! We reached the top and all I could think of was 'Yes - I'll be able to tick the box on the certificate 'Did you walk? NO!'. We took it fairly steady off Wrynose. The disc brake worked well and that's probably one of the most controlled descents of it we've ever made. We flew down past the Three Shires Inn down to the Elterwater road and began the slog up Colwith Brow. This hill isn't funny at this stage in the day and where we'd normally take this in the middle ring, we found ourselves using the inner ring and twiddling up it. A few riders passed us on this stretch, but once we reached the Skelwith Bridge road, we seemed to pep up a bit (psychological I guess - only a few miles to the finish). We came over the top and began a seriously fast descent down past Yew Tree Tarn and on to Coniston. Without doubt the fastest I've ever done that stretch. Maybe there was a tailwind or something. In no time at all, we were turning left into the finish straight outside the sports hall. Nice crowds on the corner clapping everyone home. We dibbed in and went to collect our time.
I was amazed to find that we'd managed 9:03:01. Beyond our wildest dreams, and it just goes to show that trying to work out your finishing time at the foot of Hardknott is probably not a good idea. Strangely, the elation turned to 'buggar' within a few minutes. What if we hadn't stopped on top of Cold Fell for a pee. What if we hadn't stopped to see our wives. 3 minutes - we could have done a sub 9hr ride. 3 measly minutes! Still, it gives us something to go for next time.