Fred on fixed - A tale of riding the Fred Whitton Challenge route on fixed gear - June 2013.
Ascent: 3,800m (approx.)

Fred who?
"Whats your Fred time?"
Love it or hate it the annual Fred Whitton ride is already legendary in the British amateur cycling psyche. It promotes fundraising, collaboration, cycling, the local community and is generally regarded as hard as nails.
Every year Fred is oversubscribed by riders wanting to test themselves against the Lake districts tough scenery and unpredictable conditions. To enable all those who miss out on a place or want to ride the Fred at a time/pace that suits them, the 4 seasons Fred was set up in 2011. Dead simple concept - Pick your date, hire a timing chip and the ride around tagging at the timing stations on the course. You then update your name/details onto the website against your ride time, & even download a certificate. For some its a great way to spend two days touring, for others its a chance to test themselves in a way that fits their busy schedule.
Fred 4 Seasons info
'Go Lakes' Fred 4 seasons info
The idea...

I am a local club rider who has been involved with and ridden the Fred Whitton ride for the past few years (if you rode 2011 or 2013 I was one of the marshals bellowing at you at the Skelwith junction with 5 mile to go). I consider myself lucky to be part of the extended Fred family.
The three times I have ridden on the day I managed 6:59 twice, (don't ask) and a 7:17, personally I find it about the limits of my endurance.
I also have a weird masochistic addiction to the purity of fixed gear riding. I love the ethos of old style cycling. Simple, stripped down, pure hard work and as a friend of mine says "No bull sh*t".
At the moment about 90% of my riding is either fixed or on a single speed CXer. So having stewed on the idea for the last couple of years I decided its time to bite the bullet, stop mucking about and see if I can get around Fred using a fixed gear. As far as I know its never been done before.
Preparation...
As I guess most cyclist do before any big event, I was planning on doing loads of training and preparation. But in reality I am the worlds most un-organised man, working shifts and Dad to four fantastic kids it never happened (get the excuses in early).
Training has consisted of my 16 mile round trip daily commute, mid week BCW time trials & the very occasional club/training ride. Not ideal, I agree, but I justified my laziness by reckoning it was probably more a case of mind over matter.
I picked the weekend after Solstice (22/6/13) for my attempt. Not because I'm Druid, but because I thought I may need all the daylight available to get around.
Week prior - ordered my timing card off Lofty and harassed people for last minute parts. Two days prior - changed the bike to the big ride set up and ensured it all ran smoothly. The day before the ride I ate my bodyweight in pasta, laid out the lycra and tried to ensure the nerves didn't get the best of me (my guts had other ideas, but at least it was less weight to carry around!) Day of the ride- Up at 6, eat more pasta, get rid of any last minute 'nerves', drive to Coniston.
Ground rules...
I reckoned that as I am the first (and probably the last) to do this I might as well set the rules.
So it is the full Fred course in one day (with the minor deviation at start/finish for the Coniston garage), with a fixed gear pushbike (no freewheeling allowed), a single gear, no flip flop rear wheel gears (no changing to nice climbing gears etc), unsupported (carry your own kit, fettle your own mechanicals), using the official four seasons FW timing kit.
Finally try not to end up in hospital.
The Ride...
My mate Graham turned up at the start for the first part and we set off from the first checkpoint (Coniston garage) at about 0715.
The weather was predictably British & wet as we wound our way up Hawkshead hill, through Ambleside and started the days first test of Kirkstone.
I managed to stay with Graham until about half way up the main climb at which point he let the gears do the talking. By the time we reached the top and second checkpoint (Kirkstone Inn), we were in the grey clouds and the wind was starting to bite so I pressed on as Graham headed back home down the Struggle.
To be honest this first 14 miles flew by. With a mate to chat to and no major gradients it was a doddle. Thereafter things were different.
The descent of Kirkstone was interesting. If you have never had the pleasures of fast technical descents on fixed, it's an experience. Unable to hold up the inner pedal on corners to ensure it doesn't strike, having to balance your cadence to ensure the bike doesn't start 'riding you' and making sure you don't lock the rear wheel by braking and leg braking, it takes some practice.
On a bigger gear in good conditions I've managed near 50mph on fixed in the past, but today the road was greasy as hell, the low gearing was restrictive and most of the way down I held it between 5-10mph. Only at the bottom where it straightens did I let it go and hit the mid 30's. I thought that cowardice at this early stage was better than a call for the air ambulance.
Along the fast bottom road by Patterdale I held a good rhythm but the rain & strong wind started in earnest and even though it's officially summer and I had loads of kit on I got damn cold.
The climb up Dockray/Matterdale end towards the A66 was a welcome break that warmed me up in the wet, and the spin along the main road was good.
By the time I reached Keswick the weather was getting stupid. I'm not sure what a fixed gear canoe would look like, but I was wishing for one.
The ride along the Borrowdale valley is pleasant apart from the terrible road surface, but you know that at the end its DUN DUN DERRRRRR, Honister pass.
I went at it with the best intentions but by the first corner I was off, cursing and walking.
Score - Gravity 1 Scrawny Human 0

I pushed my 'pram' to about half way up to where it levels out before the cattle grid. I then remounted and zig-zagged and grunted for a good 30 seconds before suffering the worst bout of cramp I've ever had. It felt like my legs had been tazered as I stood vertically on the pedals, simultaneously trying to grab my quads, keep hold of the handlebars, perform a plank and shout expletives. The guys in the campervan at the side of the road must have thought I was having some sort of religious experience.
After a comical dismount & punching my legs repeatedly I decided that the best option was remount and grimace. This I did, and ground on before cresting the top and enduring the horror that is Honister descent in the pi**ing rain. A cross between the 'Big One' & the 'Log Flume' at Blackpool Pleasure Beach, with the added excitement of traffic coming towards you and only a layer of lycra as protection is the best description I can think of.
I hate that pigging hill. Brake, brake some more, brake as hard as you possibly can then a bit more and pray. I was struggling to get any feeling in my hands & by the time I reached the bottom I was knackered and ready for a fresh pair of shorts.
I trundled along the lumpy valley getting colder and grumpier until I got to check point two at the Buttermere youth hostel.
This was a welcome break as I refilled my bottle and then held my hands under the hot tap for 10 minutes to get back the circulation, then it was a quick spin down to the bottom of Newlands before more grinding up hill and nodding like a demented Churchill dog. Here I surpassed my own expectations getting virtually all the way to the top at a snails pace. Unfortunately I forgot that the last 30 metres on the S bend are the worst. I tried my damnedest but ballsed it up, and performing a manoeuvre somewhere between wheelie and trackstand I unceremoniously hit the deck in the worlds slowest ever crash.
Score - Gravity 2 Scrawny Human 0

Next was holding myself back on the descent, some lumpy stuff and arriving at the foot of Whinlatter.
I have always considered Whinlatter as a bit of a side dish in the FW climbing feast. Today it took on a different slant in my mind & was promoted into the 'Nzty Bztd' category.
As I rode through the forest on the fixed I received the odd bemused look off observant sportive riders heading the opposite way.
After Whinlatter it was head down and spinning until the aptly named Cold Fell.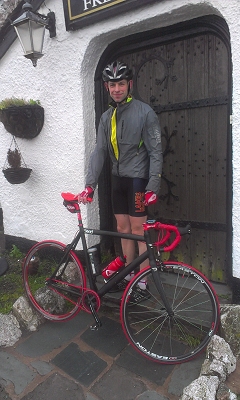 I expected to get off but somehow managed to get to the top with no foot down. I did have a funny/painful experience on the steep bit though. As I stood on the pedals my left leg started doing an involuntary inward/outward cramp-dance. It was bizarre as the more I tried to control it, the more extreme the wonkiness got. At worst my left knee was clobbering the top bar on the down stroke, then kicking right out on the up stroke.
Sitting down and swearing cured it.
At the top of the fell the wind was doing its best to remove my face, but the rain finally stopped, and I was grateful to drop down to the third checkpoint at Calder Bridge garage. My ride plan involved refuelling at the garage, but the garage was shut.
I found a refuge around the corner in the Stanley Arms pub (highly recommended). I have never enjoyed a buttie, bag of nuts and drink as much in my life, cheers Mary. Feeling better I went outside, asked a random punter to take my picture then cracked on to Gosforth. Carry on to Eskdale Green, then it's a left and into the valley of Doom.
It's a strange thing riding down the Eskdale Valley, a bit like visiting an art gallery that leads into a torture chamber.
Despite the beautiful landscape, Ravenglass railway, picturesque pubs and campsites, you know that very shortly you are about to wish you had trained a LOT LOT harder.
And so it was up Hardknott. I managed to just before the cattlegrid before dismounting.
Score - Gravity 3 Scrawny Human 0

Got back on & rode the middle 'flat section' and also the final 100 metres to the top. Seeing several motorcyclists with mounted cameras coming the opposite way I'm pretty sure my trudge of disgrace will be on YouTube somewhere.
My ignomany was completed by a descending cyclist (Paul OMahoney was that you) asking if I was suffering a mechanical.
At the top the ridiculousness of the whole escapade came into focus. I was 100miles in, aching, knackered, cold, wet and the wind and rain were picking up again.
A manic little voice in my head mocked "Now let's try and go down the steepest windiest roughest greasiest hill in England, ON FIXED! MORON"
Oh boy what a ride. I am sure that there are much more skilled riders out there that would laugh at my amateur white knuckled, gritted teeth, backwheel locking downhilling, but I dont care, I got to the bottom without decking it or getting off. I am well aware I am not Patrick Seabase.
And so I finally got a howling tailwind as I rode along Cockley Beck and looked towards my final nemesis - Wrynose.
It felt like the gods were on my side as I tore into the climb knowing that I didn't need to preserve any energy. Brain on auto, wind at my back, adrenaline pumping, muscles be damned, I am getting up this one.
Wrong! This optimism & ambition lasted a fleeting minute or two until it was bludgeoned to death by reality. Halfway up I ground to a halt and got off.
Score - Gravity 4 Scrawny Angry Humbled Human 0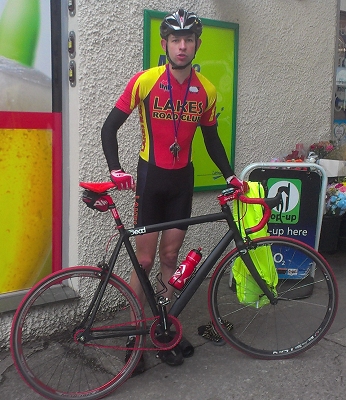 For the descent it was pretty much a repeat of Hardknott. I felt more confident buoyed by the fact that I had stayed on for the first one, so chances were I would stay on for this one as well. And I did.
Once I went around that final bottom corner and past the house on the right I knew I was getting home unscathed. The final few miles were a blaze of glory, letting it all go and hitting 37mph (180rpm) on the drop off Skelwith.
Once back at the Coniston garage I clocked in and asked a passer-by for a photo, before handing in the timing chip at the counter.
Back to the car, put stuff in and drive home to eat anything that doesn't move. I must have looked like a demented homeless Power Ranger as I was queueing in the chippy, clad in garish skinsuit, encrusted in grey road mush and having a zombified grin across my face. The fish and chips was worth it though.
Recovery...
I showered, ate & drank everything I could, then slept for twelve hours. And yes I was stiff as hell the day afterwards.
The Time...
First of all before anyone starts getting their knickers in a twist about times let me explain a big difference between the 4SFW and the true FW ride.
On the true FW ride your time is the full time from start to finish. But the 4SFW enables riders to stop the clock as they ride into a checkpoint, then restart when leaving. So there are two times on the site.
The Official Sportident ride time is on their website
Ride time 8hr41.1 (No breaks included
Full time 9hr39.11 (All breaks included)
I think Garmin paints an interesting picture though. I have my splits set at every 5 miles.
The fastest 5mls took just over 15minutes & was an average speed of 19.4mph.
Compare that to the slowest which shows 5mls took over 54mins at an average of 5.5mph (Im guessing I had a long break here).
St Mary's Hospice...
My day of self induced suffering is nothing compared to what some people go through on a daily basis.
St Mary's Hospice in Ulverston is one of the places you hope you will never need, but if you do you just hope there is enough funding to keep the amazing care going.
If you feel generous please have a look at their website.
If you think this day in the saddle was worth a couple of quid, please drop some coins in the next SMH collection tin you see.
Want a go?...
Why not give it a go. Despite all this rubbish that I've just typed it has been one hell of a good experience.
Just log on at Four seasons Fred and give yourself a challenge when it suits you. You don't have to be as stupid as me, any bike, geared or not will do.
I might have a go again sometime, but this time I will train (yeah right like always!).
Kit... (for bike saddos like me who like this sort of bike waffle)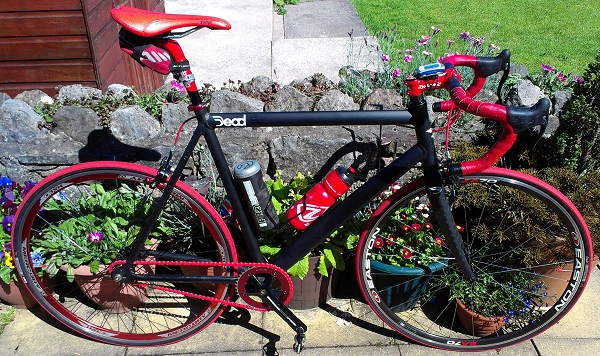 The bike was a personal project and has been nicknamed the 'DolanDeathtrap'.
The whole idea was to be versatile and robust. I use it for the daily commute, the odd time trial, some club rides & general transport.
It's all basic stock, except the rear wheel which was built up by Wonderboy at DC Cycles.

The bike was set up as per usual apart from two concessions for the specific demands of the ride...

a) Lower gearing. I usually ride 92" 42x12, for this ride went 69" 42x16.
b) Changed pedals from LookKeo to SPDs.
The rest...
Dolan FXE frame & forks
Front wheel - Easton EA70
Rear wheel - Halo 32h Mercury rim and Halo Fat foot hub
Vittoria Zaffiro 23mm tyres
Deda post/stem
Charge spoon saddle
Miche performance brakes
Cane creek levers
FSA chainset
KMC S1 chain
Garmin Edge
Extras...
2 spanners, pump, multitool, 2 tubes & levers.
Clothing...
Knowing the Fred/Lake District weather I went for comfort. Trishorts, chamois cream (plenty), vest, skinsuit, roubaix armwarmers, gilet, breathable rain jacket, thick padded mitts, waterproof cap, Ionos helmet, Endura socks, Pearl Izumi cross country shoes and sunglasses (totally surplus to requirements!).

Grub...
I am the sort that has to keep munching to avoid the bonkmonster.
5 Torque bars, 2 bananas, 2 gels, 2 cans energy drink, water (plenty), 2 sandwiches, salted peanuts.
Thanks...
Thanks to everyone that was involved in some way. Especially Roz & the girls who provide endless support and laugh at me when I struggle walking downstairs.
Also big Cheers to Glenn, DC Crew, Lofty & Graham.
I must also thank Martin Stone at Sportident for fettling the times after there was a downloading problem.
Local contacts that I use & recommend...
Lakes Road Club
Barrow Central Wheelers
Furness future flyers
DC Cycles - also on Facebook
Topmark
Gill cycles
Wheelbase
Biketreks