The route
Bit of a change from the normal 'rides what I like' format as we'll include some of the days happenings along the way.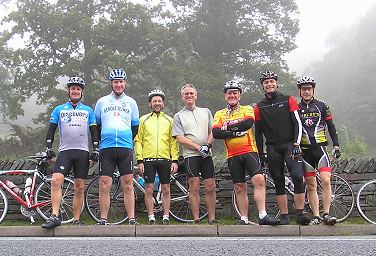 We all met up at Skelwith Bridge at around 8:30am. Glenn and I were first to arrive in Glenn's camper van and put the kettle on. Just brewing up and Richard arrived. Cups of tea all round and Richard finished off all the sugar! (Bang goes the post-ride cuppa). Stu was next to arrive closely followed by John and James. A guy had been aimlessly riding up and down the road looking for something - Sadiq, and we eventually let on who we were ;-) He'd been camping in Hawkshead (brrrr).
So, all changed and bikes assembled, we posed for the pre-ride photo, and then posed for it again as we realised James was missing (off to find the loo).

Just so you know who's who...
The Magnificent Seven - Left to right: Stu, Richard, John, James, Allan, Sadiq and Glenn.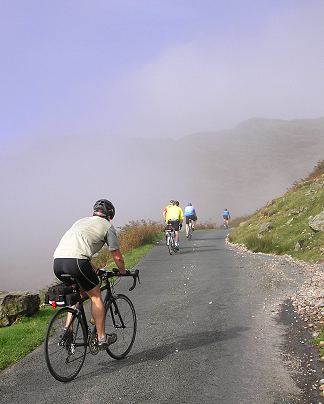 We decided on a gentle start up the Great Langdale road to Elterwater so we could have a bit of a natter and warm up. Left off the Langdale road and straight through Elterwater to almost the foot of Colwith Brow where the infamous sign awaits on your right for Wrynose and Hardknott Passes. About 50 yards from the right turn I heard the unpleasant 'hiss' of a front wheel puncture. The tyre (which had only done about 300 miles) had a small split in the wall. Patched the inside of the tyre and James kindly gave me a tyre boot to put in place and after a bit of faffing about (and by now no longer warmed up) we headed off up for the first hill of the day, Wrynose Pass. A steady climb up past the Three Shires Inn and then a drop down into the valley to Fell Foot Farm, the start of the climb proper. Richard hadn't been looking forward to this (his hands had been visibly shaking in the camper van - and so had Stu's, but that's just down to drink ;-) Richard had ridden this climb once before and it really knocked the stuffing out of him he said, but last time he'd started from Patterdale and had Kirkstone, Red Bank and Wall End in his legs before he hit it - a different proposition entirely. Sharp left at Fell Foot Farm and the climbing begins (and the talking stops). We were still in the mist at this point, but you could just make out some of the tops of the mountains and it really did look quite dramatic. As we climbed, we got above the mist in the valley and were in blue sky and sunshine with fantastic views. We all plodded up here at our own pace, apart from Glenn and Sadiq of course! We all wanted some good photo's of the day, but rather than give some of us lesser mortals a rest, Glenn became chief photographer and stopped part way up on the long drag to the bridge to take some photo's. He then rode past us all (except Sadiq who was probably at the top by now) to sit and wait for us all arriving later. I could hear James just behind me, or rather his heart rate monitor! He'd just bought it and didn't know how to set the levels yet. So, anything above about 100bpm, and it was a steady beep, beep, beep. By the top, it had merged into what sounded like a continuous beep and I was worried he might be dead! As the ride progressed, various solutions were put forward about setting the zones on it, with Glenn suggesting stamping on it might do the trick ;-) Stu had been worried about this ride as he'd had very few miles in his legs for the last couple of months. Hmm. Didn't look like that to me! I on the other hand had loads of miles in mine, and was still last to the top. Where's the justice in that! Funny how the better the cyclist, the better the excuses. With Glenn it's glands - they're either up or just going down. Stu's progressed to "not enough miles", while I'm still at the basics - "I'm too fat". Richard probably has some excuses too, but as we can't understand a word he says most of the time, we just nod knowingly. No doubt Sadiq has some too, but I never got close enough to ask. As for John and James - well they're from Yorkshire so it'll cost you to find out ;-)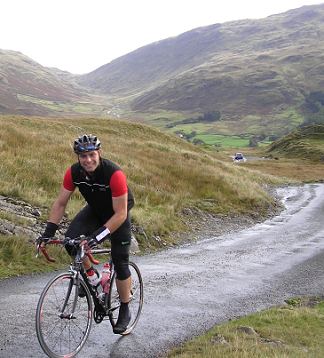 We all re-grouped at the top, and it was off down the sharp twisty descent to Wrynose Bottom and on to Cockley Beck. Stu and I led the way and approaching the cattle grid there were about 50 Herdwick sheep by the side of the road and 2 on it. Stu whistled and the other 50 immediately came on to the road to back up the other two. Don't give up the day job Stu - shepherding is not your forte. Sharp right at Cockley Beck, over the bridge and a slow silent ride to the foot of Hardknott. This side of Hardknott is by far the easier side, but it's still a tough climb. It starts with about a 10 yard ramp of 30%+ made all the worse by the ripply surface. This is just to slow you right down. It then continues up at 25% all the way. You do get some rest on this side in the hairpins though. The road was very wet in places on Hardknott due to the previous nights rain, but thankfully it wasn't too slippery. We'd certainly picked the right day, yesterday, rain, tomorrow, more rain, today - sunshine! Again, everyone at their own pace on here and re-grouping at the top for the death defying descent on the other side. It really is a hair-raising descent, and definitely not one to get carried away on. Several bits of 30% and more. We saw a strung out group of riders here coming up 'the hard way'. They weren't smiling. Down we went, and finally over the cattle grid at the bottom (which Richard took sort of sideways!) and then a lovely ride down the valley, past Dalegarth railway station (Ravenglass & Eskdale railway) and on to the fork at the King George IV pub. We took the left fork, signed for Ulpha and Broughton. This is a lovely quiet road which after about 1km forks again. To the left is the road up Birker Fell and over to Ulpha. We go straight on here through more lovely quiet narrow lanes, lots of banter along here which I can't repeat! until eventually we arrive out on the main A595 just below Muncaster Castle.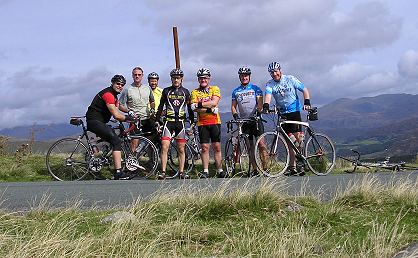 We took a left and joined the A595 for a short distance to Waberthwaite (famous for its Cumberland Sausage) where we take a left fork off the main road up a stiff little climb which marks the start of the Corney Fell road. The climb is fairly long and as you're starting at basically sea level here, it's around a 400m climb. It climbs in a couple of stages. Once up the ramp from the main road, it eases off, before climbing again up to around 120m. It then eases off again before climbing steadily at first and saving the best 'til last for a stiff longish climb up to the summit. Sadiq and Glenn stormed ahead and John had a go at going with them. The last steep ramp kicked in and he rightly decided discretion was the better part of valour and let them get on with it. The sun was well and truly out now and the bleak moorland looked superb, with wonderful views to the coast on one side and the lovely Duddon Valley on the other.
Another long fast descent down Corney Fell. It's the sort of descent where for the most part, you can let it go. Just be wary of the sheep. As Richard found out, they can be particularly dumb. They have no fear of anything, cars or bikes, and one ambled out in front of Richard. Once over the cattle grid marking the end of the moor road, the road dips sharply down and enters a woodland. The road here is rougher and can be a bit slippery, so take care. We emerged onto the A595 again at Duddon Bridge, turning left. A brief wait for the traffic lights on the bridge, then off on the short ride to Broughton via a last leg sapping climb up to High Cross. We went straight across here and dropped down into Broughton-in-Furness, a lovely little village. There's a great friendly cafe (The Square Cafe) in the main square which as well as welcoming cyclists (and having a couple of great old cycling photo's on display) is also remarkably cheap. There were a few bikes outside already (some of the Cumbrian Cycling Club were in there). I think we were all ready for something to eat now, so there was lots of beans, toast, eggs, bacon etc etc. Normal food for highly toned athletes like us (oh and some shoots and leaves for the vegetarian ;-) Can't recommend the cafe highly enough. If you're ever through that way, drop in.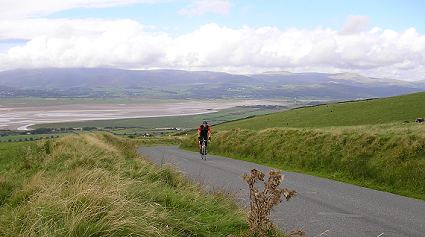 Suitably fed we set off down through Broughton. A short climb out then a drop down back onto the A595 for the run around to Grizebeck. At the top of the hill before the plunge down to Grizebeck, we took the small road on the right which drops down Bank End before rejoining the A595 for the lumpy road to Kirkby-in-Furness. At Kirkby, we turned left at the Burlington Inn. The road meanders up slightly, past a church on your right. It narrows through the village and ahead you can see a steep climb. Luckily just before that starts proper, you take a sharp right (signed Ulverston on the house wall). Now the climbing really starts! Not bad at first, but once the 'Cattle Grid' sign appears, the road kicks up and it's pretty unrelenting. Once again, fantastic views to the right out over the Duddon Estuary. Once over the second cattle grid, the road continues to climb, but much more steadily. Over the top and there's a fast descent then a final small climb up to Horace. Here we took the next left. The road still climbs very gradually until you reach a copse of trees on the right. Worth stopping at the crest of this hill, there are some great views directly ahead of Coniston Water and the Coniston range, and to the right of Morecambe Bay and Chapel Island (with Hoad monument in the foreground). I think some of us were glad that we'd be descending for a few miles now. I was finding it a bit weird as if I'd turned right instead of left at Horace, I'd be back home in 5 minutes! Instead, I was now going to ride to Ambleside. It's a long fast descent in three parts. First of all it's down to the Broughton Beck Road (B5281), where you dink right, then immediately left to carry on the descent. After that you eventually cross the A5092 (straight across here) on down past Lowick Church and finally to the Red Lion pub and the A5084. Straight across here, over the hump back bridge and immediately left (signed East Coniston). A few hundred yards up this road, turn right (signed Oxen Park). This starts the climb of Bandrake. This is a short but stiff climb which the road builders obviously had a go at making 'alpine' i.e. they put some hairpin bends in it. It's a good 20-25% most of the way up. Richard did a bit of impromptu off-roading here. Those Orbea's just aren't up to that kind of punishment Richard ;-) Up over the top and then a windy descent down to Bandrake and a sharp climb out to Oxen Park (which took some folk by surprise judging by the clatter and grinding of gears).
At Oxen Park, turn right, then almost immediately left (signed Bouth I think). This is a VERY quiet road as you can tell by the grass growing up the middle. It wanders about for a while before dropping down to Bouth. In Bouth we turned left and followed the signs for Haverthwaite. The road drops down and then there's a long flat section with a T junction up ahead. Right is for Haverthwaite, but we go straight on. Up ahead, the road forks again. Left is for Rusland, but we're going straight on (up the climb) to Hill Top on the Finsthwaite road. Once over this the road drops down and you come to a triangle where three roads meet. Go straight across (signed Newby Bridge). We all met up again at Newby Bridge, then off on the short stretch of A590 to the roundabout, where we turned left onto the A592 Windermere road.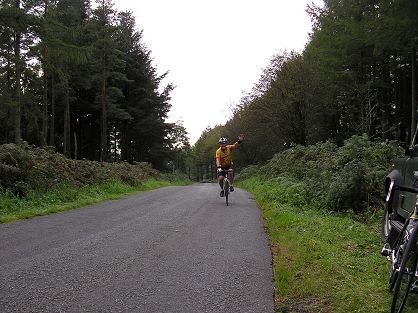 After about a mile, we took a right, some of us engaged low gears and we were now on the climb of Gummers How. My Dad once won a hill climb on here. Unfortunately 'like father, like son' has never applied to me and I think the gene pool got mixed up somewhere along the way. I really like this climb though. Once you're about half way up there are some great views to the left of Lake Windermere. As I passed a lay-by about three quarters of the way up, a lady tried to encourage me by saying 'not far - almost there now', but as I passed her friend at the far end of the lay-by she said "She's lying". Charming! - build me up then knock me down.
A great fast descent down Gummers How, down Strawberry Bank and jealously eyeing the folk at the pub having a drink outside and on into Bowland Bridge. We stopped at the local shop and the owner kindly filled our bottles for us, then said he used to do all this, cycling, until he had a heart attack! Gulp! Out from Bowland Bridge, we headed up to the A5074 up to Winster and on to Bowness (really bad surface on this bit of road, but thankfully it was fairly quiet). A last climb out of Bowness to the roundabout where it was left and on to Ambleside. The speed was going up now. Sadiq obviously couldn't wait to get back and we made a good pace to Ambleside where we dinked left over the bridge (signed Coniston) and off through Clappersgate where Sadiq left us to head off back to Hawkshead. Richard took over at the front and we flew up to Skelwith Bridge and the end of the ride. A quick change, and the two Yorkshire lads invited us for a drink in the pub. Typical - it was closed until 6pm, so it was back to the van, kettle on and tea with no sugar (thanks Richard ;-) It really had been a great day. Wonderful scenery, wonderful weather and wonderful company. Just what cycling should be like all the time. Absolutely brilliant.
---