White Rose Classic 2008
Distance: 115 miles
Ascent: 3,500m (approx)
I rode this sportive, along with around 1200 others! but thankfully my good friends Richard and Dave were there to look after me. Richard had driven down from Edinburgh and we picked Dave up in Kendal on the way to the event.
First of all, it was a fantastically well organised event, run by BC Yorkshire. These were new roads to me, I had no idea where I was going (nothing new there then). I hadn't even looked at the route map, but it wasn't a problem, the route signs were plentiful and well placed.
Three courses were available and I rode the 'long' 115 mile course, which takes in the main climbs of Fleet Moss, the Coal Road, Malham Moor and Langbar (with a lot of very lumpy stuff in between which really took its toll). A total distance of 115 miles with ascent of 3,911m.
The weather was superb, and despite the early start it was warm from the off (and got steadily warmer through to scorchio). I must say this made me nervous. I'd had a disastrous Fred Whitton Challenge in May, when for some obscure reason we got Sahara type temperatures, in the Lake District, in May! I suffered like a dog to finish that, and I just wondered if deja-vu was going to strike.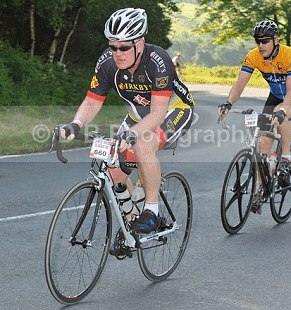 The course started at Otley and headed out through lovely quiet roads past Lindley Wood Reservoir to the first climb of Norwood Edge. This was a fairly steady gradual climb and didn't cause any problems - well not more than they normally do. Then it was on to Blubberhouses, Hebden and the first feed stop at Grassington after approx 30 miles. All the feed stops were superb. Lots of water, sports drink, gels, flapjack etc etc. No problem so far, and the miles seemed to be ticking off nicely.
From Grassington, it was on to a lovely long valley road running alongside the River Wharfe (bet it looks even better when there's water in it! - had it all evaporated?) up to Kettlewell and Buckden, where the route heads west to eventually start the first major climb of the day, Fleet Moss. This was an unrelenting slog and the sun was out with a vengeance now. If the ascent was bad, the descent was scary! As I tipped over the top, I wondered how long it would be before I saw the road! It dropped straight off on a bumpy surface - straight enough, but it didn't help that half way down some poor soul was lying at the side of the road being 'attended to' (got speed wobble apparently). I was just hoping I wouldn't puncture with all the hard braking I was having to do (and I still reached 48mph!). After that it was a fast ride down to the second feed stop at Hawes (never seen so many motorbikes).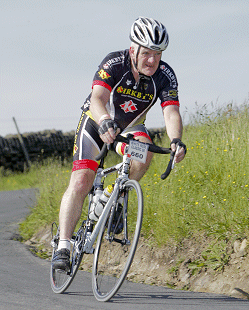 From Hawes, it was out to the next major climb of the day, the Coal Road. The climb starts immediately after turning off the main road, levels off under a railway bridge for a few yards and then kicks up fairly relentlessly. I just rode up this at my own pace - I was beginning to suffer a tad now. It wasn't so much the main climbs, but all the ups and downs in between that had really started to take their toll. I rode up the climb in my own little world of pain as usual and I'd like to say before I knew it I reached the top. The harsh truth is it took a lot longer than I expected. But, I was still on the bike, so at least that was something positive (a few were walking up these climbs now). Another harem scarem descent off the Coal Road with some sharp hairpin bends near the bottom.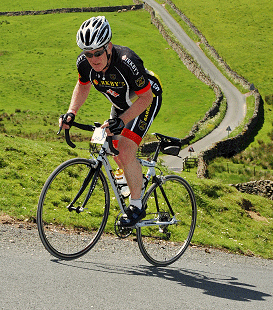 From Hawes, it was on to Horton in Ribblesdale where I thought I'd get a bit of a rest, only to be faced with a stiff unexpected climb out of Stainforth that eventually bobbled along the tops for a bit before plummeting down to the start of the climb over to Malham. This climb was disgusting and started off with an immediate 25% chunk. Mercifully, it eased off after that and after a long slog up, the top came into sight none too soon.
It was after the Malham climb that I started to feel a bit stronger, and a group of us rode at a good pace down to the third and final feed at Malham. By now I was sick to death of energy drink, gels etc and craved plain cold water and 'something savoury'. They had the water, but unfortunately nothing other than energy bars and the like. I'd have killed for a ham bun!
I left Malham still feeling OK, but it didn't last. Fatigue set in after about 10 miles, and set in big time. I was alarmed how quickly it came on and I still had over 20 miles of very lumpy road to go. These last miles ticked down exceedingly slow, through Burnsall and past Bolton Abbey (which I didn't even notice!). I lost tons of time on this section, but talking to others, they found this last stretch tough too.
To rub salt in (which was now caked all over my face and leaving a lovely pattern on my jersey by the way), about 6 miles from the finish, we took a right and started the climb of Langbar. Now normally this wouldn't be bad at all, but I was really cooked now. Still, I managed the main aim which was 'stay on the bike'! (and I noticed they had folk posted on the climb ticking your number off - as if someone would cheat and go around the hill ;-)
After the climb of Langbar, it was on down (with the odd annoying up) to Middleton, Askwith, 5km markers! and the finish at Weston (which I nearly rode past I was that far gone).
The "it's a 2 mile easy run down" from the finish back to the start turned into 3 but finally the parking area appeared - looking remarkably empty now! My elapsed time was an underwhelming 9hrs 27 minutes (ride time of around 8hrs 40mins) which I was a tad disappointed with to say the least, but I'm getting used to being disappointed nowadays ;-)
All in all a really great event, well organised, glorious scenery, good feed-stops and they even arranged good weather.
---