Sassoferrato to Ostra
Sassoferrato - Filliponi - Arcevia - Maesta - Trivio - Serra San Quirico - Moie - Belvedere - Ostra
Kilometres: 67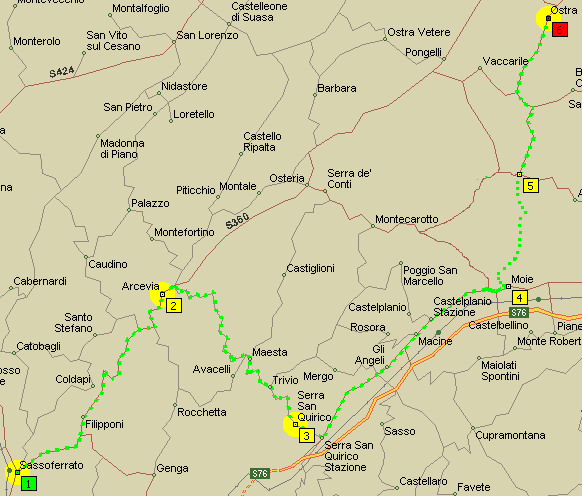 Had breakfast in the hotel (with a kitten swinging on the table-cloth - very cute), then we were off with a nice easy 3-4 kilometres out of Sassoferrato to the junction near Filliponi. Here, the road climbed continuously for the 10 kilometres to Arcevia. This was a nice road with a good surface, and it was very quiet.
We had a look around the town which was very busy, probably because it was Saturday. Lots of market stalls in the main square. They like their markets over here (which is nice to see - reminded me of home).
On leaving Arcevia, we headed for Serra San Quirico. This was a real roller coaster of a road. We'd plummet down, then climb, only to plummet down again. This went on and on and on. It really was tough cycling. We found this harder than the rides up to Castellucio or Sassotetto, simply because you couldn't get in any kind of rhythm. It was also very hot and humid. We stopped at Maesta for a drink and a bite of food, and were a bit disappointed to see that we were only just over half way there!
We carried on with the ups and downs, until finally we made a terrific descent into Serra San Quirico (I wouldn't fancy going back up that!). The town looked as though it was getting a makeover, lots of scaffolding everywhere, but I think it would be quite picturesque otherwise. It certainly has a great setting. The town appeared to be closing for lunch as we arrived at 12:55. We just had time to get a cold drink, and the shutters came down.
After cooling off for half an hour, we continued the descent to the valley floor, and the main road. We took the old main road, headed for Moie. This runs parallel to the S76, and was relatively quiet, and fairly easy riding which was nice after that tortuous ride from Arcevia. Just after Moie, at a roundabout, we took the road signed Belvedere Ostrense. Almost immediately there is a road to the right (white road on the map, but metalled) and we took this (signed Belvedere).
A leg crunching climb loomed ahead, but it actually looked a lot worse than it was. This took us up onto the ridge, and was the last serious climb of the day. The road undulated along the ridge and we followed signs for Ostra. A very pleasant quiet road. Unfortunately, the sky was turning dark, and we could hear thunder in the distance. The question was, could we reach Ostra before the rain reached us? On the way into the town was a sign for the Albergo La Cantina. We looked for other places in the old town itself, but there didn't seem to be anything so we made our way back, and after a false start walking into a restaurant of the same name, we finally found it down a side street. It's a very impressive looking hotel set in lovely gardens. We'd no sooner booked in than the rain started. It didn't last long though.
Later, we went for a walk around the town and had a drink, then feeling hungry, made our way to the Restaurant Cantina just up the road from the hotel. Great meal of Crostini, Anelli di crepes agli asparagi o formaggio, finished off with Flambe gelato (and no it didn't melt!).
We got back to the hotel at around 10pm and the hotel restaurant was packed. We went upstairs, got into bed and... the music started. Now that wasn't too bad, as the chap was a good singer, but later, the karaoke started! Now in my experience, karaoke's are great fun - if you're doing the singing, or you're drunk. For everyone else, particularly if you're sober, they're purgatory. It finally stopped at 2am, and we could get off to sleep. Shame really, 'cos we'd remarked as we booked in what a lovely quiet setting the hotel had!