Ostra to Fano
Ostra - Casine (S360) - Vallone - Senigallia (S16) - Marotta - Fano
Kilometres: 44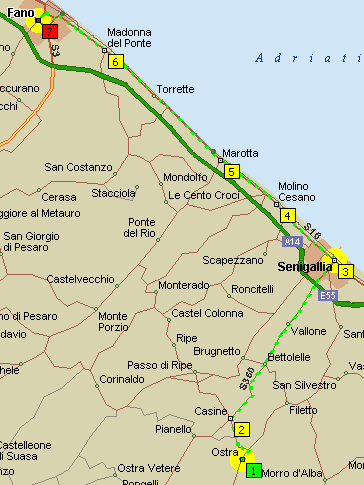 Booked out of the hotel at around 10am (late start 'cos we didn't get much sleep last night), and meandered down to a cafe for breakfast where we cleaned them out of sticky cakes.
Today was to be a very easy day. We dropped down from Ostra straight onto the coast at Senigallia. Lots of cyclists out this morning, and nice to see such a wide range of shapes, sizes and ages out there doing it too.
You don't need a calendar out here, just remember:
lots of cyclists = Sunday
We tried to keep off the main S16 and get on to a coastal road which we managed for a while, but then this disappeared, and we ended up round the back of some large hotel complex. It was while we were extracating ourselves from here that a bizarre thing happened. We came to a road end and were waiting for a car to go by before pulling onto the road when someone shouted 'Hi'. I recognised the face, but it took me a few seconds to realise who it was. When we were in Jesi (9 days ago), we stopped for lunch in a cafe in a piazza and a chap sat having his lunch on the next table started talking to us. This was him, Cristian Brocanelli! I think he looked as shocked as us. He was with a friend and they were going for a spin on their bikes up the coast and back to his home in Senigallia.
We followed them along the coast, but were soon down to 3 when his friend got a call on his mobile from his wife. I think the gist of the conversation was "playtime's over" ;-) We carried on to just outside Fano where we sat and had an ice cream and chatted. Then we bade farewell, he going back along the coast to Senigallia, and us continuing on to Fano.
Fano is a lovely town. Some very old 'Roman' bits, and the Piazza XX Septembre with its Fortuna fountain is very nice. As we rode through and sat by the fountain, we had the place literally to ourselves. It was like a ghost town. We rode around and made for the beach area and found a rather swish looking hotel that was in our price range, the Hotel Corralo (shame the air conditioning wasn't on as it was very humid now). In fact, we'd only been in the hotel about half an hour when the heavens opened and it absolutely lashed down for a good hour or more. We watched the Giro stage (Dolomites) on the TV, rang Francesco to tell him where we were and to arrange our meeting him and his wife tonight in Fano for a meal (lets hope we have better luck than Urbino!) and then fell asleep for about an hour.

We'd arranged to meet Francesco and his wife Patricia in the Piazza xx Septembre by the fountain. As we approached the piazza I prayed that there was only one fountain! We sat around looking very English and touristy, and sure enough, they picked us out without hesitation (so much for thinking the Italian style was rubbing off on us). It was so nice to meet them at last. We had a great evening, and I don't think we stopped talking all night. My 'gaffe of the trip' was made in the restaurant. I asked for a glass, as I had been asking for a glass for the last few days, after I'd looked it up in my phrasebook in a cafe where I thought I'd impress the waitress. It said - glass = il vetro. When Francesco had stopped laughing enough to speak, he informed me that I'd asked for a window pane (or something like that). Apparently the word I was looking for was 'bicchiere'. Anyhow, so what - I got the glass didn't I, and probably made somebody's day ("...we had this stupid Englishman in the cafe today, and he asked for a window pane for his Lemon Soda" ;-)) Yes, it was a brilliant night, and we can't have looked that bad, as they invited us to stay with them in Pesaro the next night. We gladly accepted their kind offer.
Hotel details...