Cingoli to Camerino
Cingoli (S502) - San Severino in Marche - Castelraimondo - Camerino
Kilometres: 46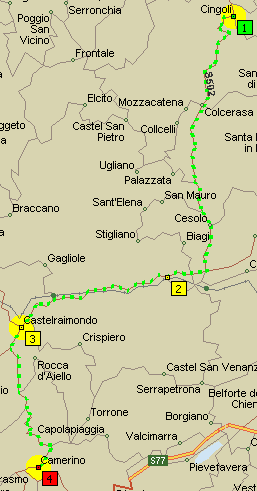 Well, what can I say about the Hotel Diana in Cingoli. I don't think I've ever been made to feel more welcome in a place. If you ever find yourself in Cingoli, stay in this hotel. The owners deserve every success.
After a leisurely breakfast in the hotel, and photo's with the owner outside, we left Cingoli and rode out along a fairly level road to a short tunnel (about 50 yards long) where we began a tremendous descent to San Severino in Marche. We were slowed down at a couple of places on the descent by lots of people (I'd say around 50) out on horses. What a lovely way to spend a Sunday morning (other than on a bike of course).
The strip of road from San Severino to Castelraimondo was a little busier, but not too bad, and we stopped at a small cafe just before Castelraimondo for a drink. We passed through Castelraimondo, and then began the steady climb up to Camerino at 650m. Not much to say about the ride really, it was very short, certainly quiet, and had been very easy considering the descent from Cingoli. We arrived in Camerino a lot earlier than we expected, at 12:30 and booked into the Hotel Il Duche. This was a large hotel, quite a contrast from the previous night. There was a great view out toward the Sibillini mountains from our bedroom window though. This was our first good look at them, and we could make out the remnants of snow here and there. Couldn't wait to get in amongst them.
We watched the Giro stage on TV with particular interest today a) because it started in Corinaldo, the town we'd visited a few days earlier, and b) because it went over 2 passes which we had done last year, the Passo del Spino and the Passo del Consuma on its way to the finish in Prato. All I will say is, they made them both look deceptively easy and did them rather faster than we did (and we did them on seperate days!), but on the other hand, they weren't carrying their own luggage, infact there wasn't a pannier in sight.
After a shower and change, we went for an evening walk around this University town. As it was Sunday, and I guess as it is a University town there were lots of young people out and about. We sat in the main Piazza Cavour and watched student life go by for an hour or more, then feeling hungry, went to seek out a restaurant. We'd read of a restaurant called Osteria della Art, and after a few false starts, found it tucked away in a back street. This particular night, they were doing a 'medieval cuisine' night, and the place was packed. The waiters and waitresses were dressed in traditional costume, and it really had quite an atmosphere about it. A couple were in front of us asking for a table, and we thought we were out of luck when they turned away, however, they hadn't fancied taking a table which was set up in the entrance (they obviously weren't as hungry as us). We were not so fussy, and gladly took up the offer.
As we were heading for Castelluccio the next day, and having heard how it is famous for its lentils, we were keen to try the lentil soup on offer. I can't say I was overwhelmed by it, but it filled a hole. The 'pigeon ragu pasta' and 'ravioli with sweet spice' was superb. We also tried some 'spiced' wine, made to a very old recipe apparently. This was excellent and tasted not unlike mulled wine. Now there was a jar of orangey-red powder on the table. Konrad suggested it might be coriander or something. It had no smell, so he put a spoonful on his food, mixed it in and took a mouthful. What happened next was so funny. He opened his mouth and gestured for water. His eyes were streaming, and he drank half a litre straight off. No good. The powder in question was apparently two kinds of chilli - very hot. One of the waiters happened to pass, saw what he'd done and shouted 'No!' several times. He went through to the kitchen and brought the chef (and most of the other employees) out. They couldn't do anything for laughing, telling him to eat bread, not drink as that would only make it worse. They kindly offered to change his meal, but he'd only put a small amount of the powder on one corner of his food, so he told them not to worry.
This certainly broke the ice, and we got chatting to a waitress who was studying Ecology at the University in Camerino. She was keen to work elsewhere in Europe for a year, and her specialism was in vegetation analysis using remote sensing. Now isn't it a small world. I work for the Centre for Ecology and Hydrology and we have a site which carries out just such work. I promised to mail her some information on who to contact to try and get a placement.
We strolled back to the hotel really looking forward to tomorrow's ride to Castelluccio, and hoping it would live up to our expectations. This was also the day when I joined in Konrad's experiment of not having any shower gel or soap, and relying on whatever the hotel provided. I'd left mine in Cingoli. I have to say it worked fine (but don't tell my wife!).