Camerino to Castelluccio
Camerino - Muccia (S256) - Sorti - Appennino - Visso - Castelsantangelo sul Nera - Castelluccio
Kilometres: 60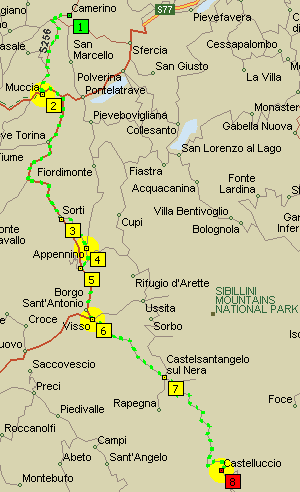 This was the day we'd been looking forward to. We'd read a fair bit about Castelluccio, and the more we read, the stranger the place sounded and the more we wanted to visit it. Apologies for the length of this days report, but I hope you'll agree, it merited every word.
Castelluccio is not actually in the Marche region, it's in Umbria. The border kind of loops round to include it. It's perched high up in the Sibillini mountains and is built on top of a small hill in the Piano Grande, a pan-flat area of grassland surrounded by high mountains. At 1452m it is one of Italy's highest inhabited villages, and at the time of our visit, I'd heard that the population was 40. There is literally no other town or village for miles around, it has one road in from the north, through Visso, and it is regularly cut off in winter. Apparently even today, the bells of Castelluccio toll during bad weather to guide travellers home. Let's hope we wouldn't need them.
So, we eagerly pushed off from Camerino, which was probably being rather unfair to the place, and dropped down heading for Muccia. This turned into a bit of a slog once we'd done the initial drop from Camerino, but finally we descended into Muccia. The short stretch from Muccia to Magdalene was a bit busy, but we soon turned right for Visso onto very quiet roads. Just after Sorti, we turned left onto a minor road that ran parallel to the road we'd been travelling on. The reason for this was that there was a tunnel on the other road, and this road would take us around that tunnel (we're not keen on tunnels - frightened of the dark ;-).
The road climbed steadily up to Appennino, a striking looking village. We then took a wrong turn and ended up at the mouth of the tunnel. It really did look quite ominous. It was totally dark and obviously went downhill for some distance, so from the mouth we couldn't see daylight at the other end. We re-traced our steps towards Appennino, and this time found the correct road. It took us over the hill to re-join the Visso road at the other end of the tunnel. We dropped down into Visso where we decided we'd have lunch.
Visso seems to be a fairly busy cross-roads, yet the town itself is quite small. We sat on a wall eating our pannini's and I watched a lizard crawl onto my leg and watch me eat. Presumably it was waiting for me to drop some crumbs. No chance! After a coffee in a cafe round the corner, we glanced at the sky which was looking rather threatening, and decided we'd better make a move. As we reached the turn off for Castelluccio, the odd spot of rain fell but thankfully, 100 yards up the road it had stopped. This road was quiet with a capital Q. We went past a huge trout farm on our right which was packed with fish of varying sizes.
The road from Visso was fairly easy, though gently rising all the time, until Castelsantangelo sul Nera, where we hit the first hairpin and started climbing in earnest. We'd made a decision that we'd ride for half an hour, have a break for ten minutes, another half hour climbing etc. It is supposed to be a holiday for heavens sake ;-) (and it'd give us chance to admire the views). This road has a couple of steepish sections, but it's more the relentless slog that gets you. We stopped for a drink at the turn off for Gualdo and watched a chap tending his garden, then off again, stopping at Passo di Gualdo (1492m) for the customary photo. We'd thought this would be the highpoint, but no. The road continued to climb after this for another 2-3 km's.
There's no mistaking when you reach the top. You come up over the brow of the hill, and the landscape just opens up in front of you - it's quite a sight. On your left are the high mountains, in the distance perched on a hill in the plain is Castelluccio, the road plummets down onto the plain which looks like a patchwork quilt with it's thin strips of land in various states of cultivation for growing lentils. We stopped here to take it all in. Immediately on the left is some sort of refuge, a small chapel with a bell. The door was closed, but through the cracks you could make out a small altar of some kind. In the doorway were some flowers, and a few small coins. On the right about 50 yards from the road was a ramshackle building with a small flock of sheep grazing. I tried to imagine living in such a place, but couldn't. I could smell the sheep from the road! Then to add to the atmosphere, a really eerie sight. Just up from the building, a group of 4 monks in habits, walking on the hillside. They somehow didn't look at all out of place up here.
We finally descended to the plain below, hardly able to keep our eyes on the road with the towering mountains all around, and Castelluccio ahead. We passed an old lady dressed all in black, pushing a wheelbarrow just after we'd reached the flat plain. It was still some way to Castelluccio, surely she wasn't going to push that wheelbarrow all that way? We stopped at the Castellucio sign for a photo (there was no-one to take one of us both together, and I reckoned the old lady would be another hour or so appearing) and then we climbed up the hillside to the town itself. Our hotel, the 1 star Hotel Sibilla is right on the brow of the hill. This place just got stranger and stranger. The wall opposite was covered in graffiti - messages were painted on the walls of the houses. We entered the hotel and I was relieved to see that my phone call from England a few weeks before had worked. After booking in, the owner showed us to our room, we opened the window and - WOW! - the view was tremendous. It looked right down onto the Piano Grande. We could see the road far down on the plain below, a tiny sliver of grey, which split, one road carrying on along the plain and disappearing to our right (Norcia), the other climbing out of the plain and through a V in the mountains (our route out tomorrow).
After a shower, we went for a walk around. First of all, we walked round the back of the hotel and up the hillside. About 100 yards from the hotel on this hillside was a small walled enclosure - the town cemetery. The views were stunning. The sun kept breaking through the clouds and lighting up the plain below. We walked over the road and up to the town itself and sat on a grass bank watching two men milking sheep. One herded them into a small enclosure, the other sat under a makeshift tarpaulin sheet, and taking each sheep in turn, put its legs in some sort of jig to stop it from moving about and milked it. It was so quiet, you could hear the milk going into the can. I say so quiet. It was then we noticed the birds. I'm no ornithologist but I guess they were some sort of skylark? You could hear them high above - a beautiful sound, but you couldn't see anything.
We then went for a walk around the town. The 'streets' are narrow rough twisty affairs. The houses all shuttered, but you could hear people talking inside. Why don't they open the shutters? I wondered. While sat watching the sheep milking, we'd heard a strange buzzing sound coming from the plain below. We made this out to be a chap on a motorbike, going at about walking pace. He was dressed in a suit, complete with trilby hat. Outside one of the houses, we saw the motorbike. It was like nothing I'd seen before. It seemed to be made up of bits of all sorts of things. Swept back handlebars, more like a bicycle, and a petrol tank that looked like an old olive oil can. As we approached, he came out, doffed his hat, climbed aboard and unbelievably, the machine sprang into life first time and off he went down through the town. The church in the town looks incredibly old. It may not be of course, it could just be it's very weathered. Unfortunately it was shut up and we couldn't see in. I'd love to see inside there.
Feeling hungry, we headed off back to the Hotel Sibilla. On our way back we came across the strangest dog I have ever seen. It had the head of a dog, but it had a creamy curly coat, which made it look like a sheep. Cross-breeding came to mind. It was obviously a very old dog, and seemed to be virtually blind. Back at the hotel, we had a very substantial meal. I was surprised to see that there were 6 other people (a party of 2 and a party of 4) booked in that night. Perhaps we were wise to have booked ahead. At dinner, I noticed a large framed photograph on the wall. It was a picture of the town around the 1940's. It was instantly recognisable, down to the stone troughs set up in a line to one side of the hotel, only here two women were to be seen washing their clothes. There was a horse and cart, the cart loaded high with firewood. I would dearly have loved to have a copy of that photograph and did make enquiries, but it seems that was the only one. Now there's a way they could make money.
For information, the room, dinner and breakfast cost us L150.000, and we were made to feel very welcome.
Hotel details...