Ascoli Piceno to Sarnano
Ascoli Piceno - Venarotta - Force - Comunanza - Colle (S78) - Amandola - Sarnano
Kilometres: 56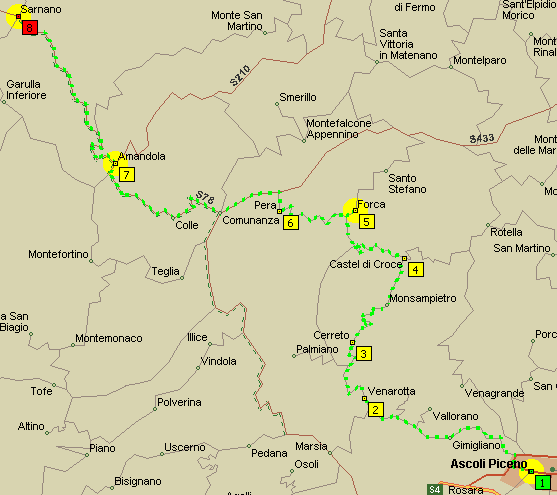 Had a great breakfast in a lovely cafe off Piazza del Popolo. A sort of toasted prosciutto crudo and cheese sandwich, washed down with a few coffees. After a few more photographs, we found (quite by chance) the main post office, and hopefully put our postcards into the right box. (Postcript: One of the postcards was for a friend in America. It arrived in February 2001 - postman must have gone by bike!).
We left Ascoli Piceno at around 10:30am, out over the magnificent bridge we came in on, and on to the main Roma road. However, this was not as bad as it sounds because after about 500 metres we turned off onto the quieter (and steeper) road to Venarotta. Basically we were re-tracing our steps from yesterday for the first 9 kilometres, and we knew they were all uphill. This really is a lovely road. The sun was out in force, and it was getting very warm again, but at least on this stretch we did have some shelter from the trees lining the road. We passed through Venarotta, and carried on for Force (shown on the map above as Forca, which is wrong).
Force is a lovely looking town. We went up into the old part, up some extremely steep streets and were rewarded with some fantastic views from the top. We had our pannini's up there, then rode back down to a cafe at the entrance to the town for a couple of litres of water and a couple of iced lollies.
From Force, we headed out to Comunanza, where we joined the 433 (or is it the 78 - not sure where it changes names) for Amandola. We climbed out of Comunanza for a few kilometres, and then it was up and down on rolling roads to Amandola. As we reached Amandola, one of those signs that tells the time, temperature and various other bits of information showed the temperature to be 32c.
We stopped at a cafe (on the left just as you leave the town, next to the gate) where we met up with 3 Italian cycle tourists. They too had been riding for a few days, and were also heading for Sarnano. We left before them, and after more ups and downs we found ourselves in Sarnano.
Sarnano is a beautiful town, a lovely honey colour. We rode around for a while looking for a hotel, and eventually decided on the central Hotel Terme. It looked as though it would be rather pricey, but no, L90.000 for a double room, with breakfast. After a shower and change, we went and had a walk around the old part of the town. It certainly looks quite an opulent place. We walked up to a piazza at the highpoint of the town, which contains a church dating back to the 1200's. Unfortunately it was being locked up as we arrived.
After another short walk, we ended up at a restaurant whose name unfortunately escapes me, but it's easy to find in the old town. The food here was marvellous. We started with Bruschetta al pomodoro, carried on with delicious Prosciutto crudo and Ricotta cheese with honey, moved on to Pasta with meat (when we asked what the meat was, the waiters translation was - animal with horns which runs fast in the mountains!) - err goat?, followed by Cinghiale with mushrooms, finishing with panna cotta (frutta di bosco) and a very powerful local Aniseed drink. Absolutely bloody brilliant! It was more expensive than we normally pay, but as you can see, we did have a few courses. It cost us L80.000 (including wine).
Now you may think - pigs!, but we were absolutely ravenous, and the food was definitely the best we had had all trip. Also, we were building up our strength for what was probably going to be the hardest day of the trip - the ride over the Meta Pass. Incidentally, it was in this restaurant that it dawned on us that in all the restaurants we'd frequented so far, there had been a TV on. We hadn't noticed that on previous tours of Tuscany and Umbria. Perhaps it's a Marche thing?
All in all it was another great days cycling. Very quiet roads, lots of climbing, big blue sky and hot sun. All finished off with a fantastic feed!