Sarnano to San Ginesio
Sarnano - Stinco - Fonte Lardina - Sassotetto (Meta Pass) - Acquacanina - San Lorenzo al Lago - Monastero - Vallato - San Ginesio
Kilometres: 60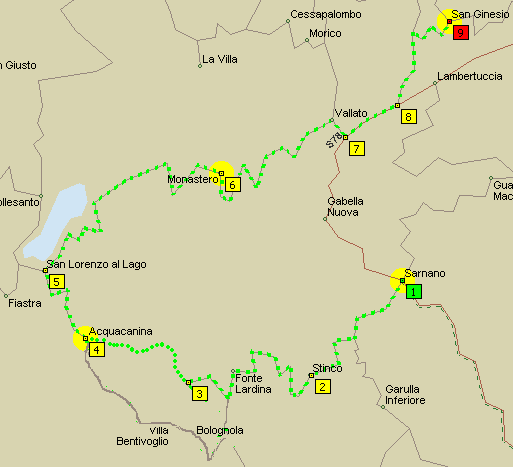 A lovely quiet hotel the Hotel Terme, so we got another great nights sleep. Opened the shutters this morning to find a market in full swing outside. They must set these market stalls up very quietly - didn't hear a thing. Had breakfast, picked up some pannini's and we were off with a slight sense of dread I suppose, but thoroughly looking forward to it.
We knew that today was going to be tough. We would be climbing about 1300 metres non-stop in a distance of around 16 kilometres almost from the hotel door. As I man-handled the bike down the hotel steps, it suddenly felt very heavy. The sky was cloudless, and the sun felt very warm already.
We rode up a street lined with market stalls. These ended, and then to our surprise we descended for a kilometre or so - not what we'd expected - and we didn't want to LOSE any height! Then we started the climb, and I have to say it was relentless. Having said that, we only stopped once for an energy bar and a relaxed drink (and some shade of which there seemed to be remarkably little considering we were climbing through woodland). We reached the first ski station at Sassotetto (a very rusty looking affair - I'd rather ride up thank you very much), and the road signs were a bit confusing. We had a choice of an unsigned road to the left, and a road signed Bolognola to the right. This seemed totally opposite to how things looked on the map, and we definitely didn't want Bolognola, so we took the road to the left. As it happened, we needn't have worried. After slogging up the final couple of kilometres, the roads met up again, and the Bolognola road did indeed go off to the left this time. It had taken us just over two hours to complete the climb and reach the summit of the Passo di Meta.

The views of the mountains up here were breathtaking. We could see a road below to our left, snaking down to Bolognola, Marche's highest town (though we couldn't see the town itself), but beyond that, the mountains rose and they looked magnificent. The road here was marked with those multi coloured poles (presumably for when the snow's deep?).
We carried on up a gentle slope and finally reached the top. We'd been told by a friend that the wild flowers up here were magnificent. Wild daffodils, orchids etc. I don't think we were quite prepared for the sight though. Unfortunately we were probably 2 weeks too late for the daffodils. There were plenty around, but they were past their best. The orchids were another matter. You couldn't step off the road for fear of trampling on them. Round another corner, and the whole area was a shimmering yellow, then purple. Photographs can't do it justice. You had to be there, hear the birds, see the hundreds of butterflies and smell the sweet air. We spent around two hours up here eating our pannini's and taking it all in.
Reluctantly, we started our descent towards Acquacanina and Fiastra. The road surface was a little rough in places, which meant we had to take it easy, but we were in no rush to get down from this place. About half way down (after about 7 kilometres) we got our first view of the very turquoise Lago di Fiastra. As we passed through Acquacanina, I disturbed a hen that was obviously rooting around in the grass at the roadside. It panicked, and flew up around my head, wings flapping, clucking wildly. I just managed to stay on the bike and bring it to a halt. Konrad who'd seen it all from behind found it very comical. We finally reached the Fiastra road at San Lorenzo, where we stopped for a few cold drinks. The lady at the cafe was engrossed in an Italian 'soap' of some kind. How can you watch TV with scenery like this all around I thought to myself. It was blazing hot now, and it was nice to be in the shade. We set off along the side of the lake, and reached the dam at the far end, where we could see some large fish lazing around near the dam wall. This felt like the hottest day of the trip, and so of course, the road started climbing again. At the top of the climb, we stopped to take more pictures, and then it was off on a fantastic descent through some wonderful wooded countryside.
We zoomed through Monastero, and eventually joined the No 78 for a short while before we turned left for the steady climb up to San Ginesio. The entrance to San Ginesio is very impressive (actually, I don't think it was the entrance, but the exit - we went the wrong way!). By the gate to the right (if you go in the wrong way like us) are some large Roman columns. We rode up to the main piazza where for L100.000 we booked in to the Hotel Centrale for the night. The room was excellent, and best of all, very cool, with a good view over the main piazza. After a quick shower, the phone rang, and a friend who I used to work with many years ago was downstairs. He moved to Marche a year ago, and had bought a house in San Ginesio which he was renovating so that he can start his business of Flora and Fauna walking holidays in the Sibillini mountains. Needless to say we spent all night chatting and eating, and I only hope he didn't take our yawning as a sign of boredom. Nothing could have been further from the truth, but, by 11pm we were whacked. Let's face it, we were normally in bed by 10pm at the latest!
Another superb day. The last 4 days have just been so good it's been untrue. It really is a wonderful area to come cycle touring. The Meta Pass was not as hard as I expected. I guess we've both got some climbing form now.