Day 15 - Thursday 28th May 1998
Pisa - the bomb - to the airport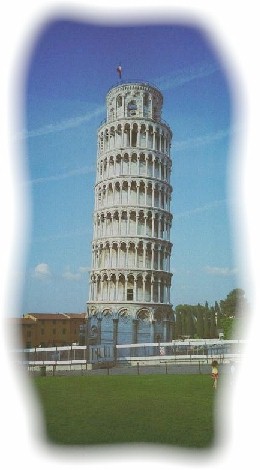 Route:
No idea - see below.
Kilometres: 4 (by taxi)
Well, this was it. By 2pm, we'd be landing in Manchester, so, there was nothing for it but to get up early and go and have a last long slow breakfast.
As we walked up to the cafe, we were met by soldiers and police blocking off certain of the streets. When we reached the cafe, there was police 'tape' presumably saying something like 'No-one allowed beyond this point' just beyond the cafe. So, luckily, we'd get breakfast. We sat at a table outside and watched the fun.
The piazza was full of army trucks, police cars, ambulances and film crews. As if that wasn't enough, a helicopter then appeared and kept circling around overhead. The waiter told us that an unexploded World War II bomb had been found a few streets away. We immediately stopped speaking English!
To say we had a lot of fun watching the mayhem would be a massive understatement. If this sort of thing happened in our country, it would be all serious, official and highly organised. I think they were trying to make this official looking, but it just didn't work. People were being turned away from crossing the square, unless (we decided), they were aged around 20, female, and very attractive. If they matched this criteria, they were escorted across - by several soldiers and policemen. The paramedics kept nipping in and out for another cappuccino and a pannini. Meanwhile, the workers trying to get to work, were riding their mopeds/scooters literally 'through' the tables at the outside of the cafe. It was total chaos, and I could have stayed and watched all day. Unfortunately, we had a plane to catch.
We got back to the hotel and asked them to phone us a taxi (estate car type). They'd told us the night before that there would be no problem. The first couple they rang, said they couldn't get through as all the roads were closed - a bomb had been found! Luckily, the third one tried said they'd have a taxi with us in a few minutes (but may not be able to get us to the airport).
The taxi arrived, and the driver was quite alarmed when he saw the 2 bikes and 4 panniers. He shook his head saying it wouldn't fit, but we already had the tailgate up and were loading the bikes! He asked us to mind the inside of the roof - it was new!
The driver turned out to be quite a character. On the way to the airport, he told us that he and some friends owned a 'Dragon Boat' (the ones with the big drum on the back) and entered competitions.
Airport formalities were simple. We went up to the desk, where a very friendly young lady called over an 'operator' who carried our bikes away. The panniers went down the normal luggage chute, unlike Manchester, and that was as difficult as it got. We were amazed to discover that we were in Row 12 on the flight home (that's the row with lots of leg room, by the emergency exit), and it's also the row we travelled over in. Before we went through passport control, we had one last look around outside - it had started to rain! Perhaps it was in sympathy for us.
The flight was on-time (well 10 minutes late), and in no time at all, we were back in a pretty chilly Manchester. At Manchester, a chap walked over with our bikes, which were none the worse for the trip, we met our lift home, and hit the only hiccup of the return. We secured the bikes on the roofrack of the car, which was parked on the top of the multi-level car park. After we'd done this, we realised that they were too high to get down through the car park levels (doh), and ended up laying them on the roofrack and holding them on until we got to the bottom.
Impressions:
Absolute mayhem at the cafe this morning. I could have stayed all day. I love 'people watching'.
I can't believe everything went so smoothly. No 'major' disasters and I can't begin to describe what a brilliant time we had.
I've fallen in love with Italy and it's people.