Day 5 - Monday 18th May 1998
Siena to Montepulciano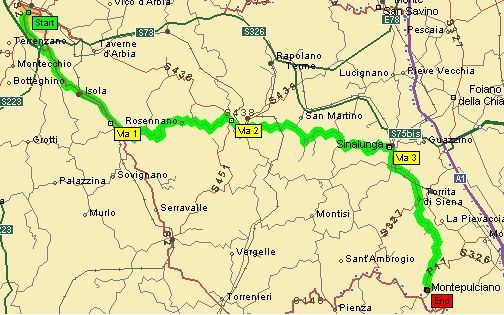 Route:
Siena - Monterani d'Arbia
Monterani d'Arbia - Asciano
Asciano - Sinalunga
Sinalunga - Montepulciano
Kilometres: 70
Up early, and asking directions to bike shops. The first chap we visited couldn't help us, but he put us onto a road bike shop...
D.F. Bike
Str Massetana Romana, 54
53100 SIENA
Tel/Fax: 0577-271905
eMail: dfbike@biemmepro.it
This was about 3 km's out of town, so we got a taxi. It would have been impossible otherwise.
D.F.Bike had a pair of wheels that would do the job, and were very helpful. Konrad's existing block fitted, so no problems there. Another taxi back to the hotel, collect our stuff, fit the wheels, bin the old ones (after cutting the hubs out) and off we went heading for Montepulciano. We both agreed, it was good to be back on the bikes again after our forced break. Although it was only a day, it seemed to drag terribly.
Great cycling from Siena to Asciano. Main road at first (No 2) before turning left at Monterani d'Arbia onto a traffic free road which undulated through some lovely countryside. We stopped at Asciano to take some photographs of the wild poppies on the outskirts of this small town. From Asciano, we headed for Sinalunga, again along deserted local roads running through rolling countryside. The leg from Asciano to Sinalunga was quite hard. It was fairly hilly, and we had a niggling cross/headwind all the way. Sinalunga itself was a nice place, and we stopped at a small bar for coffee - another chance to practice our Italian! Up until Sinalunga, the weather had been a little overcast, but the sun appeared again once we left the town.
The final 25km's to Montepulciano were a pleasure despite having some steep hills, because we now had the wind mainly on our backs. It's a stiff climb up to the town proper, but well worth it. What a position for a town. Quite magnificent. We both agreed, we'd rather be visiting towns like these than the likes of Sienna.
Now far be it from us to get through a day without at least one cock-up, and this one was no exception. Approaching the old town, we stopped to get out the 'Rough Guide' to see where the Tourist Information Office was. After unloading all panniers, we realised - our Rough Guide and route (plus our map of Umbria) were sitting quietly in a plastic bag under a hotel bed in Siena :-( I was gutted. I'd found the Rough Guide really useful, and enjoyed reading about some of the places we'd be visiting the next day. It sort of whetted the appetite. I'd read the route enough to know basically where we were headed, and we could buy a map of Umbria no problem - it was the Rough Guide I'd miss.
Still, 'Rough Guideless', we found the Tourist Information Office and were given the name of a hotel (La Terrazza Tel: 0578-757440) who had a double room available for L90,000. With the bikes locked in the hotel garden, under an overhanging roof, and suitably showered, we went to get some much needed pasta at a local restaraunt, and very nice it was too.
Impressions:
I'd like a house in Montepulciano too.
Those poppies at Asciano were fabulous.
I'm beginning to wonder if we're safe out - what else can we lose / break ?