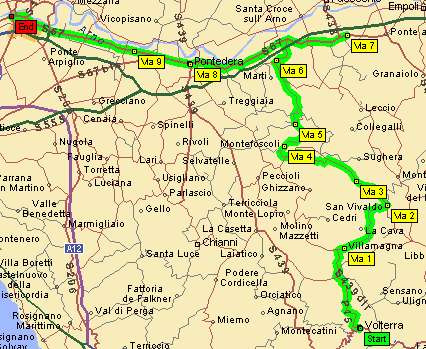 Volterra to Pisa (106 kms)
or
"Sergio, Sergio, wherefore art thou Sergio"
There was a terrific storm through the night. We could hear the rain lashing on the windows and the odd roll of thunder. The sky's a bit patchier this morning, so there is some sun about. Went for breakfast in a cafe in the main square, then after a couple of photo's it was off down the road signposted Pontederra.
A wonderful descent down the other side of the hill we'd climbed yesterday evening. At the bottom of the hill we turned right onto deserted roads for Villamagna and a sharp climb it was up to the town. We passed through Villamagna and headed for Iano, again a climb up through the town, and from there on to San Vivaldo. We turned left here for Castelfalfi. Just past Castelfalfi, we had intended to take a road signposted Toiano, but when we reached it, found it to be un-metalled so, after a sandwich by the roadside, we carried on to a turn for Montefoscoli. This was a steep climb to the town, then up and down (mainly up) to Palaia. From Palaia there was a great descent down to Chiecinella, and then on to Montopoli in Val d'Arno, where we'd arranged to meet Sergio at 3:30pm outside the Daccordi bike factory. This place had been hand picked by Sergio as an appropriate place to meet up, and also because he wanted some spokes from the factory shop. We'd arrived early, so after a trip through the town, we found a cafe with a seat in the sun, and waited for the time to tick away.
Sergio had told us that the factory was just down the hill as you leave Montopoli, so at around 3pm, we started the descent. Well, we reached the bottom, and no sign of any bike factory. I felt a bit foolish that we hadn't checked at the cafe as to its whereabouts, but Sergio's instructions were so precise. We first asked a lady who didn't understand a single word we were saying (not even Daccordi). After about 10 minutes, she called her husband who understood less than her. We extricated ourselves away from them (they seemed to be quite enjoying it), and headed up the road. The place was deserted. At a crossroads, we accosted another lady who had heard of Daccordi, but 'they're not here'. A chap from a shop came out and told us we wanted San Miniato Basso (8kms down the road). It was now about 3:20pm, and we weren't sure if we believed him, so we rode in that direction for a few hundred metres, then I nipped into a cafe and asked the chap if he knew where the Daccordi bike factory was. Sure enough, he pointed us toward San Miniato Basso.
The day was hot now and the road was very busy and dusty. We hurtled off in the general direction. When we got there, we stopped a chap who was reversing his car out of his drive and asked for directions to the factory. 'Follow me' he shouted and he led us through a new industrial estate, right to the factory gates, then was gone. There was no sign of Sergio, but it was only about 3:35pm, so we went into the shop and looked around. After about 10 minutes, we asked if anyone had been in waiting for two English cyclists. The lady behind the counter said no, but it was OK for us to wait. Well, we waited and waited (I ended up buying a cycling jersey!). Konrad then had a brainwave. This place looks new, he said, perhaps they've moved recently. Bingo, that's exactly what had happened. Little did we know it, but about 10km's back up the road, Sergio was standing outside a derelict factory building in Montopoli! He later mentioned to us that as he pulled in to the site, he wondered where the large sign had gone and thought the wind must have blown it down or something!
About the time that we left the Daccordi bike factory in San Miniato Basso, Sergio left his derelict building in Montopoli, all of us headed for Pisa. The road back (along the No 67) is pretty awful, and got incredibly busy from Pontederra. We'd obviously hit 'home-time'. We stopped at Cascina and phoned Sergio who had just arrived home. He agreed to meet us on the outskirts of Pisa and escort us in, which he duly did.
That evening, we went out to dinner at two friends of Sergio and Daniela, Antonio and Maria.
They have among other assorted bikes (in what they call a garage but I would call a small factory - it has lathes, drills etc etc), a beautiful SANTANA tandem. Konrad regularly rides a tandem with a friend back in England, but we're talking chalk and cheese here. Antonio took him for a short spin on it (as it was almost dark now), and suffice to say Konrad wants one.
The meal Maria had prepared for us was wonderful. I'm sure I'm doing her a great disservice here trying to describe what we had, but here goes. Cherries, Spaghetti and tomatoes, Beef and potatoes, wine, exotic spirits (20 year old walnut liqueur, nectarine liqueur etc). Absolutely brilliant. We both thoroughly enjoyed the evening. My Italian improved immensely - I can now say 'Mother-in-Law'. I hope we didn't out-stay our welcome. Daniela and Maria were looking very sleepy as we went on and on and on.... about where we'd been, what we'd seen etc.
Looking back on this holiday, we'd had excellent hosts, and I just hope we can reciprocate some time in the not too distant future. Let's face it, letting two more or less total strangers who you've only exchanged the odd e-mail message with into your home takes some guts.
A fantastic end to another great trip.
Impressions:
Great ride from Villamagna through Iano, San Vivaldo and Castelfalfi.
It was all over far too quickly. Have to start planning next years now ;-)