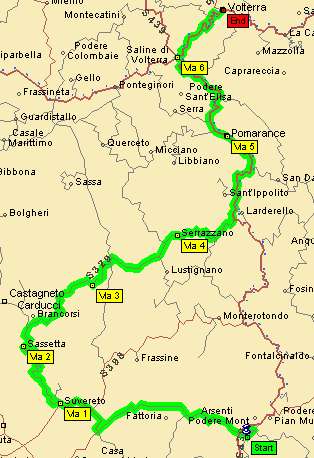 Massa Marittima to Volterra (98 kms)
Another good nights sleep, though I think the wine last night certainly helped. I reckon I was asleep within around 30 seconds of my head hitting the pillow. Surprised I made it that far actually ;-) We had breakfast in the hotel, and went to the main square to take a picture of the cathedral as I'd left the camera in the hotel yesterday evening. Of course, someone had parked a 20 ton truck right in front of it this morning, while a team of workmen erected some seating on the other side of the square. I took a picture anyway, cunningly hiding the 20 ton truck behind a foreground of cafe umbrellas (don't know what looked worst!).
We headed out of town on the road we came in on. At the intersection at the bottom of the hill we turned left, signposted Follonica. After about 500 metres, a small rough road (easy to miss) forks off to the right, signposted Montebamboli. This road is very small and very pot-holed. After about 2kms, it started to climb - very steeply in places. It really was a roller-coaster of a road. We weren't too sure exactly when we passed through Montebamboli. I did see a wooden plaque with the name Montebamboli carved on it on a wall, and there were a couple of houses there. I guess that was it.
After Montebamboli, the road deteriorated badly. Infact, to call it a road was stretching it a bit. However, it didn't last like that for too long, and it was fairly flat here - going along the top of a ridge. After that, the road plummeted down for 4-5kms, again very steep in places, but thankfully the surface improved as we neared the bottom. A long straight road followed, which must still have been slightly down-hill, as we whizzed along at quite a rate. At the junction at the end of the road, we turned right, signposted Suvereto. This road was also nice and quiet.
The road from Suvereto to Sassetta was an absolute joy - obviously made for cyclists. It climbs about 250 metres, but the surface is silky smooth, the gradient is perfect, and the road winds it's way through woodland all the way. It gets quite disorientating. There are so many bends, you lose track of which direction you're travelling in. At Sassetta, we stopped, had a panini and coffee and put a thermal vest and jacket on. It had started to get quite windy and cold, and it looked as though rain wasn't far away. The roads were damp here - it had obviously rained within the last couple of hours.
As we struck out for Monteverdi, the rain arrived. Quite heavy at first. Through Monteverdi, we carried on up a stiff climb to Serrazzano where the rain stopped. A weird area this. You start to see lots of silver pipes criss-crossing the countryside, jets of steam popping up here and there, and all the while there's a whiff of sulphur in the air. From Serrazzano, we headed for Pomarance, where we pulled in for coffee and a cake. After a good descent out of Pomarance, the sun started to appear and after a bit of a climb up towards Saline de Volterra, we took the thermals off, ready for the climb up to Volterra proper, which after another couple of kilometres, we could see clearly on the hillside in front of us, looking quite majestic.
The climb to Volterra is about 6 miles long, but again, it is not hard. The gradient and surface are fine; it's not too taxing at all. Perhaps the only off-putting thing about the climb is that as you see Volterra in the distance, you can make out the cars winding their way up the hillside. Don't let that put you off though - it's a pussy-cat ;-) There is one other thing about the climb, it's quite a busy road. Volterra is not too far from San Gimignano, home of the coach tour operator, and on all the travel companies lists of 'places to visit'. So, you will probably see a steady stream of coaches, BMW's and Mercedes snaking up and down the hillside. As we climbed, I began to wonder how easy it was going to be to get accommodation. I needn't have worried. Obviously these were all day trippers.
We entered the town at the main gate, and followed the signs for 'Information'. This took us into the main square, and we found the office easily enough, just tucked around a corner. A very helpful lady rang a hotel just a street away (L'Etrusca) where we got a double room for L100,000. Our bikes were stored in another room further down the street.
All in all, a great days cycling. Lots of climbing, but that's no problem when you feel good, and I ended the day feeling stronger than when I started, which I always feel is a good indicator of a bit of form. Shame tomorrow was to be our last days cycling. My only disappointment was the weather. I enjoyed the route immensely, but would love to see it in 'full sun'. It must be absolutely stunning.
After the ritual shower, we ventured out to eat, and had a great meal in a restaurant just up from the hotel - Zuppa del Volterrana (thick vegetable soup on bread) and Lasagna de funghi porcini, all washed down with a litre of red wine between us. The soup was excellent. It was a close run thing between the soup I had at Sovana and this one, but I think Sovana just pipped it. As we arrived at the restaurant, the heavens opened and it absolutely poured down.
I remember reading somewhere that Volterra has an atmosphere which many visitors find unsettling, and apparently DH Lawrence described the city as 'sombre, chilly and grim'. Well on this cold, dark, wet evening, it certainly lived up to that reputation. It somehow seemed a very 'dark' place.