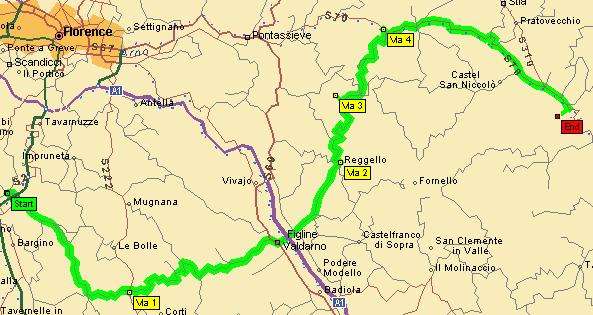 San Casciano to Poppi (88 kms)
Both slept well. Breakfast in the Hotel Mary was the usual 'sweet' bread and various flavours of jam. Had lots of coffee though (help yourself from a dinky little machine which did around 10 different types!).
We left the hotel at 10:15am and soon found the right road headed for Greve. This was a lovely ride on quiet fairly flat roads through woodland. We soon made Greve, where we took some photo's and bought a few postcards (best to get that chore over with early on in the trip I think). Seemed to be lots of cyclists in Greve, mainly riding mountain bikes, but some on conventional tourers with bright yellow panniers and something written in Dutch on them - an escorted tour by the look of things.
From Greve, we headed off to Figline Valdarno. Quite a climb out of Greve, but we were soon dropping down to Figline. We got a bit lost here when the signs for Reggello disappeared and we found ourselves heading for Castelfranco (the wrong direction). We took a detour and soon got back onto the Reggello road. This one was tough with a capital T. We began to realise now why Sergio and the bike mechanic had been having a little snigger to themselves. There was no shade at all on the ascent to Reggello, and the sun was now beating down with a vengeance. I was not feeling particularly frisky at this point, and by the time we reached Reggello, I was feeling pretty dreadful. I'd not felt too good a few days before the trip, but reckoned I'd 'ride through it'. Now I wasn't so sure.
At Reggello there was a lay-by containing a tree, a shrine and a drinking fountain. So, we filled the bottles up, sat in the shade of the tree and I prayed that I would start feeling better soon! This really was my saviour. After eating, we pushed on for Vallombrosa feeling much refreshed. It didn't last for long. The road went up remorselessly, awkwardly steep in places. At last we reached Vallombrosa, a lovely looking town. I can't describe how hard I found that climb. We were now at over 1000m. Apart from my not being on top form anyway, what made it hard was the lack of shade. The sun was on our backs the whole way up, and we'd done a good 3-3.5 hours continuous climbing.
From Vallombrosa to Consuma was a joy. Around 10km of riding on a twisting road through the Vallombrosa Nature Reserve, shaded all the way on a fairly flat road. There was an unexpected stiff last climb to the top of the 'Passo del Consuma' at 1050m, and then it was off for what we thought would be all downhill. That was not to be. There were a couple of leg-sapping digs in the next couple of kilometres before we finally started the descent proper from 1000m to Poppi at 430m. A brilliant descent (12 miles roughly).
We arrived at Poppi just before 6pm, climbed up to the old town, and booked into the towns one hotel, the two star Albergo Casentino, where a double room cost us L90,000. The hotel is directly opposite the Castello dei Conti Guidi, a very impressive building. We ate in the hotel restaurant, across a small courtyard from the hotel itself. There were lots of young children in there (some kind of party), and though I love kids, it was noticeably quieter when they left! Had a very good meal of Bruschetta with Artichokes and Rabbit pasta. Something we'd not come across last year, you paid for the wine you drank. Not sure how they work that out, no-one seemed to look at the bottle before they gave us the bill. The whole meal, including the wine (1/2 litre?) was L21,000, which seemed excellent value to us. Bed at 10:30pm again.
Impressions:
A really tough day that.
Much nicer roads throughout today - felt like the holiday starts here.