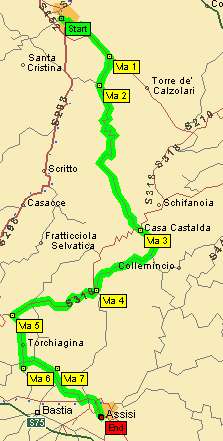 Gubbio to Assisi (59 kms)
Great nights sleep in the hotel. Very quiet. Made a lazier than normal start this morning, packing the bikes and trundling them around Gubbio for a while. Quite an overcast morning with a cool breeze blowing. We left Gubbio at around 12:30 as we'd intended this should be a short day to give us time to look around Gubbio and Assisi. We headed out to Padule where we turned right just as the town ends, in the direction of Casa Castalda.
Once we got past the cement factory this road was idyllic. If ever you're in the area, don't let the start of it (before the factory) put you off using it. The road itself was very quiet, and although there were no 'arrows' shown on it on the map, it certainly merited a few! It passes through some lovely villages. Col Colombo looked magnificent, then on through Carbonesca and finally down to Casa Castalda where we stopped for a drink at a roadside bar. Although still overcast, it was very humid, and certainly not cold. From Casa Castalda we had a great descent of around 7kms to Valfabbrica.
We entered Valfabbrica and took a left turn in the town signposted Perugia (aaarrrggghh - see last years tour report!), and followed this road as far as Pianello, where the road is signposted Torchiagina. The sun was now out, and we stopped by the river at Petrignano to eat our sandwiches, drink and generally be lazy. At Petrignano, we turned left over the bridge to avoid the Bastia road, and passed on through Palazzo. There were great views of Assisi up on the hillside ahead from here. Then finally the slog up to Assisi. It certainly seemed easier than last year, but then this had been a very short day. We were both soaked when we reached the top, it was now very humid indeed.
The first three hotels we tried were full. It seemed that the tourists put off from visiting last year by the previous years earthquake were now back with a vengeance. Eventually, we found a double room at the one star Hotel Italia (L56,000). The hotel is in the Piazza del Commune and our room overlooked the Piazza itself, directly over what must be one of the most photographed fountains in Italy (outside Rome and Florence). So, although the room was 'basic', it had all the facilities we needed like en-suite toilet and shower and we both felt it was excellent value for money.
After a shower, we went for a walk around, then sat in the Piazza, had a long cool drink, ate a sorbet and wrote our postcards. Then, off to find a restaurant. We found a brilliant one and ate more than we should! Bruschetta al pomodoro, Omelette with tomato, onions and green beans, fresh fruit salad, wine and coffee.