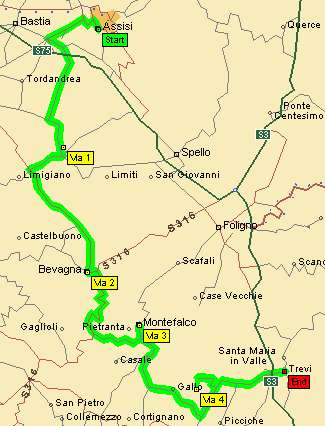 Assisi to Trevi (55 kms)
Slept better than I thought, considering the location on the popular Piazza del Commune. It was funny lying in bed around 11pm listening to an Italian boy below our window telling some English/Australian/American girl (take your pick) 'I love you'!
Went for a coffee around 9am, and then walked up to the Rocca Maggiore. Stupendous views from the various towers and battlements. Spent a good 2 hours just soaking up the sun and the scenery. It was a beautiful morning. Clear blue sky and not humid like yesterday had been. A gang of workers were busy on the stonework up there, replacing, cementing and that sort of thing. We then noticed that all these workers were female, apart from one. While they were on the scaffolding, he stayed firmly on the ground in the shade, either talking on his mobile phone, or passing buckets of tools up to them via a block and tackle they had rigged up. Equality!
We finally left Assisi around 1pm on the Spello road, but turned off for Cannara, stopping in the same cafe on the bridge as last year, then on to Bevagna. This time we had more of a look around the old town, and a very pretty place it is. The river running through it, which at one time presumably fed water wheels judging by the sluices, was particularly nice, covered in blossom from the Acacia trees which grew on its banks. From Bevagna, we took a different route to last year (more direct) for Montefalco, via Montepennino. A long steepish climb this, and the sun was now baking us nicely. We were both looking forward to another excellent ice-cream like we had there last year, but - Disaster! The shop had changed hands, the ice-cream cabinet had gone, and all they had were the usual iced-lollies. Not to be deterred, I had three!
After a quick ride up through the gates to the old town, we descended, heading for Trevi, via Madonna del Stella and San Luca (a pretty little village). The views of Trevi, clinging to the hillside were very impressive as we approached from San Luca. The climb up to Trevi is a good steady gradient, but it was hot, and we were both glad to reach the top. I'd been feeling a little nauseous on and off or the last couple of days, and was praying I wasn't coming down with something nasty!
We booked into what seemed to be the town's one hotel up in the old town proper, the Il Terziere hotel/restaurant. After a cold beer and a litre of water in the garden we showered and changed. Views from the hotel window were superb, it's at the highest spot in the town, and we sat on the balcony, watching a chap cutting the grass in his 'orchard' with a scythe. Very rustic I thought to myself. The room was excellent value at L95,000 for a double room. Had an excellent meal that night of steak (mine in mushroom sauce, Konrad's peppered). A great end to another good day.