Trevi to Orvieto (83 kms)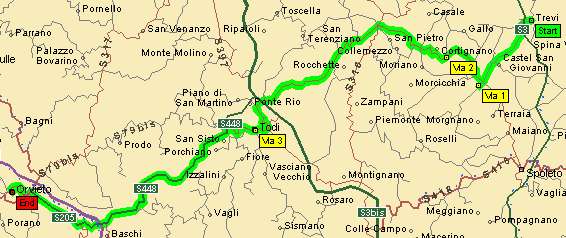 A good nights sleep, but I wasn't feeling particularly well this morning. My nauseous feelings were still present, and I couldn't eat anything.
A nice descent from Trevi, re-tracing our steps past San Luca and on to Bruna, where we turned right for Bastardo. Just before Bastardo, we stopped at a 'mobile fruit shop' along the road and bought 4 oranges and 2 peaches for L2,500. Incredible value. We climbed up from Bastardo, to a bridge high up across a valley, after which we stopped and rested for a while in a lovely wild flower meadow, taking the opportunity for a drink and eating a couple of the oranges.
We swooped on down through Duesanti and down into the valley bottom. On our way down, we could see the road up to Todi. Incredibly steep and unrelenting. By this time I was feeling pretty lousy. Konrad went ahead up to Todi, riding all the way (no mean feat), while I rode about 1/3 of the way, and walked the rest. Now walking with a bike laden with panniers is not particularly easy at the best of times. On a hill of around 1 in 4 (conservative I think!), with the sun beating down on your back, it's purgatory. I thought I was never going to reach the top but eventually did, totally wrecked and feeling very sickly. Had a good rest at the top, but I was not looking forward to the ride to Orvieto. We dropped down to the main No 448 road, and decided to carry on along it, rather than take our intended 'hilly' route the No 79bis which we'd ridden and enjoyed so much last year. This turned out to be a very wise move. The road was not very busy, and pretty flat, but I was finding that on even the slightest gradient, I was now struggling alarmingly. I just felt like curling up in the side of the road and dying. The road itself passes through some lovely countryside, and skirts along the Lago di Corbara. Along this road, we came across a new phenomenon, the 'lay-by hooker'. As we passed each lay-by (of which there are lots dotted along this road), there would be a young lady sat on a stool in the middle of it, combing her hair, fixing her make-up, or whatever as they plied their trade. One lay-by we passed had an empty stool and a car parked in it. I guess they were in the bushes! Now I was feeling dreadful, and wanted to stop, but each time we reached a lay-by, there they were again! I figured if I stopped, they'd assume I was interested in... well, you know. Nothing could have been further from the truth! Konrad did offer to hold my bike, but I didn't take him up on it. In a way, I probably owe a lot to those ladies. If I had stopped, I doubt I would have got going again, so I reckon they did me a big favour that day.
Orvieto was a long time coming, and it was now very warm again. I commented to Konrad about how hard that stretch had been with the niggling headwind all the way. He later told me there was no headwind at all. That's how bad I was feeling. We had intended to look for a room in the old town., up the hill, but I wouldn't have made it up there, so we booked into the same hotel as last year, the Hotel Europa opposite the station. This is a featureless modern hotel, but from my point of view it had a bed and was near! Funnily enough it was cheaper than last year (L114,000 for a double room).
After a shower and watching the end of a Giro stage on the TV, we went out to get some food. I left immediately after eating and returned to the hotel to sleep. I was in bed at 8:30pm and the temperature outside was 23c. The room was like an oven, and the air conditioning was not switched on. No matter, I slept the sleep of the dead.
Impressions:
Without doubt, the worst day I have ever had on a bike. I felt dreadful.
How do those ladies get home at night? Someone comes and picks them up?