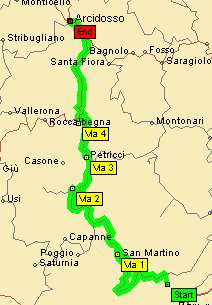 Sovana to Arcidosso (46 kms)
Good nights sleep. A lovely quiet hotel (and town!). Lovely blue sky and sunshine. Went down the street to a grocery shop which actually seemed to sell just about anything you'd ever want, and had some pannini's made to order for the trip. After taking a couple of photo's we rolled off down the hill through a small tunnel cut into the tufa.
We hadn't gone far when we came across a chap sitting at the side of the road under a sun umbrella, with a table of books in front of him. Being curious, we stopped to see what it was about, and it's the best thing we did. He was selling tickets to the entrance to a walk which took you past many Etruscan tombs and caves. We bought the ticket and after asking him if he wouldn't mind keeping an eye on the bikes, we headed off down the path and into the woods. After about 500 metres, we saw the first tomb. These things are stunning. dating from around 7th to 8th century BC, they're carved out of the rock. Some of them you can enter, though they're a bit of a scramble, and a torch would be handy. The highlight for me though were the Etruscan 'roads'. They are narrow, and run between towering walls of tufa. Apparently the area around Sovana is riddled with them. After a good hour wandering around, and ending up with a visit to the Cava di San Sebastiano, we headed back to the bikes and pressed on.
We'd only 'pressed on' for about 500 metres, when there was another diversion, the Tomba Ildebranda - the most important Etruscan temple tomb in all Etruria. The ticket we'd purchased previously also allowed us access to this site too. I don't recall the cost, but it was about L5,000 I think. Excellent value. The tomb was discovered in the 1920's and named Ildebranda in honour of Pope Gregory VII (Ildebranda da Sovana). The whole thing is amazing. The entire structure was created by cutting and chiselling enormous volumes of rock, to reproduce an Etruscan temple of the Hellenic period (3rd Century BC). Originally, it would have been covered in plaster and painted in bright colours. An absolute must if you're ever in the area. I just wish we'd had more time to look around.
So, it was back on the bikes and off in the direction of San Martino sul Fiora. This was quite a long climb and with both the sun and humidity high, there was lots of perspiring. From San Martino, we followed signs for Semproniano. Just before the town we stopped and ate our sandwiches on a quiet corner. As we pulled up, we disturbed a large bird of prey (buzzard?) which grudgingly left it's fence post and soared off effortlessly across the fields. The roads were exquisitely quiet again, as we'd now come to expect. From Semproniano, we climbed up towards Petricci. Just before there, the road forks, and you can take either route as they meet up again just before Triana. Last year we'd taken the left fork which takes you through Petricci, so this year we turned right. This takes you through a small village called Cellena. I think I preferred this route. There were great views across the valley to Mount Civitella. we pushed on through Triana (not tempted by the drop down to Roccalbegna this time!), and I had forgotten how much more climbing there is to do after Triana. But, we were now both evidently in good shape, and were out of the saddle almost sprinting round the last few hairpins. Once you reach the 'top' however, this road is still deceptively hard. It seems downhill, but isn't for at least another two kilometres. It's not until you approach the chemical factory on your right that the descent proper begins, and you zoom down into Arcidosso.
Once in Arcidosso, we found a bank where I could change a few traveller's cheques, found a bar, where I could spend some of that money, and then found a hotel, the Hotel Dayana on Via Risorgimento where a double room cost us L100,000, with breakfast. I suspect we were the only ones in the hotel, and certainly we were the only ones in the hotel restaurant that evening, which was a shame. The food was excellent, and the owner and his wife were extremely friendly.