Arcidosso to Massa Marittima (86 kms)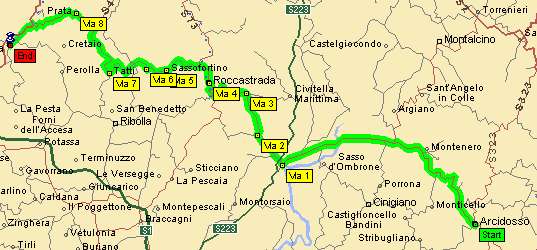 Nice hotel, the Dayana. Very quiet. Again, we were the only ones for breakfast, as we had been last night for dinner. We left the hotel at around 9:20am on the Grossetto road, headed for Paganico. This road was wonderful. I'd expected it might be a tad busy, but no. Basically, apart from a couple of small climbs it ws downhill all the way. The scenery was wonderful, with large rolling plains, a big sky of bright blue, and a warm sun. We travelled from Arcidosso to Paganico, a distance of some 31km in 65 minutes, which we were well pleased with!).
At Paganico, we followed the signs for Roccastrada. About 2kms along that road, we turned right (signposted Aratrice) on a lovely deserted country lane through rolling farmland. After another 5-6km's, we turned left and began a good climb of 6km's to Roccastrada. We were both climbing well now and finding these hills no problem.
At Roccastrada we found a cafe where we had some excellent pannini's, cafe latte and strawberry yoghurt. When planning the trip, we had intended to stay at Roccastrada, but couldn't find anything about it (nothing in the Rough Guide, nothing on the Web - and even our hosts in Pisa didn't know of it). As we left, I did notice at least one hotel (Merconi?) so it would have been possible.
From Roccastrada we followed signs for Sassofortino (on the No 73) and headed for Roccatederighi. This place looks magnificent as you approach, seeing it across the valley. It sits on a spur which juts out into the valley below. But, as magnificent as it looked on the approach, it looks more spectacular as you wind on down the road and pass it on the other side. The views of the town on it's hill spur and the valley and plains in the far distance below us were so good, we stopped there for about an hour, sat in a field of wild flowers and just drank it all in. I didn't want to leave. You could see for miles.
Back on the bikes, we set off headed for Tatti on another wonderfully quiet road along the ridge. At Tatti, we turned right (signposted Prata). Another quiet road, we by-passed Prata (on our right) and zig-zagged our way down a great descent towards Massa Marittima. After that, a last short climb, and we were in the town.
We called at the Tourist Information Office, where a young lady reserved us a room at the only hotel 'in' the old town, the Hotel Il Sole. The Tourist Information Office didn't charge us for this service. Once at the hotel, we left the bikes locked in the hotel garage (a very tidy affair with a lift up to the hotel in the garage). The hotel was full of English people, mainly old (well over 65 most of them I would guess). We watched Gonzalez win the latest Giro stage on the TV, had a shower, then off into the main square for a pizza between us, a drink, and a sit in the late afternoon sun on the steps of the cathedral, watching the world go by. I remember we had a very serious conversation about how we could do this kind of thing for a living. Maybe take groups of riders around on escorted tours. But there's bound to be problems. We'd have to have a backup vehicle (neither of us drive!), insurance etc etc. So then it got more bizarre. Perhaps get a TV company to sponsor us. We'd take a video camera with us, maybe meet a film crew here and there....
We ate in a local Trattoria that was recommended to us by the young lady in the Tourist Office, and we were in there from 7:30pm to 10:30pm. Dined on Cinghiale and Patate de latte, with a bottle of wine each (at least), then wobbled home feeling very 'warm and sleepy'.
Impressions:
One of the best days cycling yet - Roccatederighi is a little gem.
The roads get better and better!