Bealach-na-Ba Challenge - 2006
Length: 90 miles
Ascent: 2,950m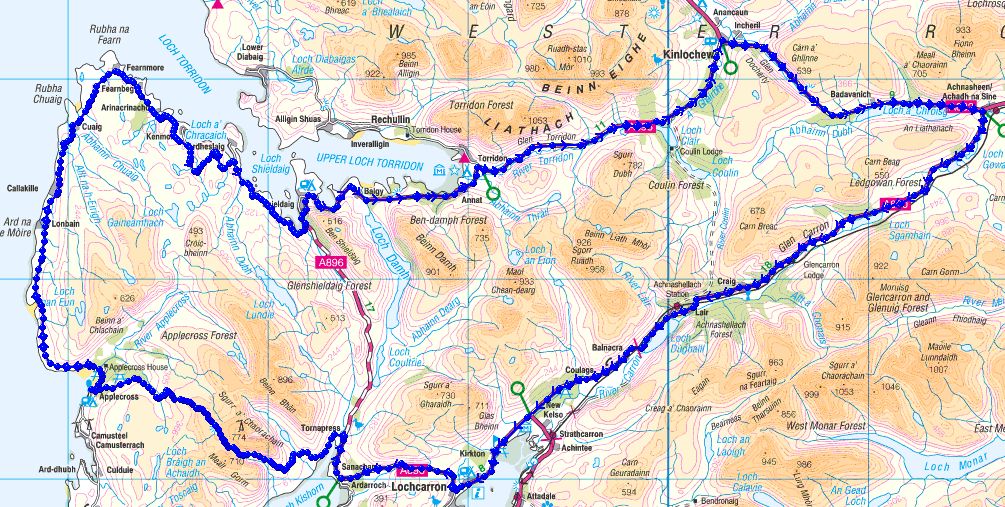 I can't remember where I first saw this ride advertised but it was around April time, while we were 'training' for the Fred Whitton Challenge. Four of us were interested in riding it, but due to family commitments / holidays it was whittled down to me and Stu Thomson (well he claims to be part Scottish). There'd be no hiding place on this one - Konrad couldn't make it, so no tandem this time, I'd be doing it on my road bike.
Over the weeks that followed, the Fred Whitton came and went and that certainly boosted the confidence. Then we started to frighten ourselves looking at pictures of the Bealach climb. I'd been in touch with a chap from Edinburgh, Richard Bernard, who regularly comes down to the Lake District cycling (and loves the hills - the harder the better). He'd done the Bealach on more than one occasion and gave us some very good advice (and warnings!) which we were very grateful for. He also reassured me that I'd have no problem getting over it - we'd see!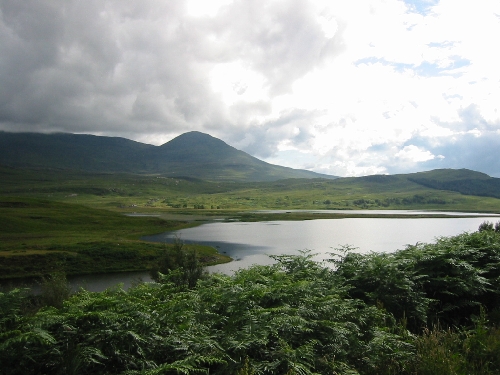 We'd signed up for the event, and booked the hotel before we really appreciated just how bloody far north this thing was! It was going to be something like a 700 mile round trip - and I don't drive, so that was all down to Stu, to whom I'm eternally grateful. The journey up on the Friday was long, but uneventful, and we travelled up in glorious sunshine. Once we got past Glasgow, the roads became much quieter, and by the time we'd passed Inverness, traffic was almost non-existent (it's all relative I suppose).
We stayed at the Ledgowan Lodge Hotel at Achnasheen, a grand old hunting lodge dating from around 1900, with more stags heads on the wall than you could shake a stick at. The hotel car park was full of cars, with bikes either in them, on them, or by them. The hotel owner said he could have sold out five times over, and was obviously enjoying this boost to his tourist income.
After booking in, we headed down to Kinlochewe to register (noting that we had a 4 mile climb to start the day tomorrow). Registration was painless, we were given our route card, numbers for the bikes, dibber for timing, told about the food/water stops, signed the insurance forms, and that was about it. Just one very minor complaint, the numbers for the bikes were enormous! but after a bit of judicious pruning, we got them down to a manageable size.
Back at the hotel, we had a good meal of pasta (what else) and a couple of drinks, then it was off for a relatively early night for a good nights sleep.
Up for breakfast at 7am and then back to the room to get changed and apply the Avon Skin-So-Soft (allegedly keeps the midges at bay - and it did seem to work).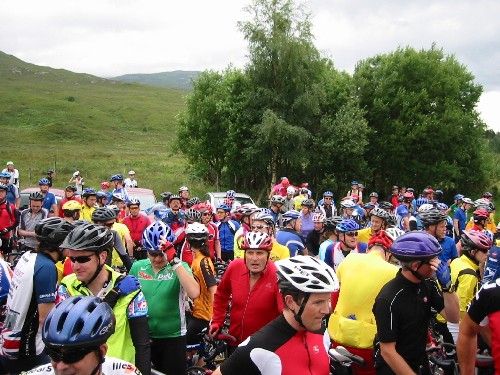 The weather was overcast but warm. At least it wasn't raining. As we approached Kinlochewe, marshals were pointing people in the direction of parking areas. It was all very well organised I thought. We rode to the start outside the Community Hall, where we were given a last briefing. The start was staggered in groups of 100 going off at 2 minute intervals. There were just over 500 riders, and we were numbers 419 and 436, so off in the last group. These groupings were based on times you'd estimated for the ride. We had no idea how long it was going to take us to get round, didn't want to make complete plonkers of ourselves, so put down for the 7-8 hour block. At the start we met Ralph a friend of mine from Kirkby and Dave the owner of Gill Cycles in Ulverston (my home town). The Avon Skin-So-Soft was a big hit and proved popular! (Might bring a few bottles up next time ;-)
We were in the last group off (400-500), and I liked the way the starter said something like 'ok - and finally those not on drugs' ;-) The hooter went and we were off, piped out of Kinlochewe by a young lad who I must say played the pipes very well.
As I mentioned, it was straight into a nicely graded 4 mile climb on new road they were just finishing, so it was a good surface apart from the odd small section. At the start we'd been warned about poor road surfaces. I didn't see any all day! We soon reached the top of the climb in a large bunch and descended gradually down passing Loch a' Croisg on our right, to Achnasheen, where we turned right past the hotel and started down the A890 through Ledgowan Forest. The speed was around 23mph for most of this stretch, and with the big bunch of riders it was effortless cycling. One or two poor souls started to have punctures and I just prayed my tyres would hold out. The punctures certainly couldn't be down to the road surface, which was excellent. It was almost like riding on closed roads. Traffic was minimal (actually almost non existent), and it was as we made our way down through Glen Carron that I started to notice the locals standing outside their houses, clapping and waving. It was a really nice gesture, that was to be repeated all day, all around the course, they'd obviously taken this bike challenge to their hearts. Equally, the car drivers were waving, winding their windows down, shouting encouragement, clapping. It was absolutely magic. I thought to myself, with this scenery, these roads and this sort of support, this event could become huge. The banter among the riders was good too, and we had a good few laughs with a chap from Blackburn (until he left us!). Into the first feed stop at Lochcarron. Stu wanted a pee break, so we pulled in. Helpers filled your bottles, handed you water, some Scottish wag asked where the sausage buns were - he didn't want any of that vegetarian crap ;-) Our average speed to the Lochcarron feed at around 30 miles was 19.2mph which was a lot better than we'd anticipated. We didn't stop long and we were soon off again, going through the lovely Lochcarron alongside the Loch before an unexpected sharp climb out of Lochcarron which came as a bit of a shock to the system after all that previous easy cycling.
I think it was at the top of that climb that someone pointed out the bulk of the Bealach in front of us. Stu said something unrepeatable and I tried not to take too much notice of it, hoping it would somehow look smaller in a minute or two. We were soon travelling along the shoreline, with Loch Kishorn on our left, and as we looked across, we could make out small dots (cyclists) moving on the road opposite, starting the long climb. We stopped to take a photo, the scenery was just so good, it would have been criminal to miss this. We soon rounded the end of the Loch at Tornapress, where it was a sharp left and we stopped to dib in at the first of the compulsory dib points. The climb was to be timed for all riders. For the stats buffs, the road climbs from sea-level at Loch Kishorn to the summit at 626 metres in 6 miles. Now I'm certainly never going to set the hill climbing world alight, so I was happy to plod along. Thankfully Stu agreed to plod along with me. As we started the slow gradual ascent by the shore of the Loch, we couldn't resist a last picture or two and thought it might be a good idea if we were in these.