Cortina d'Ampezzo to San Candido (60 kms)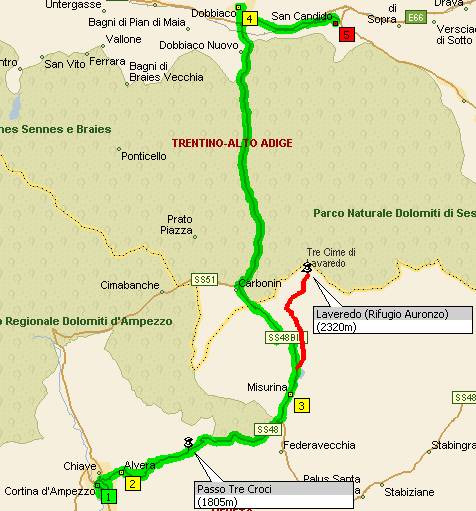 The room was a bit noisy, being next to a main road, but I must admit to sleeping pretty well. Breakfast of yoghurt and muesli (lots of it!). This was a day we'd been looking forward to for months. Today we were going to attempt the Lavaredo (2320m). Francesco had seen this climb in a touring magazine which rated it as 'Extremely Difficult', so it somehow became a defining moment of the trip for us.
The owner kindly filled our flasks with coffee and in no time we were off, climbing steadily from the hotel door once more.
The first stop today was to be the Passo Tre Croci, a climb of about 9km. Konrad wasn't feeling too good early on and found the Passo Tre Croci hard. Luckily, that seemed to be the end of his 'bad day' and he was fine after that.
From there, we headed on to Misurina. We stopped by the lake for photo's and Francesco fed the ducks on Energy Bar (which they didn't seem to like very much - funny that, neither do I). We had hoped that we'd be able to leave the panniers somewhere here while we attempted the Lavaredo climb, but the cafe we asked at weren't keen on keeping them for us (the chap told us the road was closed due to snow anyway after 2km's), and we didn't fancy just hiding them in a bush somewhere, so, there was nothing for it but to do it with panniers. Also, the Rifugio Auronzo was not open we were told.
This climb is very hard. It starts just beyond the lake (turn off to the right). From the turn off, the total climb is about 8km long. After a short easy stretch, there's a section at 16% which then levels out past a small lake (Lago di Antorno) which was still partly frozen. After the lake, the road drops a bit past the toll booth, then bears left where the first hairpins await you. There was a road closed sign here, but we pressed on to see how far we could get - in fact, one or two cars and motorcyles also ignored it. From the first hairpins, there's a climb of about 4.5kms, and this is the climb proper. After these initial hairpins, the road straightened out and started to get really steep. This went on for a couple of longish stretches, and then the hairpins started again where it got even steeper! The scenery was stunning. The air, thankfully, was cold (I was wearing 2 thermal vests, a cycling jersey and longs and was just right - definitely not too hot, despite the climbing). The last of the climb to the Rifugio Auronzo seemed particularly tough. From here, there was snow over the road, and that was the end of our climbing. As we reached the summit, the rain started and we cooled down rapidly. We took some quick photo's (my camera stopped working - too cold?). We donned more clothes (balaclavas, gloves etc) and headed on down. To say we were elated is an understatement. This was one of the climbs we'd been looking forward to, and we'd done it. Better than that, we'd done it with panniers! Definitely something to be proud of.
We headed back to a cafe on the lake shore at Misurina, for a welcome bowl of soup and coffee. Francesco informed us that it was now all downhill to San Candido. As this was still some distance away, I'm afraid we didn't believe him, but he was right! We left Misurina and basically free wheeled to Dobbiaco, where it was flat to downhill for the short stretch to San Candido. It rained on and off on the way to San Candido, and as we'd had a hard day, we decided to treat ourselves to a hotel with - a sauna (just for a change ;-)
San Candido itself is a pretty town, but unfortunately when we were there, there was some major construction work underway in the town centre. The hotel was very good, nice and quiet with good food.
Hotel details...