San Candido to Heiligenblut (84 kms)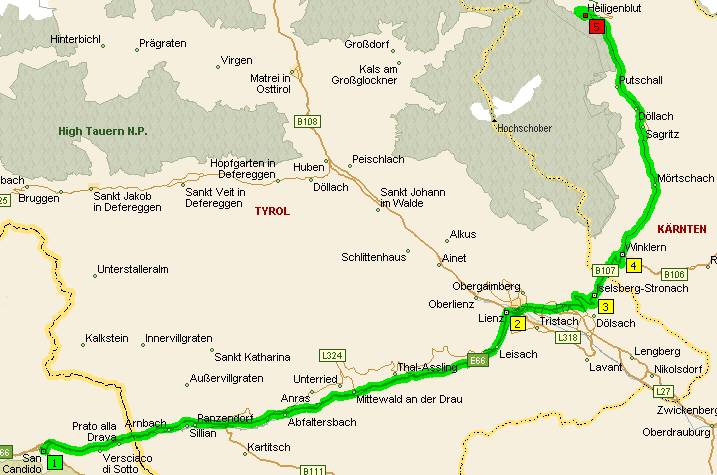 Another yoghurt and muesli breakfast, then it was out of the hotel into a grey overcast morning, turn right onto a cycle path which ran outside the front door, and basically, that was it all the way to Lienz. 43km's of traffic free (apart from other cyclists), gradual downhill all the way. Absolutely brilliant. I was surprised how many other cyclists there were out on it for the time of year. The route itself is great, following the path of the river through farmland and woodland. What a fantastic facility.
Francesco's rack broke, but we managed to secure it with a couple of quick release straps (thank you Alfredo Binda!), and if anything it was more secure when we'd finished than it had been before. Amazingly, the bottle of sparkling wine which Francesco had been carrying from Mel (given to us by Sergio) survived intact. We'd decided that this would be our reward for getting over the GroβGlockner.
We had lunch in the centre of Lienz, my first Bruschetta of the trip. They had 2 types of Bruschetta on offer, and I couldn't decide which to have - so had both. As we ate, the sky brightened up and the sun came out. We left Lienz bound for Heiligenblut on quite a busy road. We were now off the Touring Club Italiano Trentino Alto Adige map, and all we had was a far less detailed map of Austria. So, none of us were expecting the long relentless climb out of Lienz which finally peaked at Iselsberg-Stronach, from where we plummeted down to Winklern and began the trek up the valley to Heiligenblut. There was much less traffic now. We were now in the Tauern National Park.
After a final steady climb, we rounded a bend and facing us was the very pretty and much photographed church of Heiligenblut. We carried on into the town, and immediately in front of us was the Hotel Post. We were rather alarmed to see a large coach-load of Japanese tourists filing in to the hotel, and we wondered how long it would be before we got booked in. We needn't have worried, Heidi was expecting us! Francesco had booked this hotel before we left, and he had mentioned that she sounded very nice ;-) This was their opening day of the season. Originally we were going to stay at a hotel at Kaiser Franz Josefs Höhe (the glacier), but they didn't open until June. Looking back on what we faced the next day when we rode to the glacier, I'm glad they were closed - I'm not sure we'd have made it from San Candido in one day!
Had a sauna and swim in the pool, followed by a great meal. The room was very nice, with a huge balcony, and, if the cloud hadn't been so low, probably great views. Everyone was very friendly, and we were all looking forward to tomorrow - The Großglockner - another defining moment of the trip for us.
Hotel details...