Vieste to Monte Sant' Angelo (61 kms)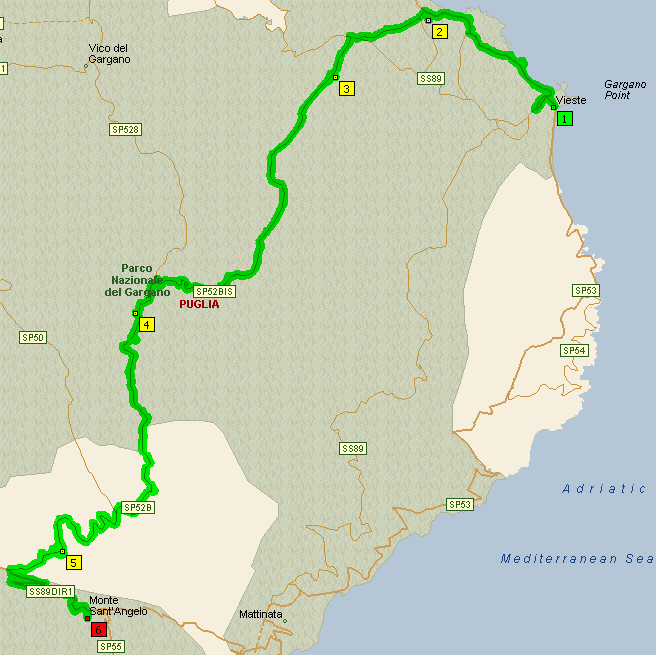 This was a day we'd been looking forward to. A ride through the Foresta Umbra to Monte Sant'Angelo.
We left Vieste at around 9am into a strong headwind along the coast road to Spiaggio Scialmarino where we headed inland. Thankfully, we were now sheltered from the headwind. We both commented on how hard some of the previous days rides would have been into that headwind.
From here we headed up through the Foresta Umbra. This is a long but very well graded climb of about 15 miles. It's a lovely road, and on the day we were on it, very quiet, though we did see more cyclists today than we'd seen all trip. It was deceptively cool riding through the forest.
We stopped at the summit for our lunch (pizza slices bought in Vieste) in a lovely sunny break in the trees. Could have stayed all afternoon. Very quiet, warm and relaxing.
We left on a short descent, and then onto a rolling road (still very quiet - not traffic to speak of at all). After a few km of undulating roads, we started our descent through Masseria Paolino to a cross-roads. We stopped here and ate a couple of oranges, looking at the climb up to Monte Sant'Angelo. The climb actually looked a lot harder than it was and it seemed like no time at all before we'd reached the summit and were in the town itself. I'd guesstimate that the ascent is about 300 metres.
It was very windy up in the town but the sun was warm. There were fantastic views off the top down to Manfredonia and the coast sweeping round to Trani and beyond.
We booked in to the Hotel Palace San Michele (110 euros a night!). We had a fantastic room which opened up onto a huge sun trap sun terrace with those amazing views down to Manfredonia and the coast.
There was a group of SAGA holidaymakers booked in to the hotel, and we got chatting to an English couple who seemed to be covering some of the ground we were. This was their 'welcome' night and I suppose we could have stayed around and bummed a few complimentary drinks and things, but that felt mean (and I like to think we wouldn't fit in 'cos we don't look old enough ;-) Of course another reason we wouldn't fit in is because we tend to look like a couple of vagrants after 10 days in the same shirt and trousers ;-))
This was certainly a swanky hotel. The waiter had a uniform complete with epaulettes, and in the morning when we asked if he would fill our drinks bottles, he asked if we wanted ice in them!