Monte Sant' Angelo to Trani (96 kms)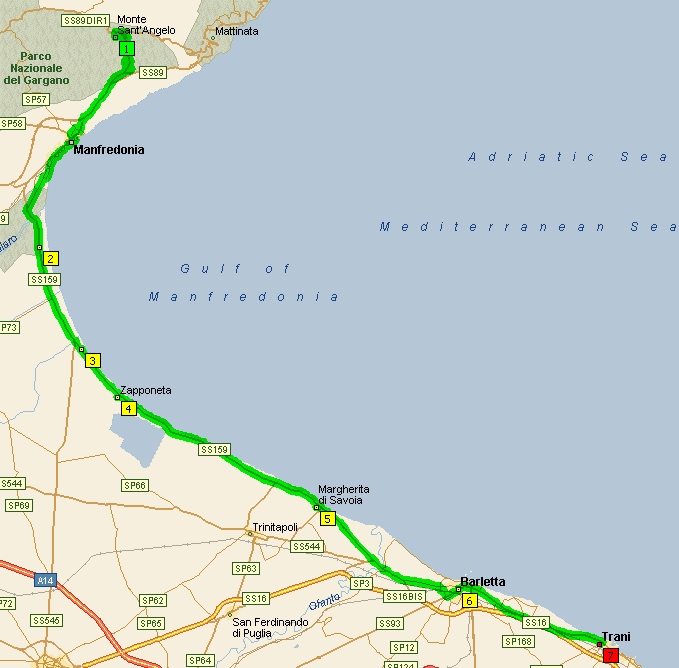 Great descent this morning on a lovely road (around 13 miles) heading for the Adriatic coast. We were headed for Trani today, but first we had to navigate our way through the centre of Manfredonia, a busy bustling city, which called for some very 'assertive' riding. Thankfully, we came through it unscathed, and remarkably with out getting totally lost!
After Manfredonia, we hit the long, hot, straight and very boring coastal road. The sad thing was, we saw very little coast. It always seemed to be 'just over there' (which it was of course). There was no respite from the sun, which was beating down with a vengeance. At one point we crossed a bridge and we saw our first herd of water buffalo, wallowing in the river and in the mud on the river bank. For large stretches, this coastal strip seems to be heavily used for agriculture (fruit/flowers etc?) and I can't say it inspired me much. When you've seen one plastic greenhouse, you've seen them all.
We did find one place where we managed to take a side road down to the beach and we sat there to eat our lunch. Not much else to say about today's ride really. It won't be one that goes down in my memory banks. However, things looked up as we entered Trani. This is a very pretty town, and looks very 'well heeled'. The harbour area is lovely, as is the main piazza with the duomo.
The hotels in town were very busy - some sort of conference on. We were offered a room at 145 euros, but declined as we thought that was a tad steep for us. Eventually we found the Hotel Royal where the staff were very friendly and we got a room for 85 euros.
Had a great 'fishy' meal that evening at the Ristorante Caruso near the hotel. The town was certainly busy tonight!