Acquaviva delle Fonti to Conversano (80 kms)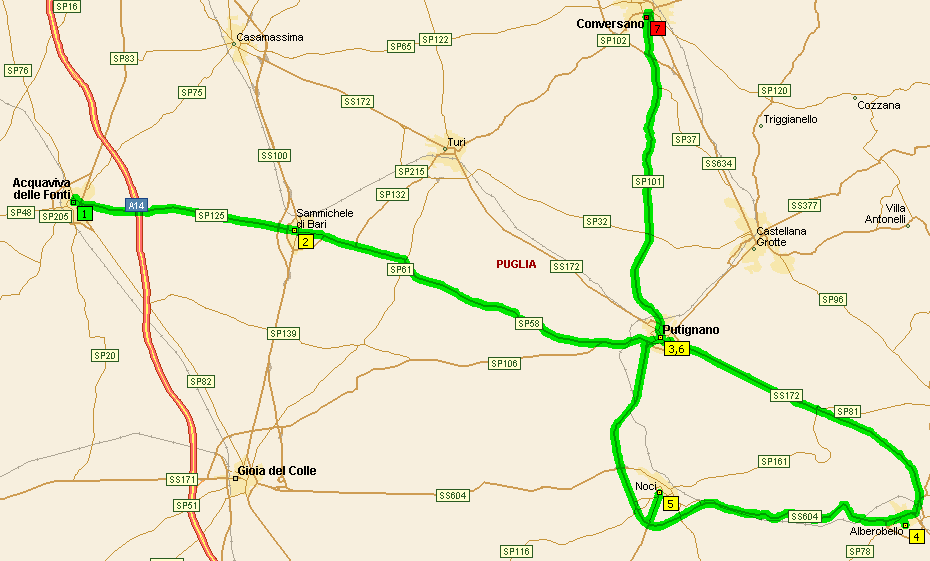 Great breakfast in the hotel at Acquaviva delle Fonti, and left in good time for us (9:30am) - well we are on holiday!
Had no problem with directions today. We headed for Sammichele di Bari and on to Putignano on lovely quiet roads. After a short break at Putignano where we watched some workmen fitting new doors to a house (strange how we seem to get into the swing of doing nothing rather too easily). Once the doors were fitted, we pressed on for Alberobello. We found the 'Zona delle Trulli' easily enough. It was very hot by now so we parked up the tandem and went for a tour around these strange structures. They're certainly different, and look quite impressive. Must be murder to wallpaper inside! Even at this time of year, we were surprised to see how many visitors there were. It must be bedlam in the height of summer.
When we were well and truly 'trullied out', we sat outside a cafe and had panninis and lemon soda. While there we were accosted by an American lady (slightly inebriated I think!) who was convinced I was a policeman! While I was very flattered to be mistaken for an Italian (shows how drunk she was ;-) I'm still baffled as to how she equated lycra cycling shorts and a Eurobike jersey to the uniform of the Italian police. Funny what drink can do. While sitting at the cafe, we were amazed to see the couple we'd chatted to at Monte Sant'Angelo a few days before. After a quick chat, we braced ourselves to move out from the shade of the umbrella and into the full sun. It was extremely hot now, and the tandem saddle was so hot as to be uncomfortable at first! Plenty of interest in the tandem again, from some German tourists (one of whom had a tandem back home) who wished us well.
We left Alberobello and headed off for Noci and back to Putignano, and saw lots of trulli scattered around the countryside. We stopped at a bar in Putignano, where we met a wonderful old chap called Joe Fabriano (I think that was his surname). His eyes lit up when he heard us speaking English. He was the only one who spoke any English, and was in his element translating to the others in the bar. We really had a great time in there, covering all sorts of topics from cycling to football, George Bush to the Mafia! They were really a great bunch in there. Apparently, Joe had lived in Canada and from what we could gather now lived in rooms in a church nearby (or something to do with a church). I have to say that I was sorry to leave. I love it when this sort of thing happens on these trips. If anyone reading this knows Joe, then please give him our regards.
We weren't really sure where to head for today, and it was the bar owner who suggested Conversano, and what a good choice it was. It was on the fast run in to Conversano that disaster almost struck. We were fairly shifting on a gradual descent, when we hit a pothole (well it was a bridge expansion joint on the road actually). One of the rear panniers jumped off and we ended up dragging it along for quite some way before the elastic strap holding it finally snapped. Luckily, there was no damage to the tandem (thoughts of it going into the rear wheel made me feel quite sick!). After some quick running repairs, we secured it and were on our way again. A lucky escape.
The old part of Conversano is very nice and we booked in to the Corte Atta Villa. A very impressive looking old building. We asked for a standard room, but when we got to the room, realised they'd given us a suite! Anyhow, no harm done as they let us have it for 95 euros. We had a great meal out (there was a fiesta of some kind on in the town that night). It was extravagantly expensive (for us) so I'm not putting the cost here in case my wife reads this, but the food and wine was absolutely superb.