Conversano to Giovinazzo (64 kms)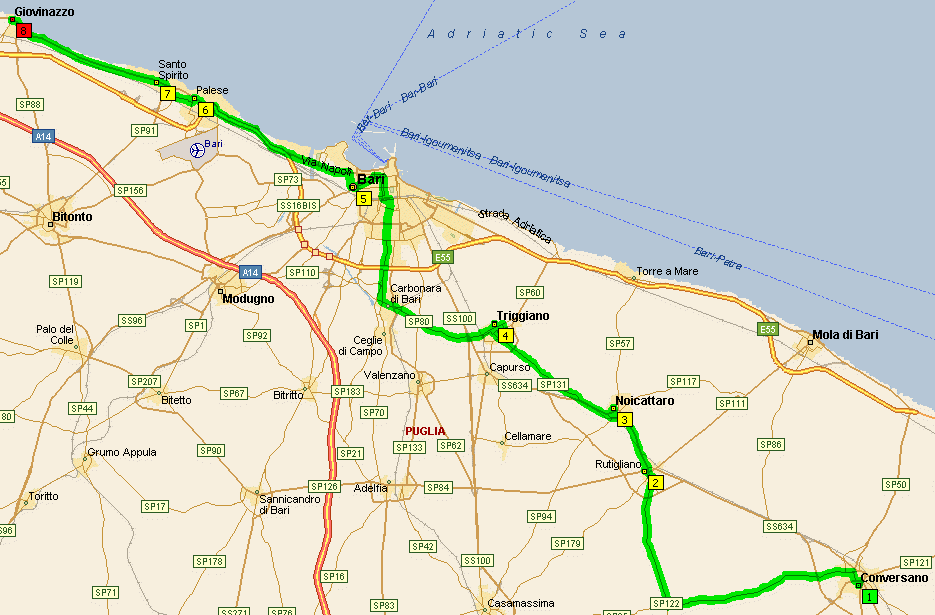 We left Conversano for an easy day today, bound for 'somewhere near Bari airport', ready for tomorrow's flight home. I knew Bari was the biggest place we'd ride through on the tandem to date and I wasn't particularly looking forward to it.
Just before we left, we asked the receptionist if she could recommend any hotel in Bari thinking that she could probably book it for us. We were a bit alarmed when she told us of the impending Papal visit to Bari this coming Saturday and that some of the roads may be closed already for security. On top of that there was a week long cardinals conference taking place this week in Bari, so hotel rooms would be thin on the ground (and how right she was!).
We set off bound for Rutigliano which we reached without problem, and then headed on for Noicattro and Triggiano. At Triggiano we stopped for a coffee where we got chatting to the local dustman. He'd asked me if I spoke English? I said I did and he then proceeded to give us directions in Italian, advising us on small roads into Bari. Having looked at the map, we decided to ignore this advice as he seemed to be taking us way off course. So, with a 'we know best' attitude, we left Triggiano and headed for a place called San Giorgio. About 1km before the road meets the superstrada near the coast, we turned left onto a very small road. We missed this the first time and had to backtrack. This small road had no traffic on it whatsoever, and it came as a bit of a shock when it suddenly joined the start of a main road into Bari. When I say 'start', I mean the start. To the right, the tarmac just stopped and disappeared into the grass. To the left it was a major road heading in to Bari. At first it was very quiet, but as we got nearer the centre and as other roads joined it, the traffic built up, though it was nowhere near as bad as I'd expected it would be. Once into Bari proper, the traffic was very heavy, but it was pretty slow moving due to all the traffic lights, and seemed to give us a wide berth. Maybe they sensed we didn't have a clue where we were going! It was pretty amazing that we managed to navigate right into the centre without any problem.
Had lunch in a cafe and the owner gave us instructions on how to get out to Bari Palase which we thought would be a good place to start looking for a hotel. By a stroke of luck, we were only about 2 blocks down from the road we needed to be on. His instructions were perfect, and after a short stretch of busy main road, we turned off onto the 'complementare' a sort of service road that runs alongside the main road. This took us right into Palase.
We tried 3 hotels here - all full. The cardinals conference and papal visit! We headed right out on to the coastal strip but couldn't find anything open here at all and it looked extremely run down. At the last hotel we tried (full) the receptionist kindly rang a hotel in Giovinazzo, about 6km up the coast and thankfully they confirmed that they had a room available. The hotel was 'very nice' and sadly that reflected in the price - 180 euros! But, it was that or sleep on the beach, so we paid the 180 euros. There seemed little point in going back and trying to find others (if we could find any). Bari was obviously THE place to be this week. There also didn't seem much point in going further up the coast as a) there didn't seem anything particularly near, and b) we were getting further away from the airport.
After a shower and a couple of drinks, we readied the tandem for flying. The very friendly hotel manager said that they would transport us (and the tandem) free to the airport in the morning. We weren't convinced the tandem would fit in the estate car, but it did - just. It did mean that we'd have to take 2 cars to the airport though, but again, they were very obliging.
The meal that night in the hotel was superb. Once again, I'm not going to divulge the cost. Lets just say it added substantially to the total bill! Definitely not the cheapest bike holiday I've been on. I feel like we've been a tad reckless these last 2 nights, but I'm not sure what else we could have done (I don't do camping ;-)
So, that was it. The Italian riding was over for another year. Another enjoyable tour. I loved the Gran Sasso and Gargano Peninsula areas, they were all I hoped they'd be and more. The jury's still out on Puglia. It certainly has some lovely old towns, the food and wine was great, the people very friendly, but I found a lot of the roads there a bit boring for cycling. Once you've ridden past several miles of olive groves, you start to hanker for something else. We would have perhaps been better starting in Puglia and finishing in the Gran Sasso. Maybe next time.