Penne to Paganica (via Campo Imperatore) (82 kms)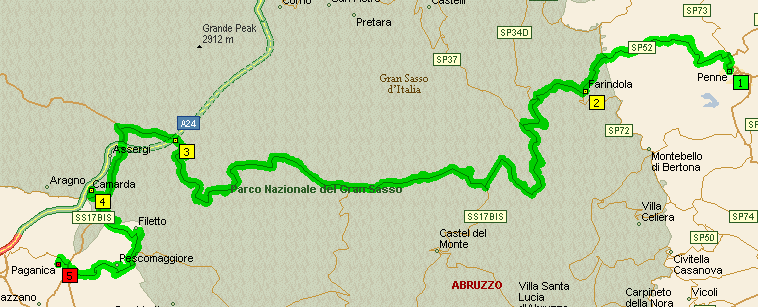 After a good nights sleep, we were both anxious to see whether the weather had improved. Well, at least it wasn't raining, but the clouds were still very low. We talked about changing the route for today, a bit concerned that going over the Campo Imperatore in this foggy weather might not be a sensible idea. I'm glad to say recklessness prevailed, and we decided to go for it anyway.
We left the hotel for an easy start to Farindola where we stocked up on paninis and sports socks. Yes, the ubiquitous sock seller was there - in the middle of nowhere and as soon as we stopped outside the panini shop in as quiet a place as you can imagine, he swooped on us. Ever the suckers, we bought a pack each from him (about 3 euros for 3 pairs of socks) and I have to say - they were good socks. I still have mine.
So, suitably attired and with the paninis in the panniers, we started the climb through Vado di Sole up to the Campo Imperatore. This is a big climb of around 35 km's we reckoned. Slogging away, with the heavy panniers, we were soon in dense cloud, with a long way to go. The bravado earlier in the morning didn't seem so sensible now, as we made small talk as we climbed about the number of wolves and bears in the Gran Sasso. This really is a great climb. A very steady gradient that goes on and on and on. Nearing the top, we started to get above the cloud line and we were in and out of the clouds for the last half an hour. It was about this time that we noticed the back tyre was looking a little flat. Definitely a slow puncture but we decided to pump it up and plough on to the top, not wanting to stop so near the summit.
As we came over the top, we were out of the cloud and the sun started to appear. A tremendous plain stretched before us and we could just make out the ribbon of road stretching away in the distance. It had been a fabulous climb. To say the road was quiet is an understatement. We were passed by a total of 2 cars on the climb. That was in just under 4 hours. A few more cars (lets say 6) came down in the opposite direction. It was as if the road was closed!
We rode down onto the plain and stopped by a closed Refugio with some picnic benches outside, to change the tube on the rear wheel. While we were doing this, 4 Italians drove up in a car. They were obviously set for doing some hiking, but first of all, they sat down at one of the tables, got the picnic out, and uncorked a bottle of sparkling wine. Class or what ;-)
Once repaired, we headed off along the plain (not as flat as it looked), and eventually started a brilliant descent through Fonte Cerrato and on to the SS17 to Camarda. We stopped for a coffee there, and it was just after we left that we punctured again - front wheel this time, after I ran over a stone in the road.
Originally we'd intended to head down into L'Aquila, but we liked the look of Paganica and found a great hotel (Hotel Rosa) which cost us 85euro's a night (including breakfast). As it turned out, we were probably wise to stay here, as we were told that L'Aquila was full of TV crews and the like who were following the Giro d'Italia. Once in the room, we patched the 2 inner tubes, and then went down for dinner, with 2 litres of wine. Finally turned in at 12:30 after a great day.