Paganica to Celano (51 kms)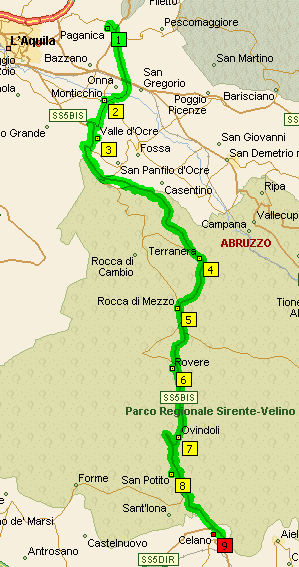 It was raining when we woke, but luckily had stopped by breakfast, the roads dried out rapidly, the sky cleared and we were soon in blue sky and sunshine. That's more like it.
We headed down toward the main road to L'Aquila, crossed it and headed out toward Monticchio and on small roads through the Valle d'Orca to join the No.5 bis for Celano. We had a long steady climb along the side of the valley with fantastic views of the mountains on our left. It was quite warm now, as we pushed on through Font Avignole, Terrenera (where we stopped to get some panninis), on to Rocca di Mezzo, Rovere and Ovindoli. Shortly after this there was a steepish climb of around 800 metres before we started a huge descent to Celano. I'm glad to say the brakes on the tandem handle these long descents very well, and it's absolutely rock solid when descending at speed. Even loaded with panniers.
It had been another great day. Sunny, wonderful scenery and a great climb/descent. We booked in to the Hotel Lory at the end of the main street in Celano for 62 euros for a double room and breakfast. The hotel had a great backdrop of the high mountains. We had the best food of the trip so far in a restaurant next to the hotel (Bruschetta, Zuppe, and Ravioli e Scampi - with wine of course).