My Struggle! - A Scotsman's eye-view of the Fred Whitton Challenge route - 15th April 2007.
Ascent: 3,800m (approx.)

I love the Lakes. Ever since I first visited this area for cycling over 2 years ago it has absolutely hooked me. After doing numerous cycling adventures in my native Scotland I always thought we had the most daunting terrain. The Bealach-Na-Ba etc all played a part in this thought process. Well that all changed when I visited the Lakes.
I'd been down in the lakes a few times over the last few years since then and last May I had designed a killer route. It took in the savage climbs of Kirkstone from Patterdale, WallEnd, Wrynose East! , Stickle Pike, Hawkshead Hill and Kirkstone from Windermere. I wanted to know a bit before the adventure and I had found an excellent website which detailed lots of climbs around the Lake District (http://www.bikeit.eclipse.co.uk/index.htm)
I seen there was a link on the page to contact the website creator, Allan Nelson, so I thought why not? I e-mailed Allan about my forthcoming Lakeland adventure and he replied to me with an outstanding array of detail. I couldn't believe how much effort he had put into the reply. Allan himself was embarking on a sportif North of the Border, the inaugural Bealach-Na-Ba event, so he asked me questions about that. After a good bit of too-ing and fro-ing we built up an electronic pen-pal relationship, and this all culminated this year when we all signed up for a few UK sportifs, chiefly the Fred Whitton and the Polkadot Challenge. Allan managed to get me into the Fred Whitton as he lives in the Lakes, otherwise there would have been absolutely no chance of me getting in due to the events popularity. When I seen my name on the 'accepted riders list' on the FWC website I was really scared! Oh dear! what have I let myself in for.
Allan had already done the Fred Whitton last year on a tandem! with his long-term cycling friend. Allan is 55 years old and his friend is similar aged and they never walked! That's one hell of an effort and I just hope I'm still thinking of that type of challenging cycling these lads still embark on when I'm 55 year old! The reason they started cycling on a tandem is that Allan's friend started to become severely visually impaired and at least with the tandem they could still go out together and enjoy some serious cycling. Respect! Sadly, Allan's friend has just found out that he has developed a heart condition. He is now to refrain from any severe efforts until more data is found surrounding his condition, so now Allan will be doing the Fred Whitton on his solo bike, something he has not done before.
As last year they wanted to do the Fred Whitton route around a month beforehand as good training. Last year they did the entire Fred Whitton route over two days and stopped half way for the night (at the Swinside Inn, near Braithwaite). They were going to do the exact same this year and had invited me down to join them. Due to babysitters etc, I only signed up for the 2nd day, but the 2 day event became practically hard for all attending so I received an e- mail from Allan which started with 'Hold on to your hat!' He then proceeded to ask if I would be interested in coming down on the 15th April and doing the WHOLE FRED WHITTON CHALLENGE in one day. I laughed and shook my head then crazily replied 'Ok -I'm up for it'. So, the date was set. It was going to be perfect for me. I had already built up good base fitness and at the start of April I was going for a family holiday down to 'Flamingoland' in the North York Moors (another awesome cycling area), so I planned to take my bike and take in the delights of the area's brutal infamous climbs. In my travels I knocked off Rosedale Chimney (steepest climb ever), Boltby bank, Blakey Bank, White Horse Bank - great training for the Fred Whitton. But tragedy struck. In the latter part of my holiday I developed a bad cold and chest infection. This really jeopardised my Lake District training run. I immediately got to the Doc's and got antibiotics. Two days later I started to recover somewhat. In 9 days all I managed was 35 miles on the bike and a session on the Turbo trainer, not good training for a 112 mile jaunt around some of the most devastating hills in the UK. However I had gave my word and I wasn't going to disappoint, so on Saturday 14th April at 5pm I travelled from my native town of Bo'ness (17miles west of Edinburgh) down to Swarthmoor (2 miles outside Ulverston), to Allan's house - he was putting me up for the night.
Allan and his wife (Anne) were at a night out when I arrived but Allan had asked one of his cycling buddies (Glenn Rhodes) to come up to his house and let me in and keep me company until he got back. I arrived at Allan's house around 9pm, phoned Glenn and sure enough Glenn popped up in his car. Straight away I felt at ease with Glenn, we started yapping and got on no problem. I had already been told by Allan about Glenn's cycling prowess and straight away gave the "I'm not very good, I just like a challenge", and being honest that's fairly accurate. I'll never break any records. I'm a really big lad at 6'5" and weigh around 15 stone - not the ideal cycling body, but I do love a real challenge and this run was going be the hardest run I'd ever done. I wasn't sure I had it in me. Anyway, Allan and Anne returned from the night out and we exchanged a few pleasantries, a little bit of getting to know each other, followed by another intake of pasta then off to bed. I was convinced I wouldn't sleep due to the next days challenge but the bed was so bloody God-damn comfy I dropped off no problem. I awoke next morning before the alarm at 5.30am. The weather was smashing. Forecast of 22oC, and early in the morning it was very hot as well - not a cloud in the sky - superb! Up/washed/porridge/toilet then off to pick up Glenn then head for Coniston where we were meeting a few other lads.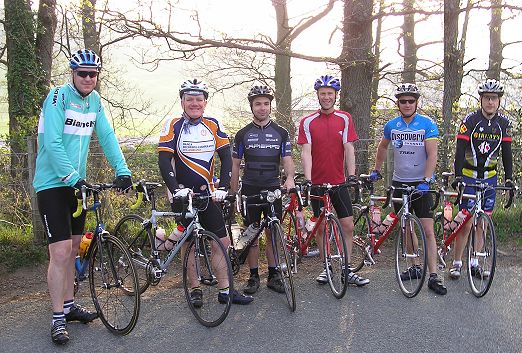 Arrived at Coniston Sports Centre at around 8am, 5 minutes later we saw another car pull up with 3 bikes on top. The window rolled down and the driver shouted out something which indicated the Scots don't like dipping their hands in their pockets much :-) I immediately liked him, this was Stu -a half daft Scottish/English breed - a real joker and well up for a laugh. He had brought along his friend Dave - a Fell Runner who had never cycled over 60 miles and wanted to try a longer distance (what a route to pick!), and Nic - a French lad who had the week before just completed a 200km Audax in South Wales. He had also done the Cumberland Challenge last year as well. Allan, Glenn, Stu and Nic all work with each other, and Allan, Glenn and Stu are all cycling buddies. So, me and Dave were the new lads - although you would never have known it - we all got on great from the very start. We got all the food/drink sorted out and started the run out of Coniston at 8.30am.
The saga starts!
After only 2 miles we hit the first hill - Hawkshead Hill, been up this before so knew it wasn't all that bad but for me this was a very important hill as it was the first. It would be on this hill where I would find out if my chest infection had really cleared, and where I found out if I was capable of cycling uphill with these lads, but after only a few minutes on the hill my fears were put to rest. My chest was fine and we were all cruising up at a very comfortable pace. Good banter all the way up as well with all the usual 'piss-taking'. I felt right at home with these lads. Near the top we heard Dave shout out - he had a rear puncture! We checked it out and soon found out that the tape which protects the inner tube from the rim 'spoke' holes was too narrow and the hole edges were cutting into the inner tube. We re-centred the tape as best we could then fitted a new inner tube and off we went again. Up and over Hawkshead Hill then a super fast descent down past the Drunken Duck pub and on to Ambleside. A fast furious pace was set on the busy A591 until we reached the left turn off onto Holbeck lane (the start of the Kirkstone Pass climb). There are a few stretches of really steep stuff to start with on this climb - not too severe but testing the legs a fair bit. I dropped into my granny for a few stretches on this part of the climb. After a good bit of climbing up past the Mortal Man Inn, we done the small sharp descent onto the main Kirkstone Pass Road.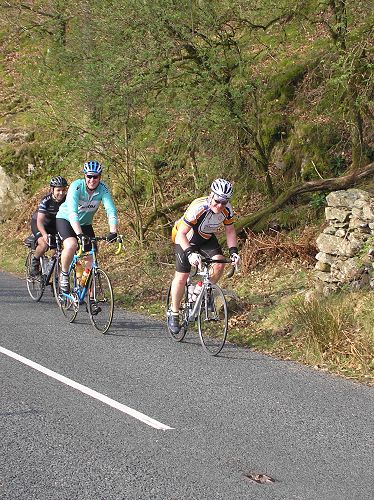 We then slogged away for quite some time here, again there's a few steep stretches to get the legs working, and after a fair bit of climbing the Kirkstone Inn came into focus. I was very comfortable on the climb and felt very strong. I looked down to my left and just thanked the lord that the organisers of the FWC hadn't included the climb to Kirkstone Pass straight from Ambleside- via the disgracefully difficult 'STRUGGLE' - that would really have put the coffin nails in.
Up and over Kirkstone - Stu took off on the descent as if Keeley was waiting at the bottom with stockings and a basque on! - he was going mental on the descent. I took it fairly easy. I've just not got the confidence to allow myself to totally release the brakes. We stopped at the bottom for a pee-stop, and then off again through Patterdale and along the shores of Ullswater. It was around here that Nic started to fall off the back at times. I never thought anything of it, just thought "that's maybe just the way he likes to cycle", and I've no doubt that he hadn't a bloody clue what I was saying to him with my broad Scottish accent - hard enough for the English to understand me! Anyway, we were all cruising along. Dave looked very comfortable and was gabbing away no problem on the climb of Kirkstone and I just had a feeling that this lad was a bit of a natural. For only ever doing 60 miles before, he looked well ok. We then started the climb of Dockray and Matterdale. Lovely this was. Allan was climbing great, only 1 week beforehand he had been on the granny up here and now he was easily pounding the middle ring, a good indication that all is well. Glenn and Dave were up front; me, Allan and Stu were also dancing up and Nic had disappeared off the back again. Up and over Matterdale and on to the horrible busy section of the A66. We started a really brisk pace along here with Stu leading the way. Me, Allan and Stu were storming along here when we suddenly realised no one was behind us! We stopped in a lay-by. Nic arrived and told us that Dave had another problem with the bike and Glenn was helping him out. It turned out he had a front puncture this time - same deal, the rim tape was too narrow and the inner tube was puncturing on the spoke holes. We had to get this sorted! so we headed into Keswick, and found that the Keswick Mountain bike shop was open (handy for a Sunday). Dave managed to get wider tape here and after a bit of messing about he was sorted, and that put an end to his problems. So, off we trumbled again, except the next obstacle was where the fun begins. We skirted around the shores of Derwent Water and a quietness started to descend on the group as not before long our worst thoughts were going to be realised...HONISTER PASS!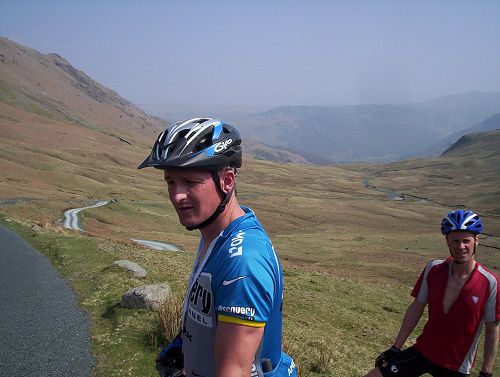 The only guys who were really showing no signs of any dread were Glenn and Dave. Glenn because he's a super climber and Dave because he hadn't been up it before! Nic hadn't ever cycled in the Lake District before and as we entered Seatoller I heard Glenn say "Welcome to the Lakes Nic!". I seen the 20% ramp straight out of Seatoller and I knew it just got steeper and steeper. I immediately hit bottom gear 30x27 as I just knew how hard this brute was. The gradient kicked in and it wasn't long before I was using all my strength just to keep the bike moving upwards. Glenn passed me at an alarming speed and danced away up the climb taking an incredible amount of distance out of me in no time at all. Stu was just in front of me, Dave was in front of Stu and Allan and Nic were just behind me. Up and up this beast reared. About 5 min's into the climb on the 1st steep section there is a visually steeper section - it must be near 30%. This really tore into my poor legs and I could see the devastation the climb was doing to all of us. After what seemed like an eternity we arrived at the shallower mid section...thank Christ! What a savagely steep monster it was. I managed to get into 3rd lowest gear here and put in a wee effort to catch Stu. We spoke of the ordeal and without any falseness or lies we both agreed it was a killer of a climb which had really tested us both - and we hadn't even reached the top! After a bit more shallower section we saw it rear again to the top. Not quite as steep as the brutal first onslaught but still a real end of climb stinger! - especially in this absurd crazy hot April weather. Glenn was at the top with Dave taking a video snap shot of us summiting. I tried to put a brave face on but the camera never lies! it had been a real ordeal. Glad I had managed it. Next Allan was coming up to the top. Allan seems to be just one of those 'wind up toys' guys, he just goes and goes, but he was also well glad to get to the top. After a bit of time we seen Nic coming into view. He arrived at the top and seemed a bit surprised with the climb. No bloody wonder I thought, what an effort it took. So we all re-grouped and descended off Honister. It was like being in freefall, the top of Honister on the descent is very steep.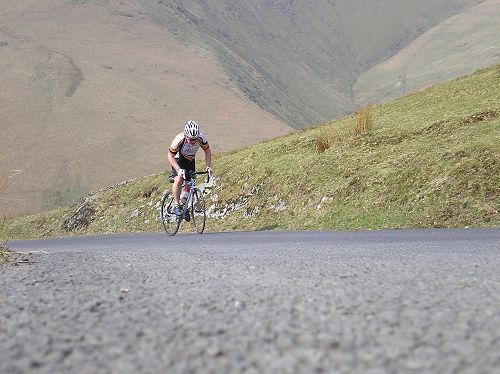 Off for a very rapid run into Buttermere where the next ordeal awaited, Newlands Pass. Me, Allan and Stu were together here but we lost Glenn, Dave and Nic? Anyway me, Allan and Stu started the ascent of Newlands. This is a real relentless swine of a climb, never ever letting up. No one ever seems to mention it too often when speaking about the FWC, but it's one of the unsung devils of the route, always kicking around 15-20% and getting gradually steeper and steeper until the 25% section at the top. And its bloody long as well, but its also gorgeous. Me/Stu ascended this climb basically together, with Allan a little behind us. Me and Stu summited in that scorching heat and sat on a grass verge at the top, we were pretty wrecked. I immediately got the camera out and took Stu's photo. I like to get people when they're wrecked!...but he countered and took a picture of me as well just to show how wrecked I was - good stuff! Next thing we seen Glenn hammer up the climb. He was getting tailed by Dave. Turns out Dave and Nic had missed the turn-off for the climb and headed down into Buttermere and Glenn chased after them. Ah well, it was good to get to the top of a climb before Glenn ;-) - we could now take his photo!. Allan came in just after Dave and poor Nic was nowhere to be seen! Eventually he trumbled up to the summit, but still I never thought anything of it. I honestly just thought 'the French cycle a bit different from us and maybe he like's just tagging off the back'. Anyway, we done the super descent down into Braithwaite where we were stopping for lunch. The scenery is smashing up this neck of the woods, and it was a lovely part of the run. We found a place in Braithwaite which reluctantly agreed to make us a baguette and chips etc. We all sat down at an outside table next to a young couple who owned the biggest rottweiller I've ever seen. We totally wrecked that romantic lunch-break for the young couple, not helped by Stu talking about the time he and Allan had gone to Paris and had to sleep in the same bed. Stu said he then 'took him up the Champs Elysées!' The bloke nearly choked on his chips! Anyway, not long after that they were off, taking the Baskerville Hound with them. We were there for around an hour and after that we basically hit the climb of Whinlatter Pass immediately.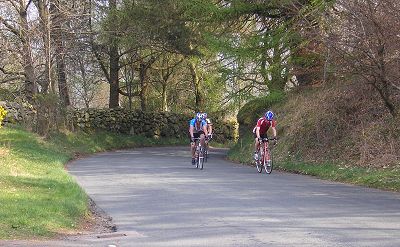 We all started the Whinlatter Pass with full bellies - not good!. I felt a bit groggy. The climb was much steeper than I could remember, so I kicked it down into the granny gear. When I did this the chain got jammed and I near went over the handlebars! There was a problem with my front derailleur. I told the rest of the lads to go on ahead and I'd get them at the top. I found that the cable had slipped slightly and the derailleur wasn't positioned correctly. After a bit of mucking about I got it repositioned - not perfect but it would do, and it was shifting to all 3 front chain rings, good enough for me. I put a bit of effort in here to get up to the lads waiting and felt a bit tired and heavy -it turned out this was to be the worst I felt throughout the entire ride. I found the rest of the group waiting for me 3/4s way up the climb, told them I was fine and off we went to the summit. Whinlatter turned out to be a bit harder than what I could remember, but its is very shaded and thus cool - a real lovely climb it is.
We done a terrific run off this pass and made very short work of the 'easily get lost' section of Lorton and Lamplugh etc, but again, Nic was nowhere to be seen. Allan said to me "I think he's buggered, he's really suffering". I was still convinced it was just his style of cycling but alas Nic came in and the lads asked him how he was feeling. "Not good" said Nic, "not good at all - very exhausted". There was a bit of uncertainty here but I must say I really admired the way Glenn took control. He said what the rest of us were all thinking "Listen Nic! this is the deal, the hardest part of this route is still to come. We have a whore of climbs from here back to Coniston and that's not even including the monster climbs of Hardknott etc. Do you think you have it in you to continue? We don't want you to continue and have to end up phoning an ambulance, you've got to tell us the now Nic". Nic replied and told us all that he wasn't in any fit state to continue and wanted to call it a day. After a bit of negotiation it was decided that Nic would head off for a pub in Buttermere about 4 miles away, and when the rest of us finished, Stu would drive up to Buttermere and collect him. I must say I had a whole lot of respect for Nic's honesty in this situation. I know plenty guys who would have been too full of pride to admit they were not up to it and most probably in the end would have maybe wasted the entire trip for everyone, but not Nic, he was sincere and I like that!
So 5 of us struggled on. It was around here that Stu developed a sore head and told us that he didn't feel too clever either, but on we went. We started the climb of Fangs Brow, pretty steep to start with then it levels out into a normal fell road. Stu said around here "I'm not getting up Hardknott today - no way!". I tried my best to make Stu feel better as I know that in huge runs like this then you always usually go through a bad period then you come out of it and feel strong again, but his confidence was low. To be honest I know this is where in the run the mind starts drifting to the main point of the entire Fred Whitton Challenge - the ascent of the incredible/formidable Hardknott Pass at 100 hard miles in the legs. The thought of it alone could make you feel sick, and I do believe the thought of climbing Hardknott was playing tricks with Stu boys mind. All you can do at this stage is try your best to sound positive. It sometimes alleviates a bit of the fear. I was feeling pretty strong here, no problem at all. Allan was starting to doubt his ability to scale Hardknott as well around here, but again I know its just the thought of that brute in your head -the thought of it weakens the bloody legs. Anyway, we made another super fast descent to Ennerdale Bridge, the lads were really rocketing along here and we made good time. I was speaking with Dave around this part of the run and he was in his element! He just couldn't believe how beautiful the scenery was around this area of the Lakes. Glenn was also speaking with me and asking how the lads were doing. I told him that I felt as good as I possibly could at 80miles. Dave was cruising. I told him that Allan and Stu were losing confidence. He was just concerned, and I really like that - real camaraderie, looking out for each other. To me that's what it's all about. Anyway, into Ennerdale Bridge we went and Stu decided to alleviate his headache the best way he knew how - unload himself in the toilet. He came back from a pub bearing gifts of 4 finger Kit-Kats. These were readily consumed and off we set for the almost immediate slopes of Coldfell. This starts pretty steeply then goes on to become one of those long easy drags. I was in my element here, the climb really suits me with me being a big lad. Me and Glenn led the way up Coldfell with the others very close behind. Couldn't believe I was still feeling so strong. We then started the long gradual descent and everyone was flying. The lads were going so fast that when approaching a cattle grid I braked and so did Dave, while the others just flew over the cattle-grid at full speed. I thought to myself - try and go over a cattle grid like that in Scotland and you'll be deed! With me and Dave braking, the others took around 400 metres out of us in no time at all. It turns out that the lads knew the cattle-grid well and it was in perfect condition, That's the only reason they flew over it at top speed. It was around here that it turned from glorious sunshine into very cold mist. It was freezing! No wonder it gets called 'Coldfell'. Allan and Glenn stopped to put on arm warmers, while me, Stu and Dave descended off this into Calder Bridge where we joined a nasty busy road. The sign says 2 miles to Gosforth - well if that 2 miles then I'll eat my hat. You have to climb again on this horrible road. We climbed for sometime and Allan and Glenn caught up, we then made a fast descent into Gosforth and stopped at the local store. I went for bananas but none to be had (I was informed another sportif had already been through that day and cleaned them out - the Lakeland Loop sportif), so I bought some Powerade and dished some out. Only stopped here 15 minutes then off we started for the death march. We all knew what was next, and we all knew it was absolute murder. We made our way east, heading into Santon bridge then up and over the almost completely forgotten climb there of Irton Pike. This climb told the legs -Yip your nearly at a 100miles now. We then passed by the King George Pub - this where you first see the 30% sign - daunting or what. It was here that Glenn asked if I wanted a gel-pack - yesiree! anything to give that extra ounce of energy. In the near distance I could see the lowering between 2 mountains and I knew what went directly though it -HARDKNOTT PASS!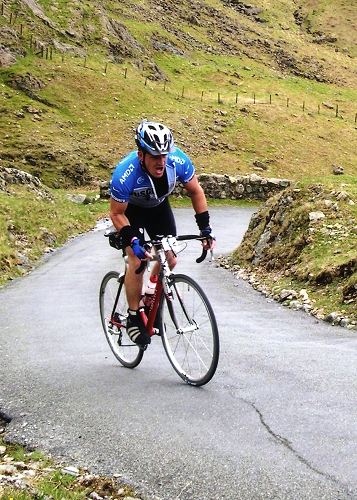 Allan was just in front of me when it first came into view in all its glorious form. What a sight it is! Allan turned and said "would you look at that". I said "I know - I don't want to look", but I couldn't resist. It doesn't matter how many times you see this it always takes your breath away. Its just outrageous. I've never ever seen a climb which rings the alarm bells like that - it just looks impossible - without any doubt the most awesome sight I've ever seen in my cycling career. It was with this in mind that we approached the Red Telephone Box. Dave still couldn't see the climb - even with me pointing straight at it! I reckon his brain refused to believe that the grey wire going up the sheer side of a mountain was in fact a road! When he finally did see it he said "No way! I'll never get up that!. Look at it?" I told him not to think of it like that but just turn one pedal after another. He then said "Is that the top of the climb after that bit there?", he meant where the fort was. I hadn't the heart to tell him the truth, I mean what would I say :- No Dave that's only the 1st mental steep section, you've still got a big bit of 15% then another horrendous 30% to the top. All I said was there's a good bit after that and just take the climb in small bits, one bit at a time. Stu by this time must have been going though psychological torture as he wavered way off the back even on the approach. You see that's how hard this climb is. It actually messes you up before you even hit her disgraceful slopes. Allan stopped to let a car by at the very foot of the climb and I nervously ambled past Allan and I just thought "what the hell, there's no point in delaying the inevitable, so off I started the monster, up and over the cattle grid and in bottom gear 30x27. The gradient, no matter how many times you hit her, always takes you by surprise. It was unbelievable. I was giving it death and was heaving myself all over the place. Glenn came past me here like he was going an errand for his mum. I watched his very fluid climbing style as he somehow eased his way upwards, but I've not got a fluid climbing style and I just have to make do with my grunting and straining. Dave slowly started to pass by me as well. He too was finding it mental hard as well. I looked back and Stu and Allan had started, and we were all still on the bike! I seen Glenn crest the 1st steep section and although he was just around 100meters in front he looked a 100meters up as well. That's how steep this climb is. After an enormous struggle with gravity I made it to the middle flatter section. I started to feel the ease in my legs but I must stress that this part is also steep as hell. There are many parts on this 'flatter section' where I had to get out the saddle on a 30x27! I could hear Stu behind me and looked back and he had also made the 1st steep section. I was well pleased for him. I could see that Glenn was already starting the 2nd steep section and Dave was a 100 meters or so in front of me. Glenn just horsed up the climb and I just marvelled at the ability! I wish I could do that I thought. Dave was also doing outstanding. Like I said, for a guy who'd hardly ever cycled he was outstanding - some guys are just pretty natural. I seen Dave on the 35% switchback and a car came down at the same time. The car stopped at the bottom of the steep switchback - exactly where I wanted to go. I indicated to the driver to move and I'm really glad he did. This allowed me to swing wide into the savage gradient. Just before this section there is another 30% ramp, this leads you to the sharp left turn onto the 35% section. This part really kicked the living daylights out the legs I tell you. When on the 35% section it must be said that I felt ok. Up this and I could hear Stu behind me - great stuff! - swung wide again to make the most of the gradient. After this there's 2 more ramps to the summit. The first is not so bad at around 25% but the next one's absolute torture - at least 30%. It's here a lot of people fail - so near yet so far. Me and Stu were side by side on these ramps and a big 4x4 was revving up behind us. We couldn't have gave a toss, nothing was going to move us now. It would have needed a guy with an elephant gun to stop us at this point. After a massive effort we crested the last 30% ramp and triumphantly tipped over the top. We heard Glenn cheering us on and also a family which had parked at the top cheered us on too - magic! As the gradient gave way I turned and gave Stu a massive handshake and said "told you so". We were both elated with the success. We all congratulated each other and all waited on Allan. I knew that Allan had been fearing the climb on his good bike and he had lost a fair bit of confidence as well but we seen him tipple over the top, much to all our delights. We were all chuffed to bits for him and each other. We had ALL succeeded. Maybe some people who weren't into cycling wouldn't understand the feeling, but getting up Hardknott after 100 miles of murderous terrain is outstanding, especially for weekend warrior type guys like us (not Glenn). It's funny how the climb of Hardknott really dampened the spirits from the 75mile mark onwards, but now after the successful ascent it made the day so special! That's how difficult and special the climb is.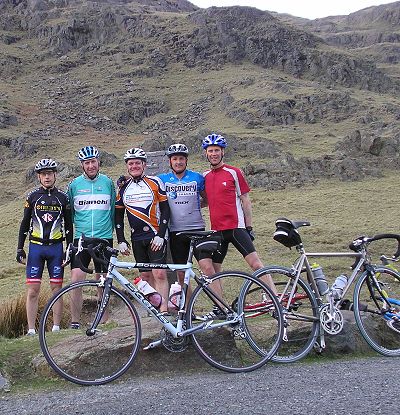 With high spirits we made the 'drop off a cliff' descent of Hardknott. It really is mad steep on the other side as well. Then off through Wrynose bottom and past Cockley Beck for our last big hurdle, WRYNOSE PASS. After Hardknott, this holds little fear for me (the other side is a different matter altogether). We hit this head on. Glenn was feeling so good that he danced up on his middle 42 chain ring - I never! Back into 30x27 and started my usual rhythm. I find that on this climb there's only one part you have to worry about and that's where you take a sharp right and hit the really steep ramp. This takes you to a sharp left. If you make it to here then you've made it. I made it very easily I must say, not in the same league as Hardknott. The rest of the lads made it no problem as well. We stopped and took a few photo's at the Three Shires Stone then started the mad steep bumpy descent of Wrynose down into Little Langdale. What a descent! I was just very pleased that we go down this as this climb's as bad as the way we came up Hardknott! Anyway, another short stab after this up Colwyth Brow, then a long descent into Coniston. Allan, Stu and Glenn shot off at full speed into Coniston and me and Dave just cruised it and had a nice wee natter on the way. Arrived at Coniston and immediately got the bikes back on the car. It was getting late and we needed to get a move on. A very nice exchange of pleasantries and off we went. I dropped Glenn off at his house, I was staying at Allan's again and his wife had prepared an outstanding meal for us! It was great to hit the shower then get into clean gear. Glenn came around for his meal as well, and the 3 of us sat there and had lovely Smoked Salmon on toast, Lasagne, garlic bread and Sticky Toffee Pudding! What a meal. Allan's wife (Anne) really done the bizzo for us and it was so appreciated. After a few wines and beers we were all so knackered we all went to our bed. What a feeling lying again in that super comfy bed after that unbelievable day.