Fano to Pesaro
Fano - Pesaro (S16) - Fiorenzuola di Focara (Panoramica Adriatico) and back
Kilometres: 54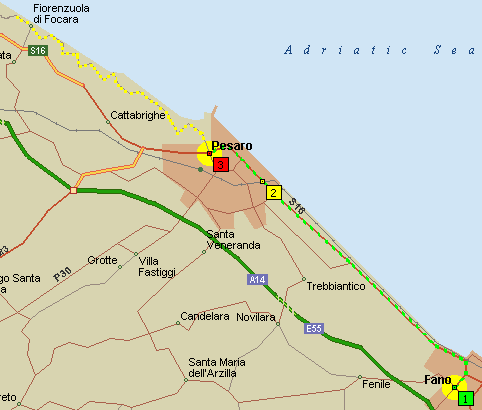 Had breakfast in the hotel, booked out and then went for a look around Fano. Although an ancient town it's well maintained. It was of course a Roman town, and the streets are laid out in the grid pattern of the time. One of the remaining genuine Roman structures left (supposedly dating from 2 AD) is one of the gates into the old town, the Arco di Augusto. This seemingly marked the end of the Via Flamina, which was the principal Roman road from Rome to the Adriatic coast. Apparently the arch used to have statues on the top, but someone used those for target practice when they invaded the town in the middle ages, so only little stumps remain.
We rode back to the Piazza XX Septembre, where we sat in the morning sun, and a group of old men came over to talk to us. They were obviously well known (everyone spoke to them), and obviously loving life, laughing and joking with anyone who would listen.
We left Fano, and rode the short distance to Pesaro on the only road available, the S16, and that was quite busy, arriving about 12:30. We found a cafe on a busy corner in the town centre, had some refreshment and watched the townsfolk go by for an hour or so. We then made for the coast, and found a deserted public beach where we had another swim in the Adriatic. Much colder this time. The first day's swim in Gabbice must have been warmer because of a breakwater which ran parallel to the beach. Still, it was very refreshing - once you got in!
Later in the afternoon, we headed for the Piazza del Popolo which has a nice fountain in the centre. We rang Francesco to tell him we'd arrived, and while waiting for him we had a coffee in a cafe on the piazza. Francesco led us through the streets to his home, where we dumped the panniers, Francesco donned his EuroBikers jersey and we went for a 'team time trial' along the Panoramica Adriatico. I could tell Francesco took his cycling seriously, he shaves his legs! He did say he'd only just done it to see what it was like, and he wasn't keen. He said they felt like cold chicken. (We didn't bother feeling them).
It was great to be riding without panniers again! There were lots of other cyclists out, and lots of motorcyclists too. The road is very pleasant for cycling. A nice graded climb to start with. We went to Fiorenzuola di Focara and had a look around. A very pretty village, with a strange display of old photographs on the inside walls of the gate into the village. There were stunning views of the coastline from this road which runs 150-200m above sea level along the cliff top through some lovely scenery. After a team photograph, we turned and headed back for Pesaro.
We arrived back at Francesco's at around 7:30pm after some assertive cycling through the busy streets, had a shower and changed, and then sat down to a brilliant meal of Pasta with chickpeas, some more of that gorgeous Prosciutto crudo and a bottle of local red wine. After a good chat, and a look through the maps (I love looking at maps), we were off to bed by 11pm, and slept the sleep of the dead.