Day 11 - Sunday 24th May 1998
Montalcino to Colle di Val d'Elsa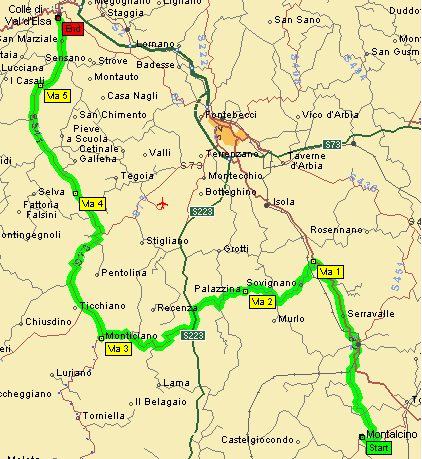 Route:
Montalcino – Buonconvento (local roads)
Buonconvento – Quinciano (No 2)
Quinciano – Palazzina – Fontazzi (local roads)
Fontazzi – Monticiano (local road – No 223 – local road)
Monticiano – Frosini – Cant (No 73) – onto No 541 to...
Colle di Val d'Elsa
Kilometres: 102
Yet another good nights sleep – think we deserved it after yesterday.
Woke around 8:15am to a lovely clear blue sky. The storm had passed. Went out for breakfast in the main square (where the clock is!). Ham rolls, cake and a cappuccino or two and some food for the days trip. The town seemed deserted, and they'd already almost finished clearing away the soggy tables and chairs from the night before.
We started with a fantastic descent into the valley below. I didn't turn a pedal for at least 9kms. Passed through Buonconvento and carried on along the No 2 (Sienna) road, which was very quiet, until we reached the left turn off for Murlo (near Quinciano). The road climbed here, and kept climbing until just after Palazzina, where we stopped, had a good drink and ate our lunch.
Descended through Casanova and Fontazzi, and out onto the No 223, where we turned left and followed it for approximately 2km. Strange flooded fields in this valley. Obviously done on purpose, but why I don't know. After 2kms on the No 223, we turned right for Monticiano, and again the road started climbing immediately. Quite a hard climb this, up to around 450m, but lovely scenery.
On the climb, the road wound through the forest, and as we rounded a bend, we heard grunting in the trees to our left. We were just in time to see, and hear, a Cinghiale (Wild boar) with 2 'boarlets' – much paler in colour with cream stripes. We listened to them crashing off into the trees. Another fantastic descent followed, but as tends to happen, we immediately started climbing again up to Monticiano.
We found a good bar in Monticiano where we had two long 'caffe latte' and various other bits and bobs. We descended from Monticiano on the No 73, but the road soon started to climb again, just before Frosini to Cant, and then a great descent, forking onto the No 541 along the Elsa valley. This road ran very slightly downhill, and we also had quite a strong tailwind pushing us along at 40-45kph (25mph+). This went on for around 20km, and was really refreshing after all that climbing.
With that tailwind, we soon reached Colle di Val d'Elsa (around 5pm), and booked into the Hotel Il Nazionale, a 2 star hotel for L90,000 per night for a double room. We decided that we'd stay here for 2 nights. The intention had been to stay at San Gimignano, but we reckoned (rightly) that it could be a bit busy, being right on the tourist trail, and anyway, we liked the look of this place.
All in all, a brilliant days ride, and we didn't take the wrong road once!
We had dinner in a local restaurant and decided to push the boat out a bit as the holiday was drawing to a close, and there was a BancoMat in the square!
We started with Bruschetta alla pomodoro (getting to be one of our favourites), followed by Mushroom soup, Chicken Breast stuffed with cheese and ham, and finally Panna di frutti de bosco. All washed down once again with some excellent red wine (it has to be red).
Impressions:
Hilly again, but with a brilliantly fast 20-25km towards the end.
Wildlife count went up…

Cinghiale + offspring
Some huge (dead) toads on the road just before Monticiano
A small blue insect with yellow legs and head which hitched a ride on my bar bag for around 15km until the café stop at Monticiano. When I came out it had gone.

The food and drink gets better and better.