Day 12 - Monday 25th May 1998
Colle di Val d'Elsa and back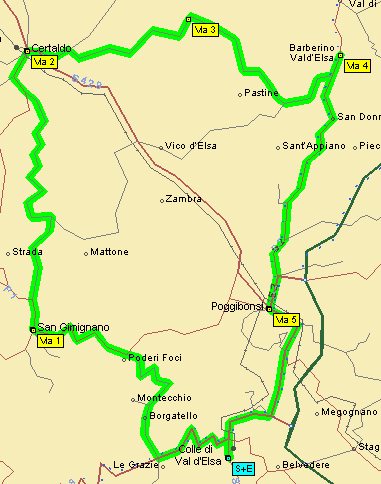 Route:
Colle di Val d'Elsa - San Gimignano – Certaldo
Certaldo – lots of lanes and rough tracks – Certaldo!
Certaldo – Tavernelle - Barberina Val d'Elsa
Barberina Val d'Elsa - Poggibonsi – Colle di Val d'Elsa
Kilometres: 80
Let's start by saying that this was not what we intended!
Yes, we slept like the proverbial logs again. Had breakfast in the main square, and then off with just one pannier apiece, as we were staying here another night. We climbed out of the town, and on up to the town of San Gimignano. Loads of tourists and coaches all over the place, which took the edge off the place for me. Especially as almost everywhere else we'd been to had been so quiet – even Assisi.
We tried to arrange our accommodation for the next two nights in Pisa, but the local tourist information offices don't seem to be able to book ahead for you. They sent us to a place called 'Munditravel', where the staff were very helpful and agreed to do it, - but (there always is isn't there) – they couldn't do it now. We'd have to call back tomorrow morning and they'd let us know what they'd found. We hadn't planned on calling into San Gimignano again on tomorrow's ride to Pisa, but that was it, take it or leave it. We told them we'd be back tomorrow at around 10:00am and left San Gimignano for Certaldo. We passed through Certaldo and took the road for Lungagnana (mainly because it sounded nice).
We followed a 'white' road on the map which took us up a very steep climb (probably the steepest we'd hit yet), then the road deteriorated into a very 'unmade' surface, and continued to climb steeply. We found ourselves on the top of a ridge, with the road switchbacking up and down across the top. Eventually, we got back to some tarmac and a couple of signposts. One was for Certaldo, and the others were barely readable, but we couldn't find any reference to the places on the map. We now didn't have a clue where we were, so decided to follow them anyway. The road dived down, and then deteriorated once more (but worse than before), so reluctantly, we re-traced our steps and followed the road down to Certaldo. Eventually we reached a main road, headed right for Certaldo then took the next left for Barberina Val d'Elsa (15km). This is without doubt the hardest 15km I have ever cycled. The road just got steeper and steeper, and I wasn't feeling particularly frisky today for some reason. Thank God I only had one pannier on! At last we reached the town, but had a stiff climb up into the town proper to find a bar, right on the crest of the hill. Coffee, 1 litre of lemon soda and cake were very welcome and much needed. Just before we left, it started to rain, so it was on with the jackets and off down (mostly) to Poggibonsi, and finally back to Colle di Val d'Elsa. I've never been so glad to get back. I was absolutely stuffed for some reason. I wasn't looking forward to the detour to San Gimignano tomorrow.
On the plus side, we had a great meal tonight.
Bruschetta alle pomodoro (again), 2 Omelette herbe formaggio each (2 of the best omelettes I've ever had the pleasure to eat – and they weren't small!), Mixed side salad, Strawberry yoghurt ice cream with fruits of the forest (and the usual litre or two of red wine).
The service in the restaurant was really friendly. We were the only ones in. I don't know how some of these places keep going. The chef came for a chat, and an old chap who sells him his sheeps cheese came over and insisted we try some. I can tell you, it doesn't go well with strawberry ice cream :-(
Impressions:
What a hard day that was! Glad I only had one pannier on.
I wonder if San Gimignano is ever quiet?
What a brilliant restaurant tonight. (Sheeps cheese and strawberry yoghurt don't mix though)