Day 3 - Saturday 16th May 1998
Castelfiorentino to Siena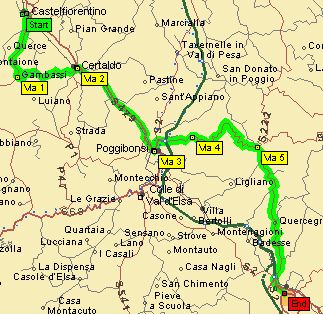 Route:
Castelfiorentino - Gambassi - Certaldo
Certaldo - Poggibonsi
Poggibonsi - Castellina in Chianti
Castellina in Chianti - Siena (No 222)
Kilometres: 72
Awake early - pigeons cooing. A few clouds around this morning.
Had breakfast at a small bar near the hotel. The square outside the hotel was full of market stalls selling everything you could imagine.
We left Castelfiorentino at 9:50am, heading for Certaldo, via Gambassi Terme, a lovely undulating route. There was very little traffic, and it would have been a quick 16km, but Allan's 'ErgoPower' gears jammed. The shifter wouldn't shift! We spent half an hour trying to fix them, but were unsuccessful, so, put it in a reasonable gear for the terrain, and continued to Certaldo. The local bike shop were unable to fix them, and suggested we go to Poggibonsi, where there was a Campagnolo dealer. Had quite a frantic ride to Poggibonsi, as we wanted to get there before siesta time at 1pm. We reached the shop with 15 minutes to spare. The chap who runs the shop, Vito Porciatti, from what I can gather, splits his time between running the bike shop, and road racing. This guy was brilliant. It took him I would say about 2 minutes to fix the problem. I don't know what he did. I tried to find out what the problem had been, but he just said 'he was the best'. He wouldn't take anything for fixing it. It turned out, he's married to an English girl, Jane, who just happened to turn up while we were there. This made communicating much easier.
If ever you're in a jam in the area, or need anything in the cycling line, then I seriously suggest you visit this shop. Details are...
CICLOSPORT PORCIATTI
Poggibonsi.
Tel: 0577-938507
The sky was back to being cloudless, and the sun was hot as we left Poggibonsi for Castellina in Chianti, stopping to take some pictures of vintage cars that were passing through the town on the Chianti stage of the Ventemille rally. Some amazing old cars, from all over the world. We were to bump into some of them again, in Pisa.
The ride up to Castellina in Chianti was pure pleasure. Although it was a 20km climb, it was a steady gradient which we could both handle easily. The roads were very quiet which was surprising, as it was Saturday. We reached Castellina in Chianti, and had a quick look around. It has a lovely position, but the town itself we didn't find too inspiring. From there it was an almost unbroken 20km descent to Siena.
We arrived in Siena at around 6:30pm, very hot. Just before the first gate to the town, we found a hotel which had a room for L140,000, but this was right on the main road, and we guessed it would be pretty noisy, so we declined and thought we'd try and find somewhere quieter. While riding aimlessly about, we stumbled on the Tourist Information Office. The girl there was very helpful. Accommodation 'within the walls' was in short supply, but she found us a double room in the three star Hotel Moderna, just below the old city walls, at L150,000 per night (which included her commission). This was more than we'd wanted to pay, but we'd wanted to stay in the old town and this was as near as we were going to get.
By the time we'd found the hotel, booked in, unloaded the bikes etc we were pretty whacked, so we ate in the hotel, and sat in the lounge planning tomorrow's route - spend the morning in Siena, then set off for Cortona.
We needn't have bothered!
Impressions:
First mechanical problem sorted! Very impressed with Mr Vito Porciatti.
I never thought I'd get so much pleasure from a 20km climb!