Day 2 - Friday 15th May 1998
Lucca to Castelfiorentino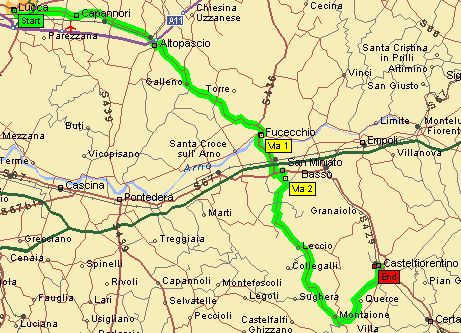 Route:
Lucca - Fucecchio
Fucecchio - San Miniato
San Miniato - Madonna del Tosse
Madonna del Tosse - Castelfiorentino
Kilometres: 68
Slept well last night until around 4am when two local cats evidently took a dislike to one another. After about 15 minutes of the most evil sounds you're ever likely to hear, it ended in a blood curdling screech - then nothing. I expected to find a mangled cat on the pavement at least, but no. Konrad told me that he hadn't heard the cats, which I found impossible to believe, but he did mention the delivery vans at 6am (which I never heard) so we called it quits.
We had breakfast in the Piazza S Michele gazing at the Church of San Michele (where Puccini was a choir boy apparently). I kept thinking I was dreaming. Were we really here at last? It was 9:30am, the day was rapidly warming up, so we bought some lunch, went back for the bikes. This was when we noticed that both cycle computers had packed in. Konrad's had been dodgy anyway, but looking at mine more closely, it looked like something had snagged on the cable, as I could now pull it out of the sensor! We found a brilliant bike shop in Lucca where I bought a new one, and after riding around the walls as a parting shot, and then circling the town on the road outside the walls ('cos we missed our turning), we finally left Lucca in the direction of Fucecchio (the Pistoia road).
The road to Fucecchio was good, but busy at times, and we had a fairly stiff head-wind to contend with. A bit of a double edged sword this - it made it hard work, but kept the effect of the heat down. It was very hot during this part of the journey. We stopped to eat 5km before Fucecchio for half an hour. We pulled off the road onto this cart track, and were soon lying under the shade of some pine trees. An old chap (must have been in his 80's) came and 'talked' to us (probably his land we were lying on!). He knew no English, we no Italian, but we all did a lot of smiling, the name 'Pantani' definitely struck a chord, and then we were back on the road.
We passed through the centre of Fucecchio and out onto very quiet roads to San Miniato, an impressive hill-top (quite a hill!) town. The town itself is very small, but is well worth a visit. The place was deserted, so we locked the bikes up and had a walk around. We found ourselves at Frederick II's tower, which is situated on a well kept lawn. As we approached it, the 'keeper' of the tower (and lawn) came out and asked us if we would like to go up it. It was free admission, but you could leave a donation - which we did. The views from the top were stunning. What's strange is that San Miniato is only around 150m above sea level, yet somehow it seems much higher. Apparently, the tower (originally built in 1240) was destroyed in World War II, and rebuilt after the war. We spent around 2 hours in San Miniato, and if ever you're near, put it on your list of places to visit. For me, one of the highlights of our trip.
We left San Miniato, and headed for Castelfiorentino. The roads were minor undulating (with some short steep bits), but very little traffic. We passed through Madonna del Tosse (a white road on the map - quite why I don't know, it was no different to any of the others), and we were soon in Castelfiorentino. We headed for the railway station, as we knew (via the 'Rough Guide') that one of the towns only hotels, the two star Hotel Ristorante Lami, was situated just around the corner from it in Piazza Gramsci. The owner was sitting outside in the sun with her mother and made us very welcome. I liked this hotel. All wrought iron and stone staircases. She escorted us through the kitchen to the garden at the rear, where she let us store our bikes. The room was very good, en-suite, and cost us L90,000 for the night.
The locals of Castelfiorentino were very friendly, particularly toward cyclists. We had an enjoyable meal in a restaurant around the corner from the hotel where prices were very reasonable. Good fun too, as I guess because we're off the beaten track, no-one speaks English. Just what we wanted.
If ever you're in need of a bike shop in the area, I can recommend the following...
Cicli Ancilotti (

run by

Paolo Ancilotti)
50051 Castelfiorentino
Via S. Antonio, 57
Tel. 0571 631007
Impressions:
I would like a house in San Miniato please.
Glad we brought the 1 litre bottles. It had been a very hot day and we drank 4 litres of water each (a gallon!).