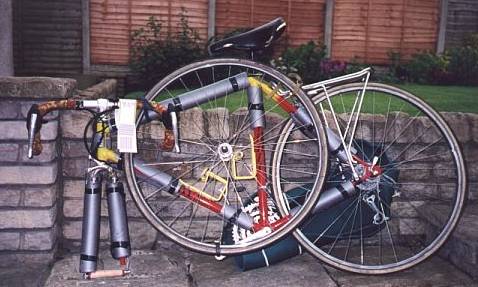 As last year, we flew out with European Air Charter, but the return this time was with Monarch Airlines. Neither charged anything for bike transportation.
When it came to packing the bikes, we just did the following...
Pedals off
Handlebars turned and strapped to the top tube – note, not loosen the headset or anything like that, merely turn the handlebars
Front-wheel out and strapped to the main triangle
Tyres partly deflated. We let the token 'hiss' out, but when we arrived at Pisa found they were completely flat.
We wrapped the tubes using pipe lagging, secured with lots of electricians tape, and covered the transmission with a sheet of cardboard (bent over the chain ) and taped securely. As well as protecting the rear mech., it protects other peoples luggage. We fastened one of the cranks to the chainstay to keep it from moving, and put our 'home-made' dummy front hubs (made from dowel and old skewers) in the front forks to stop them from being crushed.
And that was it.
This time, we were able to keep the pipe lagging for use on the return journey, storing it at Sergio's house. Again, I used a piece of Karrimat that I'd carried around in my panniers 'just in case' to wrap around the transmission on the return.