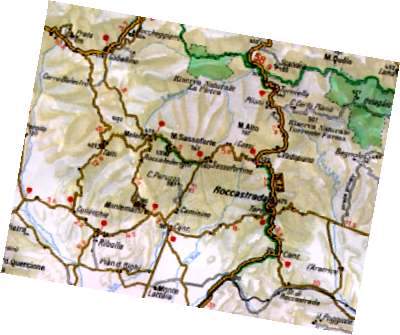 Planning? What planning?
Well, perhaps not quite such a cavalier approach, but it is surprising how after one successful self-contained bike tour abroad, you feel so much more confident. The first one certainly had the adrenalin going, even when we were sat at home just thinking about it. Thoughts like "what if they won't let us on the plane, what if we can't get accommodation, what if my frame snaps....!" I think what last years tour did was to set a few ground rules. Basically, we're in Europe. We're not in the High Andes, where we're unlikely to meet anyone from one week to the next. There are shops, telephones, banks, road signs etc. We might get lost, but not irretrievably so.
The difficulty now was, where do we go next? We had thought that we wouldn't be able to afford another tour of Tuscany and Umbria this year, and were looking at cheap flights to Spain with EasyJet and the like, but, during a night out with our wives at a local Italian restaurant and after probably too much red wine, we'd decided that we just had to go back. To say we enjoyed last years tour was a massive understatement, and there were places we wanted to re-visit, as well as others we wanted to visit for the first time.
So this year, planning was a much less organised affair. We knew what happened at the airports, we had the maps we'd need, we had a list of places that we'd like to visit, and, through a great stroke of luck, we had 'an insider' available to help us.
Through putting the report of last years tour on the Web, I started conversing with a chap who lives in Pisa, Sergio Servadio. He'd read about our ride over Monte Serra - one of his favourite rides, and right on his doorstep. We asked him for suggestions as to where we might go, and he came up with some crackers. Some places we'd have gone to anyway, but others we almost certainly would have missed like Vallombrosa, Poppi, Suvereto, Sassetta. He and his family also kindly offered us accommodation on our arrival in Pisa. As we would be landing around 7pm, that was most welcome.

He did have one strange (to us) request. He asked if we could bring him some PG-Tips tea out - proper tea, not tea-bags, for which he'd gladly reimburse us. No problem we said. Then he told us how much he wanted... 3 kg's. Now I'd never seen 3kg's of tea, but I imagined it was quite bulky, and I wasn't wrong. I took a quick trip down to the local Tesco and sized up the problem. I reckoned a pannier full. I had visions of us going through Customs, being stopped and asked what this was? 3 kg's of tea we'd reply. Of course it is Sir. Mind if we open it up? In the end, I managed to get 6 x 500g containers. Much easier than the squillions of little packets I'd envisaged. We just carried 3 each on the plane as part of our hand luggage - and no-one asked to look at it. A bit disappointing really.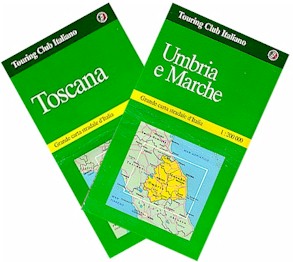 Once again, we used the Touring Club Italiano (TCI) 1:200,000 maps of 'Toscana' and 'Umbria e Marche'. I have to say I've not found anything better. As with last year, we put places we wanted to visit into Microsoft's "Autoroute Express - Europe", and with a little gentle persuasion came up with 12 days of touring. For those who've read last years report, you may recall I left our Rough Guide to Tuscany and Umbria under a hotel bed in Siena. I found this so useful I just had to buy it again.

After that, it was just a case of cutting it up into rideable chunks. As far as Tuscany and Umbria are concerned, I think you'd be pretty unlucky to end up somewhere where you'd "wished you'd rather not." We'd made a conscious decision this year to spend a little more time in some of the places.

Although we never booked any accomodation in advance, if you're doing this sort of trip in 'high season', you may want to for peace of mind. See below for a few Web sites I found where you can do this. The Umbria site (www.umbria.org) looks particularly useful as it lists a lot of the 'smaller' towns.

I'd be interested to hear of other sites which might be useful to others. Just drop me a line and I'll include them here.
General Information
Maps
Touring Club Italiano (1:200,000) Toscana
(ISBN 88-365-1130-9)
Touring Club Italiano (1:200,000) Umbria e Marche
(ISBN 88-365-1132-5)

Books
The Rough Guide to Tuscany and Umbria
(ISBN 1-85828-243-8)

Web sites
www.itwg.com (Accomodation, travel etc. Loads of links to other useful sites)
www.umbria.org (Lots of information on Umbria, including hotel lists, events, history etc.)