Zell am See to Salzburg (98 kms)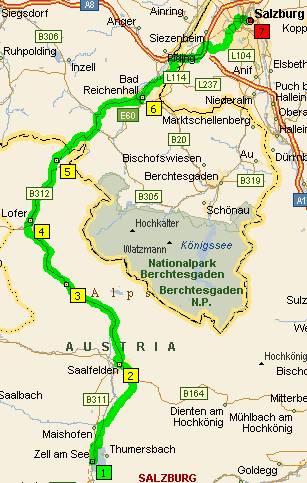 Change of plan. Today we were going to ride to Berchtesgaden, and possibly visit Hitlers 'Eagles Nest', but after being told at the hotel that it was closed down 2 years ago (though we knew it wasn't), we decided it would be best anyway to make straight for Salzburg and have the next day free for sight-seeing and packing the bikes up. As it turned out, probably a wise decision.
So, this was to be our last days cycling. I think at this stage we were all getting withdrawal symptoms from lack of mountain passes to look forward to. We left the hotel in overcast conditions, though that was an improvement as it was raining when we first woke up, and headed out on a bike track (Tauernweg - marked with a green sign) for Salzburg. This was the next stage of the cycle path that runs from Krimml to Passau (350kms).
We headed out to Maishofen, then on to Saalfalden without difficulty. The sun broke through from time to time, making it very pleasant cycling. At Saalfalden, we got a bit lost and ended up on a path heading for Leogang. A friendly local soon put us back on the correct route and from then on it was relatively straightforward. Just a case of keeping your eyes peeled for the little green signs (bright yellow might have been a better colour ;-)
The cycle path runs through some delightful countryside, hugging the river for most of its length. There was a great stretch before Weisbach through woodland. We stopped at Weisbach for coffee and cake, then it was on again to Unken where the path runs on a marked area of the main road for a short stretch (no problem) before heading off into the woods one more. Some of the sections here were a little rougher than we'd have perhaps liked (we were on road bikes with road tyres), but nothing too bad. At Steinpass, the path got very rough, with a wicked short uphill stretch where ironically, for the first time on the trip, we had to walk! It was impossible to get any traction. This was only for 15-20m though, so we won't count it ;-))
From there, it was straightforward to Bad Reichenhall where we had intended to stay, but we were on a roll now, and pushed on for Salzburg in 'team time trial' mode (at least I think that's what Francesco on the front was doing! - he did let me passed once though ;-) Again, a very easy pleasant 18km right into Salzburg. The only way into the old town seemed to be a tunnel which we didn't fancy (actually, it's very short and would have been fine), but we ended up cleverly riding into an underground car park - then riding out again. That's when we found the pedestrian tunnel, and scooted the bikes through that.
We headed for the tourist information office in Mozartplatz (the square with the statue of Mozart in it) which was doing a roaring trade. Francesco and I went in to see what hotels were available while Konrad guarded the bikes. When we came out, Konrad was talking to a lady from England who also had a 'Bob Jackson like mine - but hers was green'. Her and her husband had won a competition and were staying in 5 star hotels in 5 cities in Europe for a fortnight (or something like that). Some folks have all the luck....
Meanwhile, we booked into the Hotel Weisse Taube (very friendly staff), took a shower and then went off into the town for a meal.
Hotel details...

Hotel Weisse Taube