Mel to Mel (taking in Croce d'Aune) (83 kms)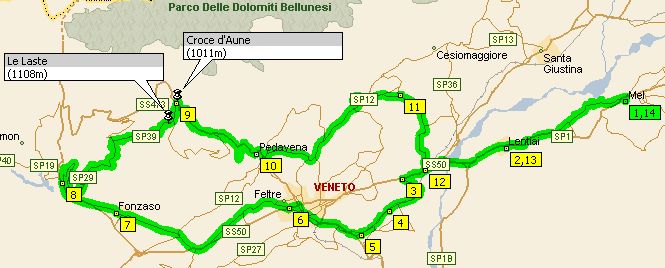 Another hot one! Breakfast was pretty poor, but at least it meant we got away a bit earlier. We all met up in the main square in Mel, just behind the hotel, us without panniers, and Sergio riding his prized FANINI bike with the home made wooden rims. I must say they looked brilliant. For information on how he built them click here. As we arrived in the square, I was a bit taken aback to see that there were about 14 of us now! Sorry, I can't remember all the names, but I was glad to see we had a doctor with us (I was feeling a bit queasy - I think the sun had got to me yesterday). Yes, the good Dr Fernanda Favotto (an ex ladies National Italian Footballer no less) joined us on her mountain bike. Typical Italian footballer - always arguing with the referee (Sergio ;-))
We took the back roads out of Mel led by Gianni, and just when I thought we were totally lost, we landed in Feltre (where we picked up Cristiano - from Milan - at the railway station). So, with an ever expanding group, we headed off in the direction of Fonzaso. At the tunnel, we took a service road on the left (no cars) which runs through the gorge. We rejoined the main road at the other end of the tunnel, crossed over onto a very quiet road and started the ascent of Croce d'Aune. It was very hot again and I must say I wasn't feeling too clever, but once more, all the others in the group were very kind and waited for me.
The climb is absolutely superb. It is not difficult and runs through some lovely woodland offering welcome shade. The last 3km or so are the steepest, and we all met up at the top (Le Laste) for a group photo. We dropped down slightly to Aune, and took photo's of the excellent Tullio Campagnolo monument, then it was off on an incredible descent to Pedavena.
We all met up at the bottom of the descent, where we admired Sergio's lack of brake blocks! With his wooden rims, Sergio had found he couldn't use conventional blocks and had made his own out of leather. These worked (without the squealing of conventional blocks) but wore out very quickly! In Pedavena, we stopped at a large brewery with it's own restaurant for some food and drink, and waiting for us was Sergio's wife Daniela. It was great to see her again. Finally, we left Pedavena and headed back to Mel, once more using mainly quiet side roads and criss-crossing the main road from time to time.
After a quick shower back at the hotel, we were soon outside again meeting yet more of Sergio's friends, before we all left in various cars headed for a restaurant in the Trichiana area where a great meal had been arranged. It really was a memorable night. Miriam had driven from Treviso to meet up with us again. One chap who had been invited by Sergio but unfortunately couldn't make it as he was in Spain had actually phoned the restaurant and asked the owner to provide bottles of sparkling wine for us! I think that summed up the camaraderie of all present. Everyone there had at least one thing in common - a love of cycling, and we felt very privileged to be part of it.
In true Italian fashion, we stood outside for at least an hour at the end of the evening, saying goodbye ;-) I hope we all get a chance to meet up again some time soon.