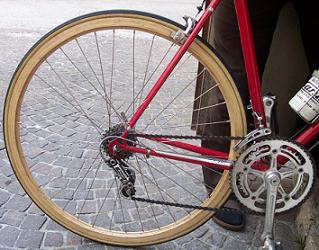 Wooden rims
Most cyclists will agree that the one thing which improves the performance of any bike (apart from a good pair of legs!) is a good pair of wheels. For a while, Les rode a pair of 'cane' wheels. Basically - wooden rims (bamboo cane)! Those particular rims were manufactured by a firm called Constrictor, who also made the tubeless tyres to go with them, and he says they were incredibly light (for the day).
Now these rims were designed for track racing, but a few time-triallists of his day couldn't resist using them on the road. Of course braking was a problem, but as Les points out, in a time-trial, braking tends to be a bad thing ;-) and of course he was on a 'proper' bike with fixed wheel, which means braking is cut to an absolute minimum. If you want to slow down, you use your legs - simple.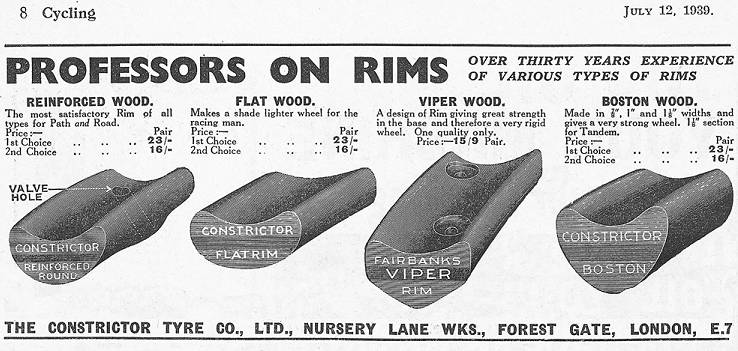 Above is an advert from Cycling magazine (July 1939) showing samples of some of the wooden Constrictor rims available at the time - even one designed for a tandem!
It just so happens that my good friend Sergio Servadio from Pisa, Italy has made two pairs of wooden rims. One for the FANINI bike manufacturer, who renovated an old racing cycle and wanted them for display purposes, and one pair for himself. He's kindly sent me the following text and pictures describing the 'manufacturing process'. Let me just say, this is a talented chap - he even makes his own corned beef!
Here's Sergio's text (It gives the phrase 'building your own wheels' a whole new meaning ;-)
Granted that bamboo cane cannot be beaten, so far I made 5-ply constructions of 3-4 mm thick laminas, the first 4 of ash and the fifth one of walnut wood. These woods are suitable and 'by chance' I happened to have them about ready to use in my shed. Such thickness can be bent with no heat, nor moisture. The laminas were about 2/3 of the circumference long taking care not to superimpose successive matchings.
After the fifth lamina I have 'trued' the outer circle by making the rims (embracing a smaller wheel mounted on a vice held fork) turn against a belt sander.
Now comes the tougher part of the job. I have to apply the last outer lamina, likely walnut, of a 7 mm thickness which cannot be so easily bent and glued in place. I insist on this thickness because I later have to make the seating of the tubular by working on it with a router, and I deem that a thinner thickness would be unsuitable to the ultimate job.
At last I shall also mould the inner face, burn in groves, double lace with a thread running in the groves and seal everything.

I just could not resist making only the wheels for the antique bike Fanini wants to renovate, so decided to make one set to use myself on Monte Serra - after due testing of course.

For the fun of it.
And, yes, it is great fun!
More news ahead ...
Sergio.
Pisa
| | |
| --- | --- |
| | Truing the outer circle after applying the 5th lamina. |
| | |
| --- | --- |
| Applying the outer 7mm thick lamina of walnut. | |
| | |
| --- | --- |
| | Routing out the seating for the tubular. |
| | |
| --- | --- |
| The finished rim prior to drilling the spoke holes. | |
The finished product!

(Note: The brake blocks are home made too - made of leather. Conventional blocks 'squealed' too much.
The downside of that is that the blocks wear out very quickly. One descent of the Croce d'Aune was enough to wear them down completely!)